7 March 2021
GFA BOV Gozo Football League Division I – Match Day 10 Gozo Stadium
Ghajnsielem FC : 6
Oratory Youths FC : 1
33' (1-0) Sebastien Martinez Turizo
37' (2-0) Rodney Buttigieg
54' (3-0) Sebastien Martinez Turizo
61' (4-0) Jhon Arboleda Valencia
70' (5-0) Dejan Bogdanovic
83' (5-1) penalty Rafael Rodrigues Ledesma
90' (6-1) Kurt Grima
Ghajnsielem FC:
A. Parnis, Al. Xuereb (K. Grima), K. Mercieca, K. Farrugia, An. Xuereb, J. Arboleda Valencia, J.G. Vella (M. Bezzina), R. Buttigieg (I. Belhadj), S. Martinez Turizo, De. Bogdanovic, J. Camilleri (N.I. Behadj).
Oratory Y:
A. Brignoli, P. Rapa (C. Borg), K. Farrugia, D. Atzori (J.M. Portelli), R. Rodrigues Ledesma, D.A. Barbosa (J. Xerri), D. Azzopardi, E. Gauci (M. Zammit), S. Azzopardi, S. Curmi, D. Galea.
Ghajnsielem lived up to the expectations in their first match of the second round of the championship and obtained three easy points form a 6-1 win over Oratory Youths. The Blacks, who were playing without their prolific striker Igor Nedeljkovic, may have been overconfident during the first part of the match but, as time passed by they increased their momentum, scored two goals before the break and made sure of the convincing win by scoring four more goals after the break. With this result Ghajnsielem will face their next matches against the other contenders for the title with a comfortable lead and also with the confidence that they have the potential to win the main honour in Gozitan football this season.
On the other hand, Oratory, who are currently at the second place from the bottom on the table, only managed to resist to Ghajnsielem's play for the first half an hour of the match as they lost composure after conceding the first goal and ended up conceding a heavy defeat. Oratory Youths played this match with a black armband as a sign of mourning for the loss of Maria Grech who was the wife of ex-player Vincent Grech, and the mother of ex-player and the current General Secretary of the Gozo Football Association Tony Grech.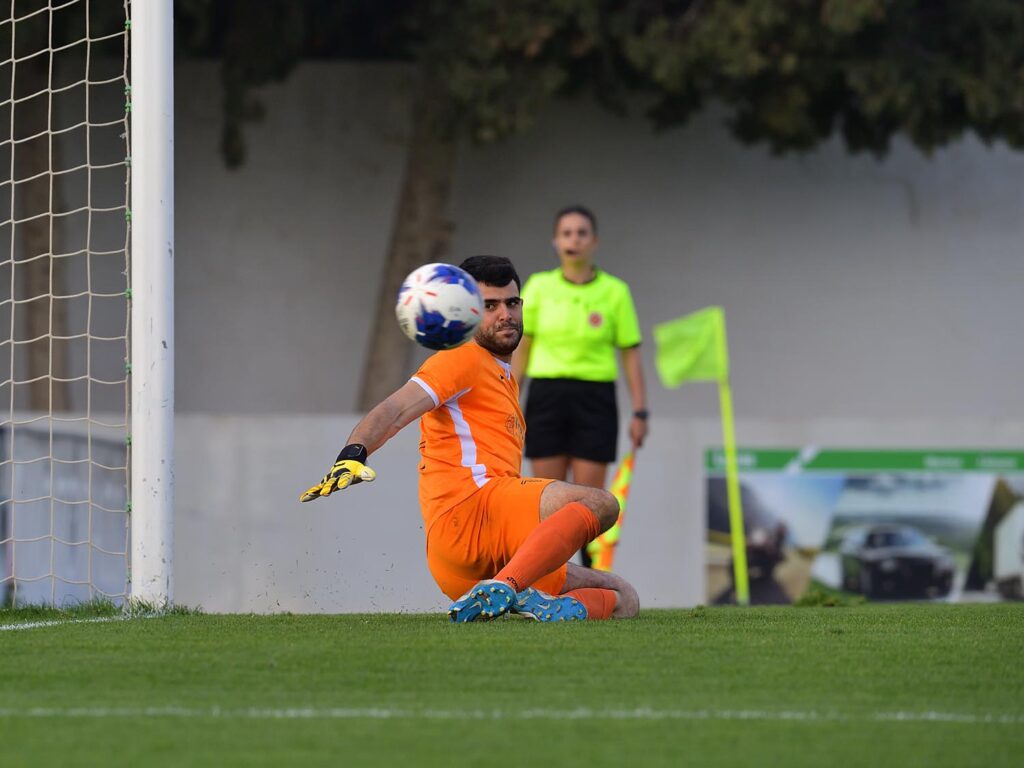 Timeline
Ghajnsielem struggled to take full command of play during the opening stages as Oratory seemed well organised at their defence but the current leaders of the championship kept insisting and managed to reach their objective as soon as they opened the score few minutes after the half hour mark.
3' Oratory created the first scoring opportunity of the encounter but a header by Eric Gauci from a corner kick by Rafael Rodrigues Ledesma was well saved by goalie Adrian Parnis.
8' The Blacks replied through a free kick by Sebastien Martinez Turizo that missed the target.
13' Ghajnsielem were dangerous when a cross form the right flank by Rodney Buttigieg arrived to Johnny Camilleri but the latter headed over the crossbar.
14' Ghajnsielem's Rodney Buttigieg had a good shot from an ideal position that ended high.
20' Oratory's goalie Angelo Brignoli was called to make a difficult save to turn to a corner a curling shot from outside the area by Sebastien Martinez Turizo.
26' Ghajnsielem produced another potential scoring opportunity when Jhon Arboleda Valencia produced a good action from the right flsnk but from his cross, Dejean Bogdanovic failed to connect and the ball ended wide.
29' Ghajnsielem had a goal scored by Johnny Camilleri that was disallowed for an offside.
33' (1-0) The Blacks opened the score following a prolonged action inside Oratory's area and at the end Joseph George Vella released Sebastien Martinez Turizo who controlled the ball and netted with a back heel as he came face to face with the goalkeeper.
37' (2-0) Ghajnsielem doubled the score through a shot on the run by Rodney Buttigieg following a corner kick by Sebastien Martinez Turizo.
43' Oratory replied through a low shot from outside the area by Daniel Atzori that was neutralised without difficulty by Ghajnsielem's keeper Adrian Parnis.
HT (2-0)
Ghajnsielem continued to produce pressure on Oratory's defence from the first minutes of play of the second period.
1' Jhon Arboleda Valencia produced another personal action and delivered a low cross towards \oratory's goal but the strikers arrived late and missed the opportunity for the tap-in.
3' Oartory's goalie Angelo Brignoli was again at the right place and managed to turn to a corner a good shot by Joseph George Vella.
4' The same Vella delivered a good cross inside Oratory's area but the header by Jhon Arboleda Valencia ended wide.
7' Oratory almost reduced the score when a cross-shot from long distance was heading towards an open goal but Ghajnsielem's keeper Adrian Parnis recovered in time and managed to save the danger in two attempts.
9' (3-0) Ghajnsielem added another goal when Alberto Xuereb passed outside the area to Sebastien Martinez Turizo from a short corner action and the latter surprised the goalkeeper with a fine strike from the edge of the area.
16' (4-0) Ghajnsielem increased their lead through a low shot by Jhon Arboleda Valencia following a personal action.
25' (5-0) Ghajnsielem's fifth goal arrived following a prolonged action inside Oratory's area ads a Rodney Buttigieg tried to prolong a corner kick by Sebastien Martinez Turizo, the ball arrived to Johnny Camilleri who had an attempt with a back heel that was blocked by the defence and from the resultant melee Dejan Bogdanovic fired in goal.
27' Oratory's goalie Angelo Brignoli made another good save to turn to a corner a shot by Sebastien Martinez Turizo.
37' (5-1) penalty – Oratory were awarded a penalty for a foul by goalie Adrian Parnis on substitute Jurgen Mario Portelli and Rafael Rodgrigues Ledesma converted for the spot kick to score the consolation goal for his side.
45' (6-1) Ghajnsielem sealed the win by scoring the sixth goal that arrived from a counter break by Jhon Arboleda Valencia who entered Oratory's area from the left flank and from his low cross substitute Kurt Grima concluded in goal with a low shot.
FT (GHJ 6 – OY 1)
Referee: Darryl Agius