8 March 2021
GFA BOV Gozo Football League Division I – Match Day 10 Gozo Stadium
Xewkija Tigers FC : 1
Xaghra United FC : 3
5' (1-0) Jake Saliba
29' (1-1) Etienne Xiberras
44' (1-2) Savio Galea
72' (1-3) Felipe Rodrigues De Souza Santos
Xewkija T:
F. Vella, J. Axiak, N. Micallef. M. Mercieca (C. Mifsud), J. Buttigieg, J. Xuereb, M. Dingli (T. Vella), M. Hrubsa, E.P. Lattes, T. Grech, J. Saliba.
Xaghra U:
O. Attard, Joh. Bajada, S. Galea, L. Sultana (F. Cauchi), A. Sultana, J.K. Farrugia, K. Hili (C. Camilleri), J.C. Moreiro Ribeiro,  F. Rodrigues De Souza Santos, E. Xiberras, F. Attard.
Xaghra turn a defeat into a win and obtain their first points
Xaghra United earned their first points in the BOV Gozo Football League of the first division with an impressive 3-1 win over Xewkija Tigers. This was an important match for the two sides as both Xewkija and Xaghra were maiming to obtain a win. Xewkija were coming from a series of negative results while Xaghra ended the first round without a point. The Blues seemed determined to make up for the disappointing results in their previous matches and needed a good start in this second round of the championship.
This result is considered as a surprise as Xewkija started the match as hot favourites to obtain the full points at stake from this match against the team at the bottom place on the table. However, Xaghra surprised their more quoted opponents as they were more determined, they were well deployed at their defence and managed to capitalise form their best scoring opportunities. With this win Xaghra practically re-opened the relegation issue as they reduced the gap from the teams who are occupying the other lower places on the table.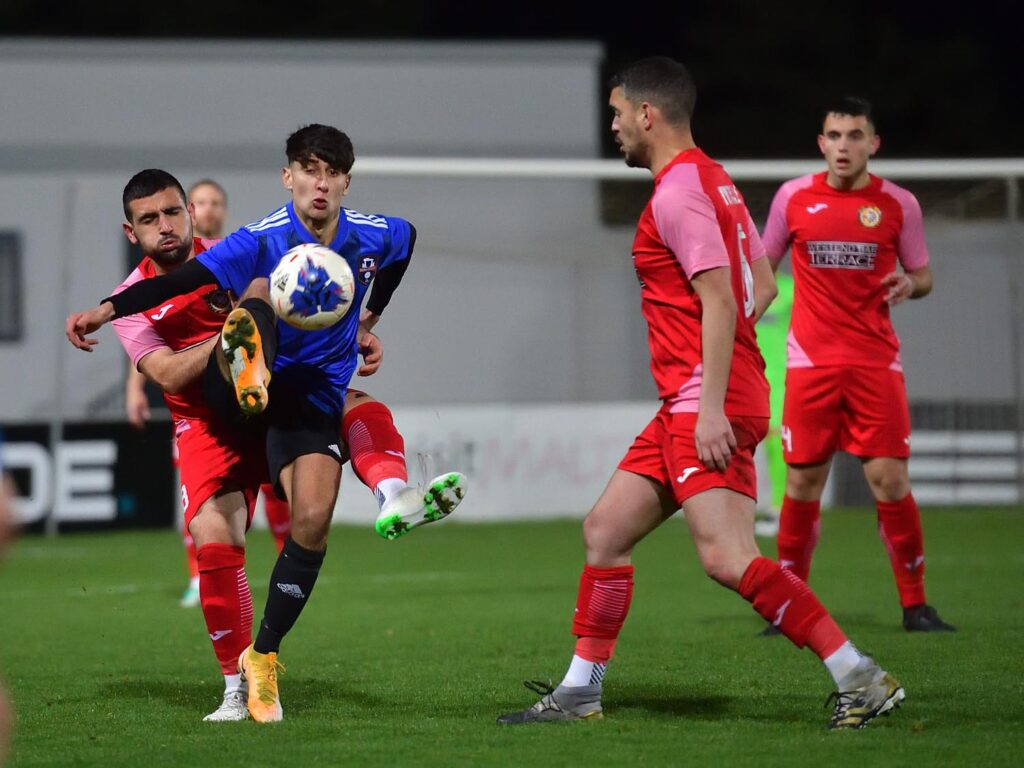 Timeline
Xaghra came out in a good shape and were not demoralised after conceding an early goal. On the other hand Xaghra increased their efforts and managed to turn the result in their favour before the end of the first half.
1' Xaghra could have opened the score but a shot on the run by Kenny Hili after receiving form Moreiro Ribeiro ended wide.
5' (1-0) Xewkija opened the score when Emiliano Lattes released Jake Saliba inside Xaghra's area and the latter surprised the goalkeeper with a sho form an angled position.
16' Xewkija had an attempt directly form a free kick by Emiliano Lattes that was neutralised by xaghra's goalie Owen Attard.
29' (1-1) Xaghra levelled the score through a fine shot from outside the area by Etienne Xiberras that ended out of the reach of Xewkija's keeper Franklin Vella.
35' Xewkija produced a good move on the left flank through Joel Xuereb who passed inside Xaghra's area to Matthias Mercieca. The latter released Emiliano Lattes but his shot was blocked by the defence.
37' Xaghra gained a corner kick from a shot by Rodrigues De Souza Santos and form the resultant corner action, Xewkija's goalie failed to hold the ball so that Luke Sultana almost took advantage of the situation but his close ranged shot was blocked to another corner from the fatal line by defender John Axiak.
39' Xaghra's goalie Owen Attard was well placed and saved without difficulty a header by Martin Hrubsa following a free kick by Emiliano Lattes.
44' (1-2) Xaghra turned the result in their favour when they won another corner following a shot by Francesco Attard and from the corner kick by Felipe Rodrigues De Souza Santos, Savio Galea surprised the defence with a fine header.
HT (1-2)
Xewkija tried to produce a reaction after the break but Xaghra confirmed their positive performance during the first period and were playing with much more confidence so that the outcome of te encounter remained in contention.
1' Xewkija could have levelled the score after just 20 seconds of play into the second period but a sot by Emiliano Lattes ended wide.
10' Xaghra replied through a shot from outside the area by Felipe Rodrigues De Souza Santos that was saved by goalie Franklin Vella.
13' Xewkija operated a counter break but the final shot by Emiliano Lattes was blocked by Xaghra's keeper Owen Attard.
15' Xaghra once again threatened Xewkija's defence but a shot by Kenny Hili ended wide.
24' Xewkija's goalie Franklin Vella partially saved a low shot by Julio Cesar Moreiro Ribeiro but from the rebound Xaghra failed to capitalise and at the end Felipe Rodrigues De Souza Santos was blocked to a corner.
26' Xaghra's keeper Owen Attard saved the lead for his side when the defence failed to clear the ball from the area following a corner action. The ball fell to Martin Hrubsa who saw his shot that was turned to another corner with difficulty by the extreme defender.
27' (1-3) Xaghra were rewarded for their fine performance as they scored the third goal through a strike from long distance by Felipe Rodrigues De Souza Santos that surprised Xewkija's keeper.
38' Xewkija's reaction sterile and Xaghra were again dangerous through a low shot from outside the area by Julio Cesar Moreiro Ribeiro that ended wide.
39' Xewkija's keeper Franklin Vella managed to block a strike by Felipe Rodrigues De Souza Santos
40' Xewkija had their last opportunity to re-open the issue but a free kick by Emiliano Lattes ended wide.
45+2' Xaghra could have added another goal but a strike by Felipe Rodrigues De Souza Santos was stopped by the post with the goalkeeper beaten.
FT (XT 1-XU 3)
Referee: Emanuel Grech