6 March 2021
GFA 2nd Division Cup Qual. Rd Kercem Ajax Stadium
Qala Saints FC : 3
St Lawrence Spurs FC : 0
13' (1-0) penalty Ebube Ralph Okpokwu
50' (2-0) Ebube Ralph Okpokwu
85' (3-0) Ebube Ralph Okpokwu
Qala S:
M. Muscat, S. Sillato (E. Galea), M. Zerafa (P. Muscat), J. Buhagiar, M. Buttigieg (R. Meilak),  S. Muscat (C. Bugeja), S. Farrugia, E. Buttigieg, F. Mumford, E.R. Okpokwu, M. Xerri.
St Lawrence S:
Co. Mercieca, F. Grima, G. Portelli,  M.S. Telessi, C. Cauchi, W. Hili (C. Grima), C. Azzopardi, D. Micallef, K. Formosa, L. Buttigieg, M. Terribile (W. Portelli).
Qala Saints obtained a 3-0 win over St Lawrence Spurs in the second match for the two sides from the qualifying round of the GFA 2nd Division Cup and thus the Maroons moves a step closer to earn a place in the final of this second most important honour for the lower category in Gozitan football.
In this match Qala confirmed their superiority in the lower division this seasons as they held command of play and could have obtained the win with a larger margin. St Lawrence struggled to share play with their more quoted opponents and their offensive play never ended up into good scoring opportunities so that they did not manage to open some hope to obtain a positive result from this encounter.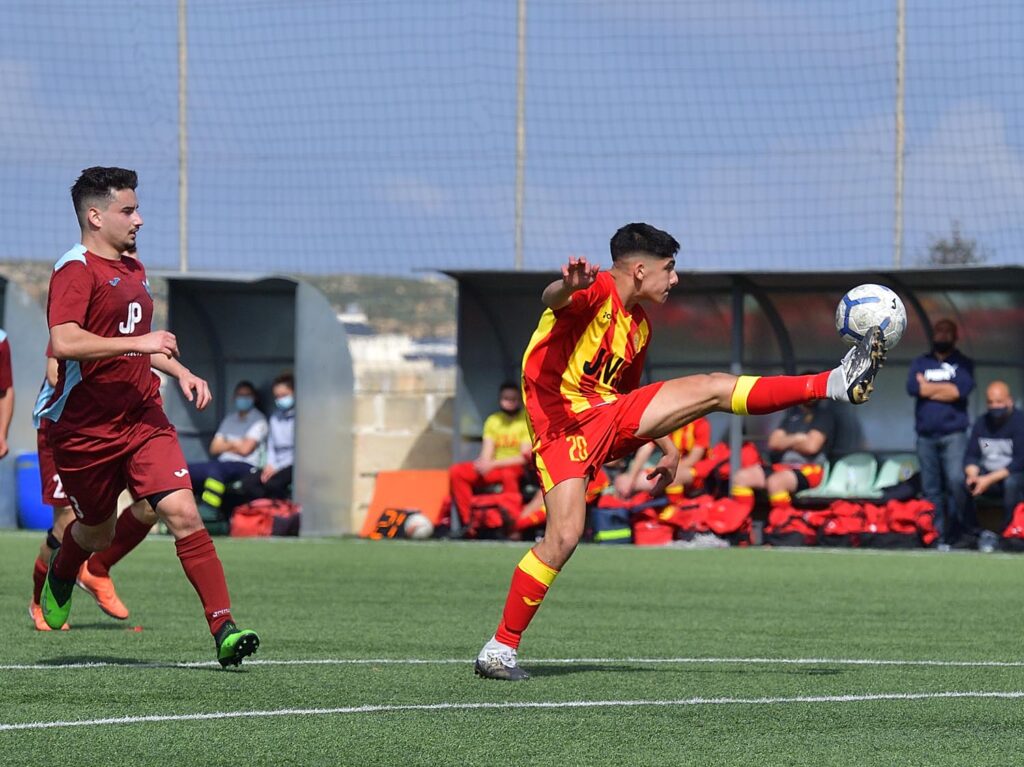 Timeline
The Maroons had a slow start during the first minutes of play but increased their momentum as time passed by so that they also managed to take the lead at an early stage of the encounter.
6' Qala had their first attempt towards St Lawrence's goal through a shot by Joseph Buhagiar that ended wide.
13' (1-0) penalty – Qala were awarded a penalty when a shot by Stefan Farrugia was blocked by Franklin Grima, who was on the floor inside the area, and the referee judged that there was handling by the defender so that Ebube Ralph Okpokwu opened the score with his shot from the spot kick.
27' St Lawrence keeper Courtney Mercieca was well placed and saved a header by Joseph Buhagiar following a free kick by Samwel Muscat/
For some time the match became rough as the two sides were aiming to take control of play.
33' Qala operated a good action when Joseph Buhagiar passed to Ebube Ralph Okpokwu who entered St Lawrence's territory but the striker saw his low shot that was well saved by goalie Courtney Mercieca.
37' Qala went very close to scoring when a cross by Stefan Farrugia arrived to Joseph Buhagiar and the latter addressed towards an open goal but central defender Daniel Micallef recovered in time and avoided a certain goal when he headed off the fatal line.
41' St Lawrence had their first shot towards Qala's goal through a free kick from long distance by Karl Formosa that was neutralised by goalie Matthew Muscat.
HT (1-0)
Qala continued to enjoy supremacy after the break.
3' St Lawrence could have levelled the score when Mohammed Senussi Telessi produced a personal action on the right flank and entered the area but his low shot from an angled position passed in front of an open goal and ended wide.
5' (2-0) Qala doubled the score when St Lawrence's defence failed to clear the ball from the goalmouth following a corner kick by Samwel Muscat and from the resultant melee Ebube Ralph Okpokwu fired in goal form close distance.
9' The Spurs replied through a shot by Karl Formosa that got a deflection by the defence and the goalkeeper saved without difficulty
10' St Lawrence could have capitalised better when Karl Formosa produced a personal action inside Qala's area and Mohammed Senussi Telessi took the ball but goalie Matthew Muscat managed to block the danger and the defence cleared the ball to a corner.
16' In another offensive action by Qala a shot by Joseph Buhagiar ended high.
18' The Maroons were again dangerous through a shot by Martin Buttigieg that ended on the side of the net.
27' Qala's Stefan Farrugia entered alone within St Lawrence's territory, turned around the goalkeeper outside the area but defender Christian Azzopardi recovered in time and cleared the ball to a corner before Farrugia could hit towards an open goal.
33' St Lawrence's goalie Courtney Mercieca saved well a shot by Ebube Ralph Okpokwu following a personal action.
38' In another action by Qala a strike by Stefan Farrugia was neutralised by St Lawrence's goalie Courtney Mercieca.
40' (3-0) Qala made sure of the win when a shot by substitute Ryan Meilak was stopped by the post and form the rebound Ebube Ralph Okpowu placed easily in goal.
FT (QS 3 – SLS 0)
Referee: Joseph Scerri