5 March 2021
GFA BOV Gozo Football League Division I – Match Day 10 Gozo Stadium
Kercem Ajax FC : 1
SK Victoria Wanderers : 3
36' (0-1) Aud-Gustine James Obaje
78' (0-2) Gabriel Cardona
83' (0-3) Gabriel Cardona
87' (red card) Neil Camilleri (SKVW)
88' (1-3) penalty Samuel Saldanha
Kercem A:
G. Bugeja, D. Cassar, J. Theuma, A. Xiberras (O. Spiteri), J. Buttigieg, A. Mizzi, S. Saldanha, N. Mercieca, S. Attard (J.P. Mizzi), A. Zammit, M. Potezica.
SK Victoria W:
G. Ratto, E. Bugeja, A.J. Obaje, N. Camilleri, E. Zammit (A. Refalo), O. Curmi, N. Grech, N. Vella, O. Fenech (A. Adesina), D.U. Monday, G. Cardona.
In the first match from the second round of the BOV Gozo Football League of the first division SK Victoria Wanderers obtained three deserved points from a 31 win over Kercem Ajax and moved forward by three points from the relegation zone. For this match Kercem were favourites to extend their run of positive results while the Wanderers were aiming to obtain points to recover a position on the table outside the red zone.
The match turned out to be a well contested match with various scoring opportunities from both sides but at the end Victoria's defensive department managed to control Kercem's pressure and were very effective with counter breaks. The Wanderers took the driving seat near the end of the first half when they opened the score so that for the rest of the encounter they took advantage of gaps within Kercem's defence and put their minds at rest from the three points with two more goals scored during the second period. Victoria's striker Aud-Gustine James Obaje was a continuous threat to Kercem's defence but the hero on the day was Gabriel Cardona who scored two of the three goals for his side.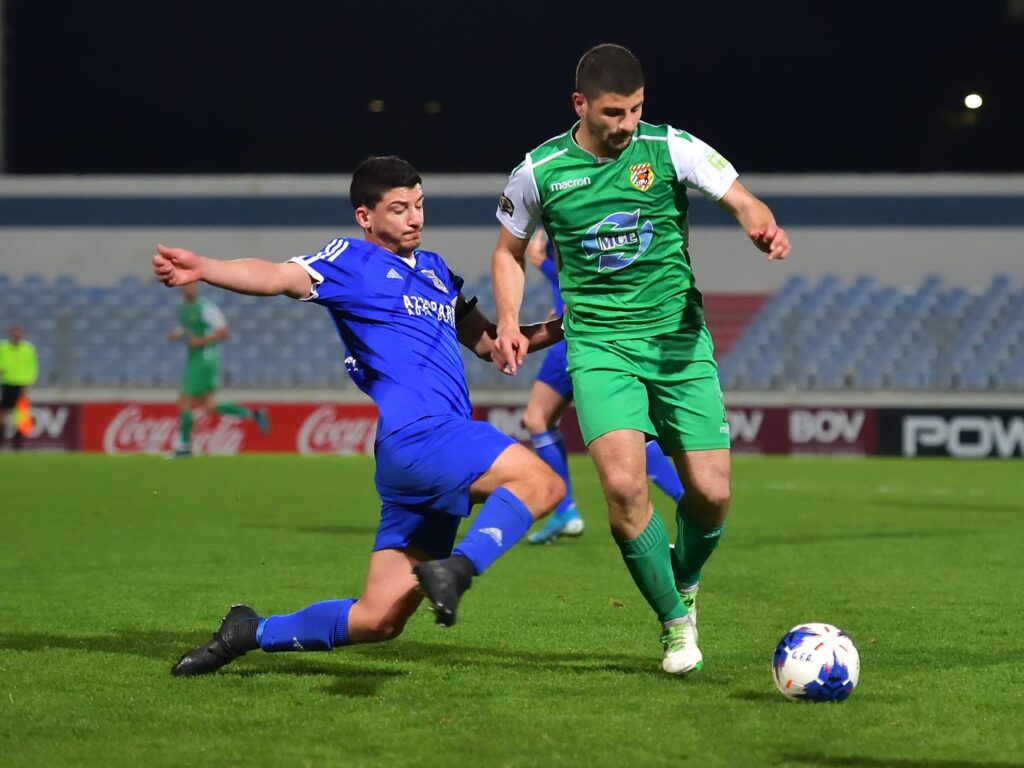 Timeline
Kercem struggled to take the initiative of play from the early stages as the Wanderers were well organised at their defence and produced offensive play through counter breaks.
5' Kercem's Samuel Saldanha had a shot from outside the area that was well saved by Victoria's goalie Giacomo Ratto.
14' The Ajax produced a good move when Andrew Mizzi received the ball inside the area but his attempt form an angled position ended high.
19' SK Vitoria Wanderers replied through an effort by Emerson Zammit from a free kick that was blocked by the wall and from the following action the same Zammit had a shot from outside the area that missed the target.
20' Victoria's keeper Giacomo Ratto saved without difficulty a shot from long distance by Jason Theuma.
26' Kercem could have capitalised better when Victoria's defnce cleared badly the ball inside their area but Samuel Saldanha's shot ended high.
29' The Wanderers were dangerous through a shot by Oliver Curmi that ended just wide.
31' In another action by Kercem a header by Joshua Buttigieg following a cross by Adrian Xiberras was saved by goalie Giacomo Ratto.
32' Kercem's keeper Gaetano Bugeja was called to make a good intervention when he blocked with his foot a low shot from an angled position by Emerson Zammit.
36' (0-1) Victoria opened the score when Eman Bugeja released Aud-Gustine James Obaje with a through pass from half pitch and the striker controlled inside Kercem's area and fired in goal from an angled position.
42' Kercem went close to level the score when they maintained possession from a corner action and at the end a cross by Nathaniel Mercieca arrived to Samuel Saldanha who headed towards goal but the ball ended over the crossbar.
HT (0-1)
Kercem came out more aggressive after the break with the intention to recover the deficit so that Victoria were forced to protect their lead with many players inside their area.
3' The Ajax had a good attempt through a header by Samuel Saldanha that ended high.
5' In another action by the Ajax a shot by Nathaniel Mercieca ended wide.
6' Kercem once again tried to level the score through an shot from outside the srea but the effort by Samuel Saldanha from outside the area ended away from goal.
13' Victoria protested for a penalty when Gabriel Cardona tried to reach the ball before Kercem's goalie following an initiative by the same striker.
14' Victoria's goalie Giacomo Ratto left his position in time to take the ball before Kercem's Samuel Saldanha could arrive on the ball to conclude towards goal.
15' The Wanderers replied through a shot from the edge of the area that ended just over the crossbar.
18' Kercem had another shot from outside the area, on this occasion through Jason Theuma, which ended away from Victoria's goal.
21' Victoria were again dangerous when Owen Fenech delivered the ball inside Kercem's area from a free kick, Aud-Gustine James Obaje controlled the ball but his effort was neutralised by goalie Gaetano Bugeja.
30' Kercem once again tried to surprise Victoria's goalie with a shot from outside the area, on this occasion through a first timer by substitute Jean Paul Mizzi, but the ball ended wide.
33' (0-2) Victoria doubled the score when Aud-Gustine James Obaje entered Kercem's territory with a personal action on the right flank and from his low cross, Gabriel Cardona netted with a low shot.
35' Kercem replied with a free kick by Jean Paul Mizzi that was neutralised by goalie Giacomo Ratto.
37' The same goalkeeper was well placed and blocked a close ranged header by Andrew Mizzi following a cross by Nathaniel Mercieca.
38' (0-3) Victoria practically made sure of the win by scoring the third goal that arrived from a through pass by Emerson Zammit towards Gabriel Cardona and the latter entered the area and concluded in goal with a fine shot.
40' The Wanderers could have added another goal when Aud-Gustine James Obajae once again produced a personal action within Kercem's territory but his low cross towards the goalmouth was not followed by the strikers so that Kercem's defence recovered and managed to clear the danger.
42' (1-3) (penalty / red card) Kercem were awarded a penalty for elbowing by Neil Camilleri on Anthony Zammit when Kercem were kicking a free kick that was saved to a corner by Victoria's goalie. The referee showed the red card to Victoria's Camilleri and Samuel Saldanha scored Kercem's consolation goal with his shot from the spot kick.
FT (KA 1 – SKVW 3)
Referee: Malcolm Spiteri