24 October 2021
BOV GFA Cup Prel Rd Kercem Arkafort Stadium
Nadur Youngsters FC : 5
St Lawrence Spurs FC : 1
8' (0-1) Alen Haska
39' (1-1) Lorenzo Atzori
44' (2-1) Lorenzo Atzori
67' (3-1) Ederson Bruno Domingos
69' (4-1) Judivan Flor Da Silva
81' (5-1) Jordi Parnis
Nadur Youngsters:
B. Saliba, L. Moreira, I. Xuereb (J.M. Vella), E. Bruno Domingos, O.P. Bugeja, G. Farrugia, S. Cassar (J. Zammit), M.P. Camilleri (J. Parnis), L. Atzori, G. Muscat (G. Hili), J. Flor Da Silva.
St. Lawrence S:
C. Mercieca, A. Ademilua, A. Attard (L. Dimech), C. Grima, A. Haska, V.J. Saliba (M. Terribile), C. Cauchi, C. Azzopardi, D. Micallef, J.M. Portelli, C. Mercieca.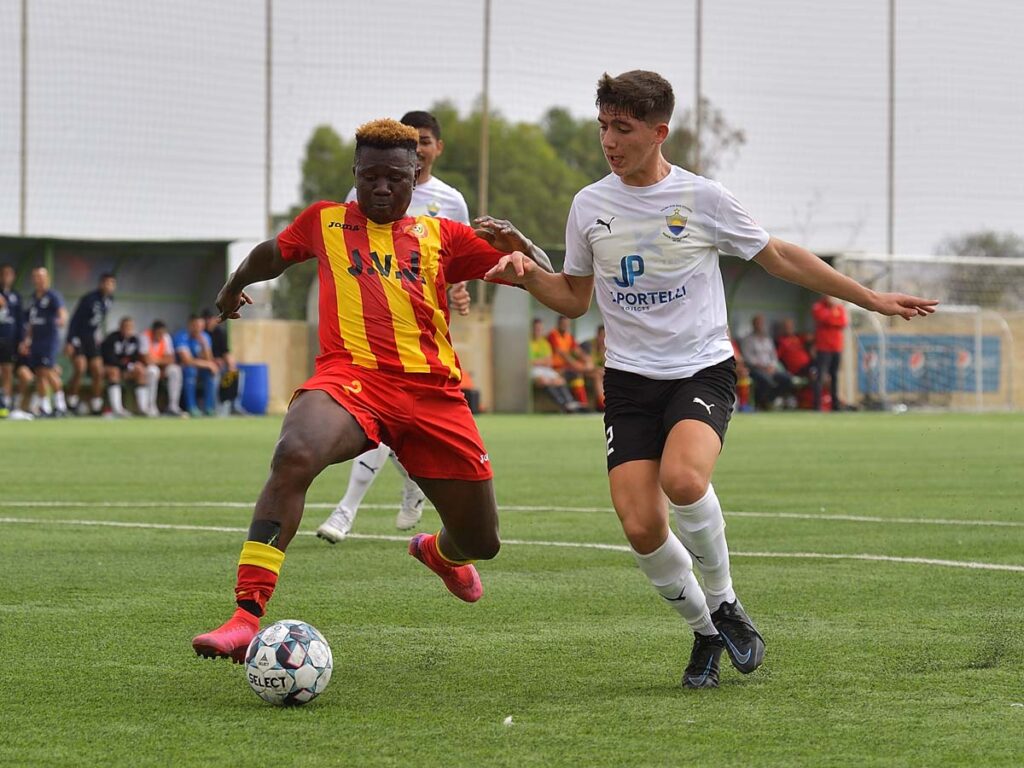 Nadur Youngsters as expected earned a place with the last eight teams in the BOV GFA Cup with a win over second division side St Lawrence Spurs. Nadur, who are currently leading the top flight and are also the only undefeated team in the category, had a number of regular players missing so that other players who are not usually given much playing time had the opportunity to gain match practice.
The Youngsters held territorial supremacy throughout the ninety minutes but they found it difficult to create serious scoring opportunities.  They managed to end the first half with a one-goal lead and made sure of the win by scoring two other goals midway through the second period.  The Spurs, who are currently struggling to be competitive in the second division league managed to produce a solid defensive performance for more than an hour of play, but struggled to end the encounter with a respectable result.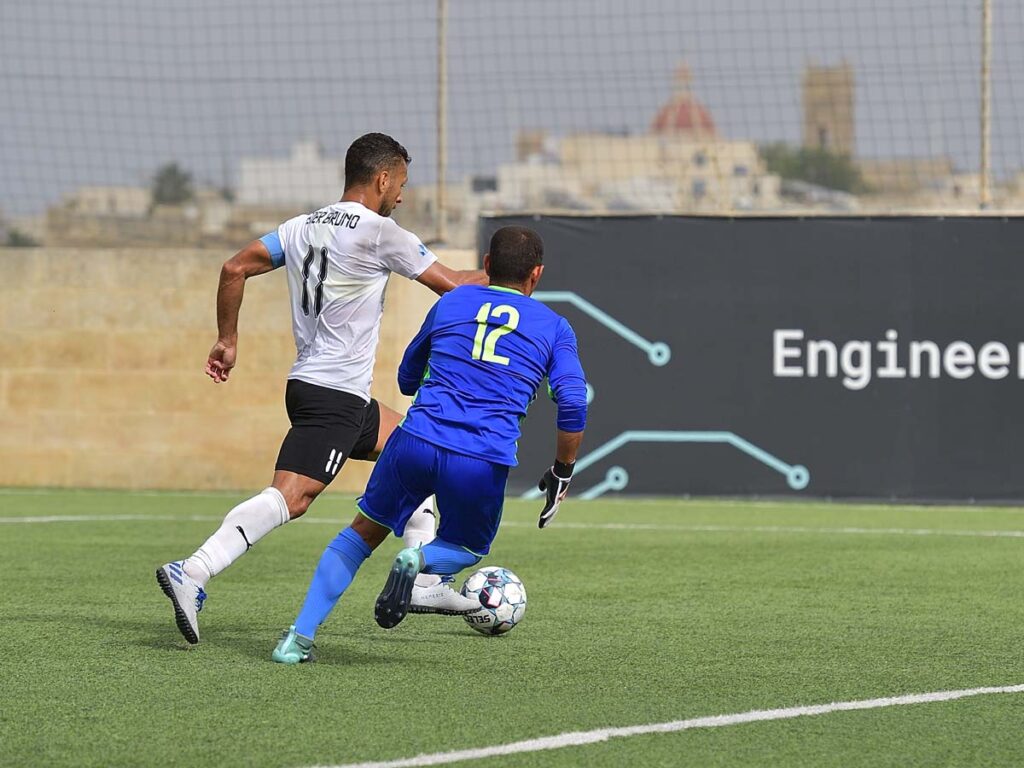 Timeline:
Nadur produced pressure on St Lawrence's defence from the early stages but they ended up conceding a goal by their opponents and were forced to increase their efforts in an attempt to recover the deficit as early as possible.
2' Nadur could have scored an early goal but a close ranged shot by Judivan Flor Da Silva following a melee in front of St Lawrence's goalmouth was blocked by the defence.
8' (0-1) St Lawrence surprised their more quoted opponents when Alen Haska entered Nadur's territory in a counter break, turned around the goalkeeper at the edge of the area and netted with a low drive.
Nadur seemed shocked and their immediate reaction was sterile so that St Lawrence's goalie was not called to make any difficult interventions for most of the first half.
20' A shot from outside the area by Gianluca Muscat ended just over St Lawrence's goal.
30' St Lawrence's goalie Courtney Mercieca was well placed and neutralised a shot from an angled position by Ederson Bruno Domingos.
39' (1-1) Nadur's efforts were rewarded when Lorenzo Atzori entered St Lawrence's area from the right flank and fired a goal with a shot towards the far post.
41' In another action by Nadur, Lorenzo Atzori delivered a cross from the right flank but central defender Daniel Micallef clered the danger to a corner from the goalmouth. From the resultant corner kick by Stefan Cassar, a header by Lucas Moreira ended just over the crossbar.
44' (2-1) Nadur took the lead when St Lawrence's goalie Courtney Mercieca partially saved a strike by Owen Peter Bugeja and from the resultant melee, Lorenzo Atzori took the ball and netted from close distance.
HT (2-1)
Nadur maintained the command of play after the break but St Lawrence continued to be well organised at their defence during the opening stages but they conceded two goals in the space of one minute so that they compromised the possibility to avoid a heavy defeat.
21' Nadur's first scoring opportunity of the second period arrived to substitute Joseph Zammit who tried to reach a through ball inside St Lawrence's area but goalie Courtney Mercieca cleared the danger to deny the young striker from concluding towards goal.
22' (3-1) The Youngsters however increased their lead when Judivan Flor Da Silva released Ederson Bruno Domingos and the latter concluded easily in goal when he was face to face with the goalkeeper.
24' (4-1) The fourth goal from Nadur arrived following a prolonged action inside St Lawrence's area when Ederson Bruno Domingos unmarked Judivan Flor Da Silva who concluded in goal from an ideal position.
36' Nadur were unlucky when an attempt directly from a free kick by Joseph Zammit hit the crossbar.
36' (5-1) The Youngsters however scored another goal when substitute Jordi Parnis received the ball on the right flank and netted with a low shot as the goalkeeper left his position in an attempt to block the danger.
44' Nadur's Lorenzo Atzori concluded in goal following a cross by Gennaro Hili but his goal was disallowed for an offside infringement.
FT (NY 5 – SLS 1)
Referee: Fyodor Zammit