24 October 2021
BOV GFA Cup Prel Rd Kercem Arkafort Stadium
Ghajnsielem FC : 9
Munxar Falcons FC : 0
7' (1-0) Igor Nedeljkovic
18' (2-0) Johnny Camilleri
39' (3-0) Dejan Bogdanovic
56' (4-0) Johnny Camilleri
60' (5-0) Ryota Watanabe
62' (6-0) Michael Bezzina
85' (7-0) Ryota Watanabe
87' (8-0) Igor Nedeljkovic
89' (9-0) Johnny Camilleri
Ghajnsielem FC:
L. Buttigieg, K. Borg, D. Bogdanovic, K. Merceca, S. Attard, M. Bezzina, J. Arboleda Valencia, K. Grima, R. Watanabe, I. Nedeljkovic, J. Camilleri.
Munxar F:
D.C. Spiteri, C. Gafa, A. Buttigieg (P. Parnis), P. Rapa, M. Azzopardi (A. Sacco), L. Meilak, M. Debrincat, N. Haber, A. Carvalho, R. Grima (F. Azzopardi),  K. Mizzi (J. Vella).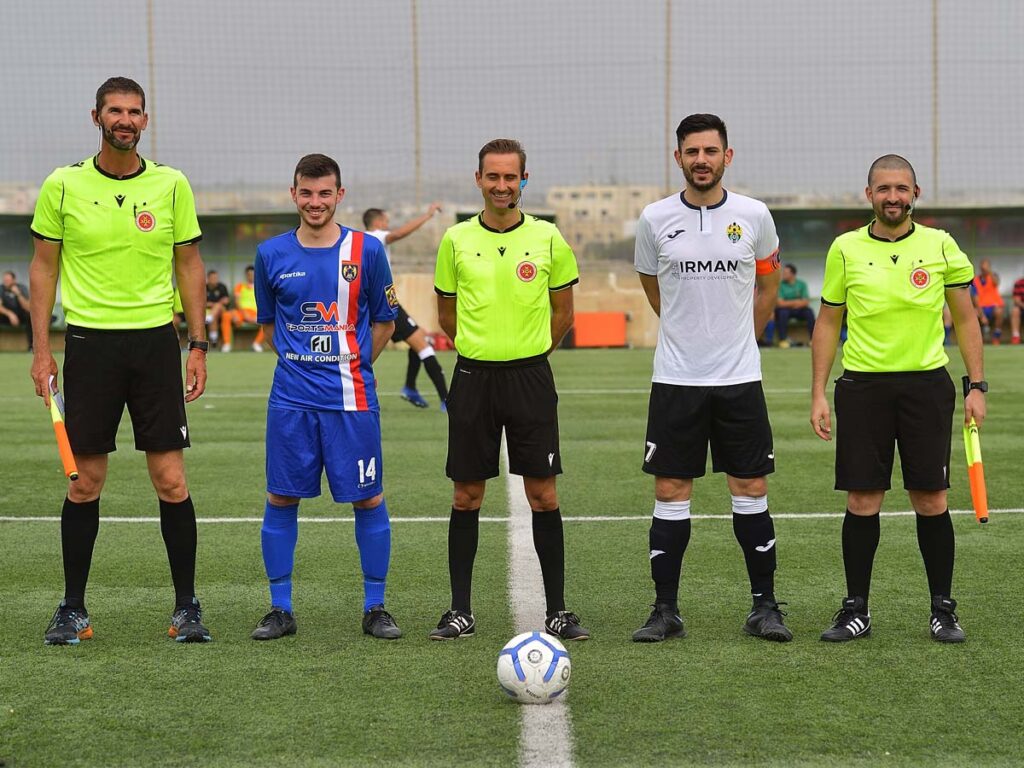 Ghajnsielem recovered from the disappointing result conceded in their last match of the championship and obtained the qualification to the quarter-finals of the second most important competition in Gozitan football with a large win over second-division side Munxar Falcons.  Ghajnsielem, who are currently limited with the number of players due to injuries, dominated this encounter throughout the 90 minutes and practically made sure of the win by scoring three goals during the first half.  Munxar tried hard to make it difficult to their opponents but they did not manage to resist to Ghajnsielem's pressure particularly during crucial moments of the encounter.  
The large win matured through a hat-trick by Johnny Camilleri, a brace each by Igor Nedeljkovic and Ryota Watanabe, and a goal each by Dejan Bogdanovic and Michael Bezzina.  In the quarter-finals Ghajnsielem will not face Kercem Ajax.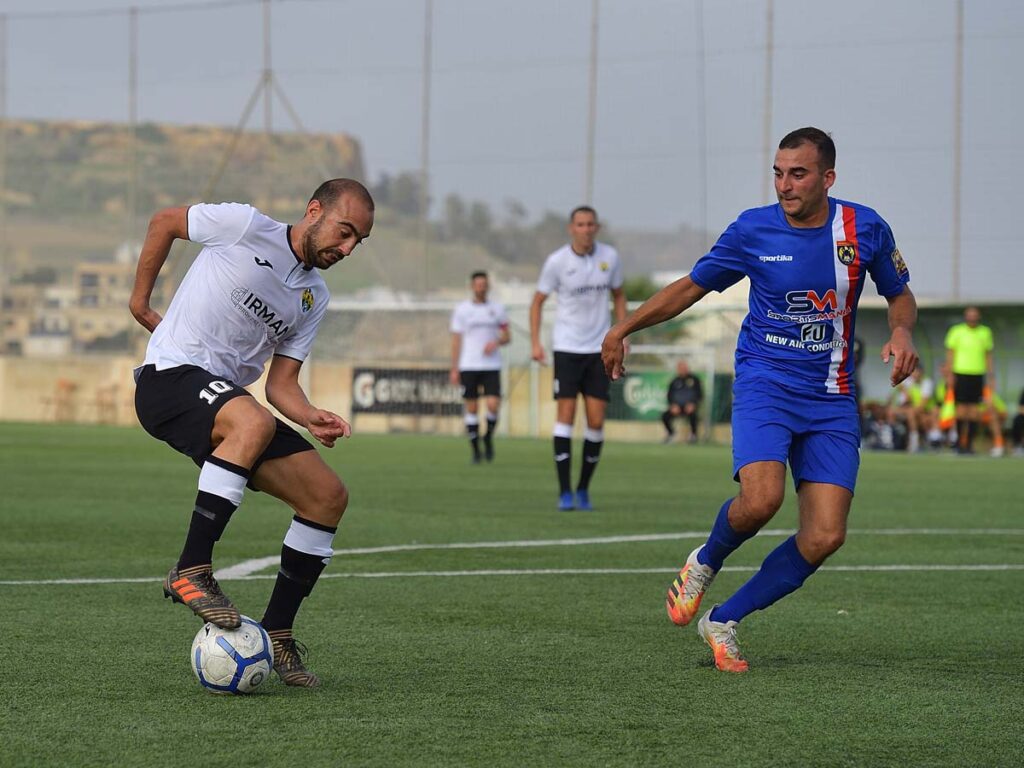 Timeline:
Ghajnsielem came out determined to score an early goal and practically paved the way to put their minds at rest by scoring three goals during the first 45 minutes.
4' The Blacks were dangerous through a shot from an angled position by Jhon Arboleda Valencia that missed the target.
7' (1-0) Ghajnsielem broke the deadlock when Johnny Camilleri delivered a low cross inside Munxar's area from the right flank and Igor Nedeljkovic placed easily in goal with a low shot.
Munxar continued to suffer Ghajnsielem's play and tried hard to keep the danger away from their area as much as possible.
18' (2-0) Ghajnsielem doubled the score through a low shot by Johnny Camilleri following a personal action.
23' Ghajnsielem's Igor Nedeljkovic had a good shot that ended just wide.
26' The Blacks were again dangerous through an attempt by Ryota Watanabe that ended just over the crossbar.
28' Munxar's goalie Damien Spiteri was well placed an neutralised a shot from outside the area by Johnny Camilleri.
30' The Falcons could have reduced the deficit but an attempt from an angled position by Ayesller Carvalho was turned to a corner by goalie Luke Buttigieg.
34' In another action by Ghajnsielem, a curling shot by Michael Bezzina ended away from goal.
39' (3-0) Ghajnsielem scored the third goal through a direct free kick by Dejan Bogdanovic that ended out of the reach of Munxar's keeper.
HT (3-0)
Ghajnsielem continued to produce pressure on Munxar's defence during the second period and converted their superiority by scoring more goals.
7' Ghajnsielem's Jhon Arboleda Valencia had an opportunity to increase the lead but his shot from an ideal position ended wide.
11' (4-0) The fourth goal by Ghajnsielem arrived through a close ranged shot by Johnny Camilleri following a cross by Jhon Arboldea Valencia.
15' (5-0) Munxar seemed demoralised and the Blacks added another goal that arrived through a strike by Ryota Watanabe following a personal action.
17' (6-0) Ghajnsielem scored their sixth goal when a corner kick by Shaun Attard arrived to Michael Bezzina and the latter placed in goal from close distance.
22' Munxar's goalie managed to block a low shot by Jhon Arboleda Valencia.
24' Munxar's opportunity to score a consolation goal arrived though a strike by Luke Meilak that defeated the goalkeeper but the ball was stopped by the crossbar.
30' In another good action by the Blacks a shot by Johnny Camilleri ended wide.
33' Ghajnsielem were again dangerous through shot by Kurt Grima following a personal action that ended just wide.
40' (7-0) Ghajnsielem's Kurt Grima delivered an inviting cross from the right flank and Ryota Watanabe headed in goal from close distance.
42' (8-0) Munxar continued to suffer Ghajnsielem's pressure and Ryota Watanabe took the ball from the goalkeeper and passed to Igor Neeljkovic who concluded easily in goal.
44' (9-0) Ghajnsielem's Ryota Watanabe crossed from the left hand side and Johnny Camilleri netted from close distance to seal the issue and also to register a personal hat-trick.
FT (GHJ 9 – MF 0)
Referee: Aleksandar Jovanovic