20 November 2021
BOV GFA Cup Q/Final Kercem Arkafort Stadium
Nadur Youngsters FC : 3
Victoria Hotspurs FC : 1
50' (1-0) Judivan Flor Da Silva
64' (1-1) Robinson Blandon Rendon
65' (2-1) Judivan Flor Da Silva
78' (red card) Judivan Flor Da Silva (NY)
87' (3-1) Marcelo Barbosa
Nadur Youngsters:
S. Sultana, M. Tabone (I. Xuereb), L. Moreira, J.M. Vella, J. Zammit (G. Farrugia), M. Barbosa (J. Parnis), E. Bruno Domingos G. Hili, S. Cassar, G. Muscat, J. Flor Da Silva.
Victoria H:
D. Spiteri, E. Serrano Valero, C. Vella, D. Hili, K. Boakye-Mensa (A. Debrincat), J. Pace, O.G. Fernandes, J. Tabone (J. Azzopardi), E. Xiberras (C. Attard), O. Cremona, R.Blandon Rendon.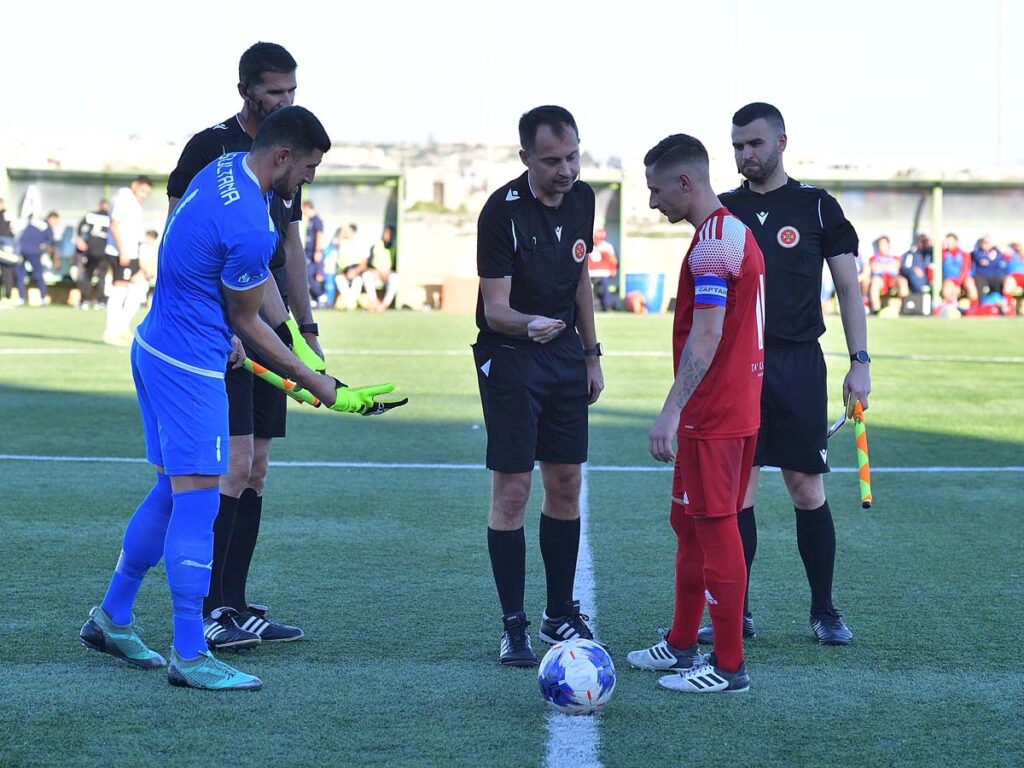 Nadur Youngsters obtained a 3-1 win over Victoria Hotspurs and earned a deserved qualification to the semi-finals of the BOV GFA Cup. This was the most expected cup tie of the competition so far as Nadur are aiming to be competitive for all honours this seasons while the Hotspurs were determined to make up for a disappointing season by challenging for this honour. However, Nadur held supremacy for most of the encounter and the outcome of the encounter was just.
For this match the Hotspurs had Columbian striker Robinson Blandon Rendon who was making his debut and they also seemed motivated to be serious challengers for the qualification.  The Citizens managed to keep a clean sheet at the end of the first half but during the opening stages of the second period Nadur opened the score and took the driving seat.  The turning point of the match arrived when he Hotspurs surprised their opponents by scoring an equaliser but Nadur had an immediate reaction and regained the lead.  Nadur were reduced to ten players for the final minutes but the Hotspurs failed to take advantage so that Nadur sealed the win by scoring the third goal.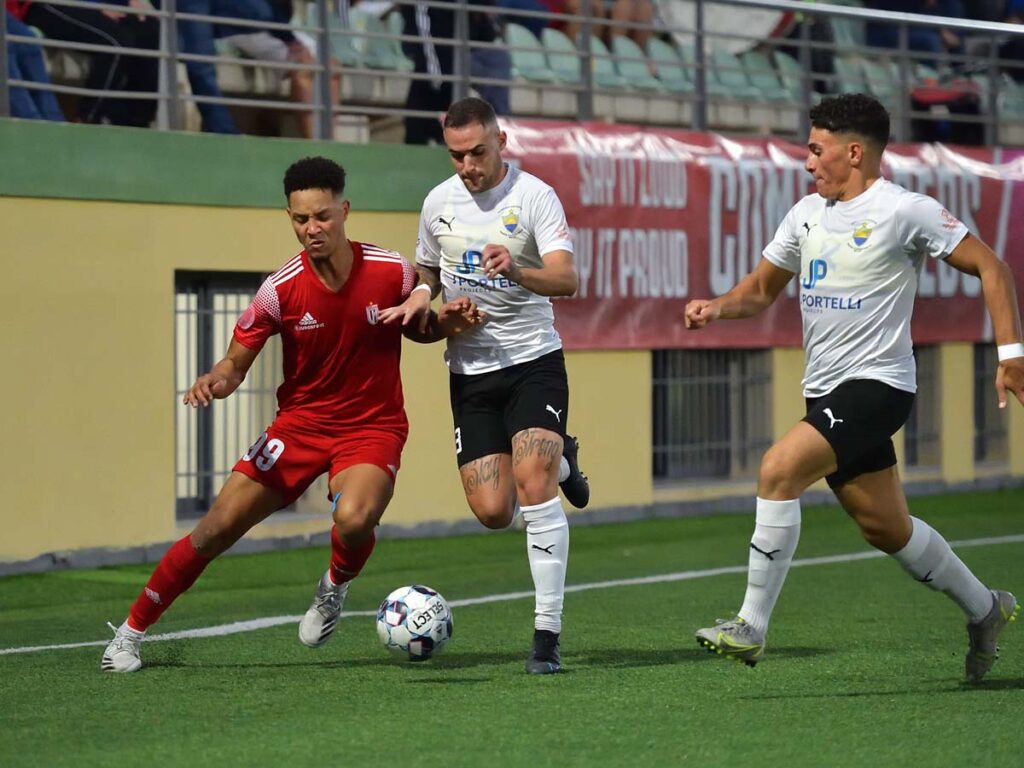 Timeline:
Pay during most of the first period was quite interesting as Nadur tried to take command of play but the Hotspurs defended well and were also dangerous with sporadic breaks.
6' Nadur could have opened the score when Gennaro Hili delivered an inviting low cross from the left flank but Judivan Flor Da Silva incredibly concluded over the crossbar from close distance.
9' Nadur protested for a penalty when Marcelo Barbosa tried to pass with a personal action inside Victoria's area but ended on the floor following a challenge with his opponents but the referee judged a simulation by the striker.
19' Nadur's Marcelo Barbosa had an attempt directly from a free kick that was saved by goalie Daniel Spiteri.
20' The Hotspurs replied with a shot by Christian Vella that ended wide.
30' Nadur were again dangerous through a strike by Gianluca Muscat, after receiving from Ederson Bruno Domingos, that ended just over the crossbar.
37' Victoria's goalie Daniel Spiteri left his position in time to take the ball before Joseph Zammit could reach the ball from a low through pass by Judivan Flor Da Silva.
40' The Youngsters had another attempt directly from a free kick, on this occasion through Joseph Mario Vella, that ended just wide.
HT (0-0)
Second Half
Nadur came out more aggressive after the resumption and managed to open the score and despite Victoria's reaction and a player sent off, they still ended up obtaining a convincing win.
3' Victoria's goalie was surprised following a cross from the left flank but Joseph Zammit failed to hit from an ideal position and missed an opportunity to put his side in the lead.
5' (1-0) Nadur however opened the score when Ederson Bruno Domingos passed outside the area to Judivan Flor Da Silva who fired in goal with a fine strike that ended out of the reach of Victoria's keeper.
9' Marcelo Barbosa entered Victoria's area with a personal action but his low shot was well saved by goalie Daniel Spiteri.
13' Nadur went very close to double the score but a direct free kick by Marcelo Barbosa ended just wide.
18' The same Barbosa had a good attempt from an angled position following a cross by Joseph Zammit that missed the target.
19' (1-1) The Hotspurs levelled the score when debutant Robinson Blandon Rendon displaced Nadur's defence with a personal action after receiving from substitute Christian Attard, and fired in goal with a low shot.
21' (2-1) Nadur regained the lead when Marcelo Barbosa released Judivan Flor Da Silva from a throw-in and the latter lobbed into an open goal with a back heel as the goalkeeper left his position in an attempt to block the danger.
27' Victoria's keeper Daniel Spiteri was called to make a difficult save to deflect to a corner following a curling shot from outside the area by Marcelo Barbosa.
33' (red card) Nadur were reduced to ten players when Judivan Flor Da Silva was sent off for elbowing on Elkin Serrano Valerio.
37' The Hotspurs could have capitalised better but a header by Robinson Blandon Rendon from a corner kick by Jason Pace ended wide.
38' The Hotspurs grew in confidence and were again dangerous through another header by Robinson Blandon Rendon following a free kick from long distance by Jason Pace that was neutralised by goalie Steve Sultana.
42' (3-1) Nadur made sure of the qualification with the third goal that arrived through Marcelo Barbosa who passed around the defence with a personal action and concluded in goal from close distance.
45+1' The Hotspurs could have reduced the score but an attempt by substitute Andre Debrincat ended high.
FT (NY 3 – VH 1)
Referee: Slawomir Olucha