22 January 2022
GFA BOV Gozo Football League Division II (MD 6) Kercem Arkafort Stadium
St Lawrence Spurs FC : 2
Munxar Falcons FC : 2
52' (1-0) Alen Haska
61' (1-1) Aaron Buttigieg
70' (2-1) Christopher Cauchi
79' (2-2) penalty Ayesller Carvalho
St Lawrence S:
C. Mercieca, G. Portelli, A. Attard, C. Grima, A. Haska, V.J. Saliba (L. Cilia), C. Cauchi, J. Xuereb, L. Dimech (J.M. Portelli), C. Azzopardi (W. Hili), D. Micallef.
Munxar F:
D. Galea, J.P. Grima, C. Gafa (A. Buttigieg), P. Rapa (R. Grima), M. Azzopardi, L. Meilak, M. Debrincat (G. Sillato), N. Haber, A. Carvalho, J. Agius, K. Mizzi (D.P. Borg).
In the last match from Match-day 6 of the BOV Gozo Football League of the second division, Munxar Falcons and St Lawrence Spurs earned a point each form a draw of four goals but neither side left the field satisfied with the outcome. Both Munxar and St Lawrence were aiming for the win form this match as Munxar could have reduced their gap from the leaders to just three points, while the Spurs needed the points to open a gap from the other teams who are struggling to avoid the bottom place on the table.
With this result current leaders Qala Saints increased their lead over their closest rivals to five points, while the Spurs remain involved in the lower part of the table. On a positive note Munxar were rewarded for the character that they showed to recover the score on two occasions so that they ended up obtaining a positive result, while the Spurs earned their fourth positive result from six match, which is undoubtedly a better performance from that of the last season.
The final score however was a just result as the two sides had good moments but neither side managed to prevail over the opponent.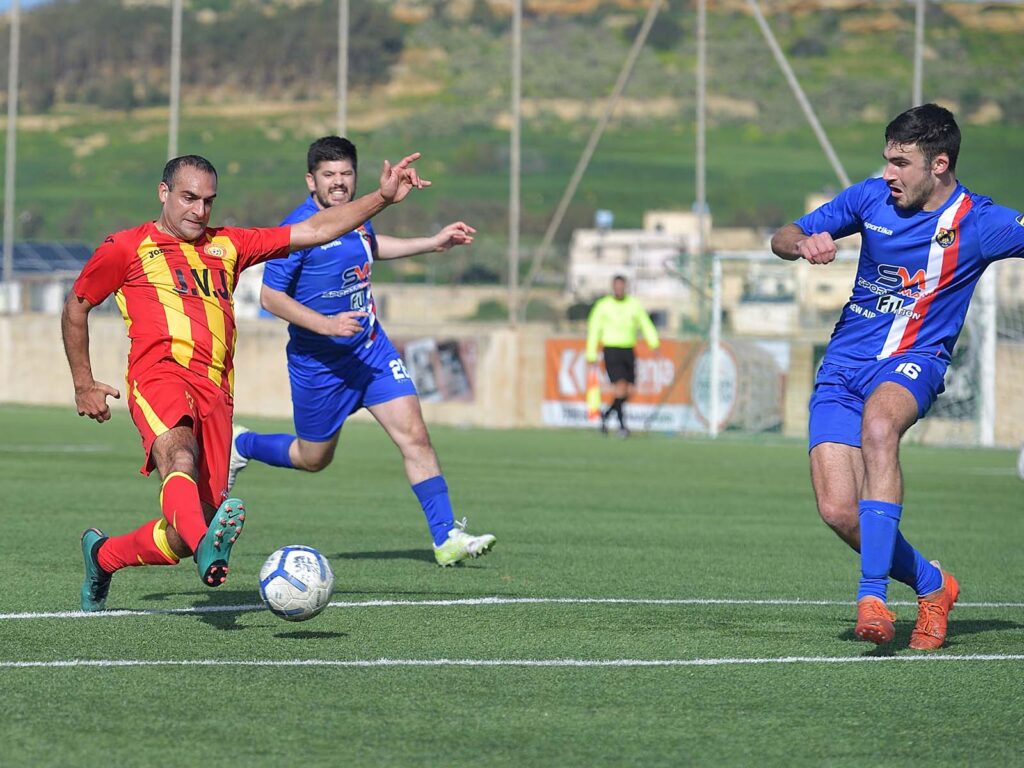 Timeline
Play was rather balanced during the opening minutes but as time passed by during the first half Munxar became more offensive and could have ended the first half in the lead.
18' St Lawrence's goalie Courtney Mercieca was called to make a difficult save to block a shot from outside the area by Mario Azzopardi.
21' The same goalkeeper was well placed to neutralise a free kick by Christopher Gafa that was also deflected by Munxar's striker Ayesller Crvalho.
23' Munxar's Luke Meilak had a good shot from outside the area that was saved well by St Lawrence's goalie.
27' Munxar had another dangerous attempt by Paul Rapa that was blocked to a corner by the defence to a corner.
30' The Spurs replied with a shot from an angled position by Alen Haska that ended wide.
35' Munxar's John Paul Grima had a shot from an ideal position after receiving from Luke Meilak that missed the target.
39' St Lawrence risked to commit an own goal when defender Julian Xuereb hit badly in front of the goalmouth and the ball hit the crossbar with the goalkeeper beaten.
HT (0-0)
Second Half
Play became more balanced after the break as St Lawrence increased their efforts in an attempt to be more offensive.
7' (1-0) St Lawrence opened the score through a direct free kick by Alen Haska that ended in the upper corner of the far post and out of the reach of the goalkeeper.
16' (1-1) Munxar had an immediate reaction and managed to clinch a deserved equaliser through a fine strike from an angled position by substitute Aaron Buttigieg that surprised St Lawrence's keeper.
17'' Munxar kept insisting and could have turned the result in their favour but a shot from close distance by Ayesller Carvalho ended wide.
18' In the following action Munxar missed another good scoring opportunity when a shot from an ideal position by substitute Robert Grima ended high.
21' St Lawrence replied through a close ranged header by Christian Grima following a cross by Alen Haska that was saved by goalie Daniel Galea.
25' (2-1) The Spurs regained the lead when Christopher Cauchi produced a personal action and fired in goal with a low shot.
33' (2-2) penalty Munxar managed to recover the score for the second time when they were awarded a penalty for a foul by Daniel Micallelf on Ayesller Carvalho and the same Brazilian striker converted from the spot kick.
37' The Spurs went very close to scoring but a header by Christopher Cauchi following a corner kick by Alen Haska ended just over the crossbar.
43' St Lawrence went could have capitalised better when substitute Jurgen Mario Portelli received the ball at an unmarked position, the defence stopped for an offside, but the young striker concluded wide from a good position.
45+5' St Lawrence's goalie Courtney Mercieca was well placed and saved the point for his side when he neutralised a good strike from a good position by Ayesller Carvalho.
FT (SLS 2 – MF 2)
Referee: Joseph Scerri