21 March 2022
GFA BOV Gozo Football League Division I (MD 17) Gozo Stadium
Sannat Lions FC : 0
Oratory Youths FC : 3
22' (0-1) Daniel Atzori
68' (red card) Daniel Borg (SL)
69' (0-2) penalty Pablo Vinicius De Moraes Ferreira
85' (0-3) Haraan Hajazan Goncalves Barbosa
Sannat L:

L. Xuereb, A. Sultana, L.B. Da Silva, N. Grima,  H.F. Solis, D. Borg, M.M. Uzor, M. Mamo, M. Mifsud, N. Biculjevic (M. Azzopardi), A. Azopardi.
Oratory Y:

A. Brignoli, D. Atzori, K. Farrugia (M. Zammit), H.H. Goncalves Barbosa, D.G. Lago, P. Vinicius De Moraes Ferreira, I. Belhadj, J. Grima, S. Azzopardi, K. Formosa, Ju. Attard.
Oratory Youths practically made sure to retain their first division status for next season with the points obtained from a 3-0 win over Sannat Lions. The Youths are now at a comfortable mid-table position with a good lead over the same Sannat, who remain at the second place from the bottom, and also over the team at the last place.  In this match, Oratory Youths extended their good patch which saw moving from the bottom places as this was the fourth consecutive positive result in the championship.
The oratory was determined to make up for the disappointment of their latest match where they gave away two points by conceding very late goals and maintained command of lay throughout the ninety minutes.  The Youths had central defender Joao Vitor Ferrari Silva and defender Daniel Azzopardi missing due to suspensions but they managed to field a strong defence that made it very difficult for their opponents to create danger.  In this match Oratory's Brazilian strikers Goncalves Barbosa ad Vinicius Ferreira confirmed an excellent moment of form and the two players created continuous danger within Sannat's territory.
This was a direct clash between two sides who were struggling in the red zone before this match.  Sannat was aiming to obtain a win to reach the same Youths on equal points but they missed the opportunity and never managed to control Oratory's pay so that they became demoralised as time passed by and practically threw the towel when the also ended with a player less on the field.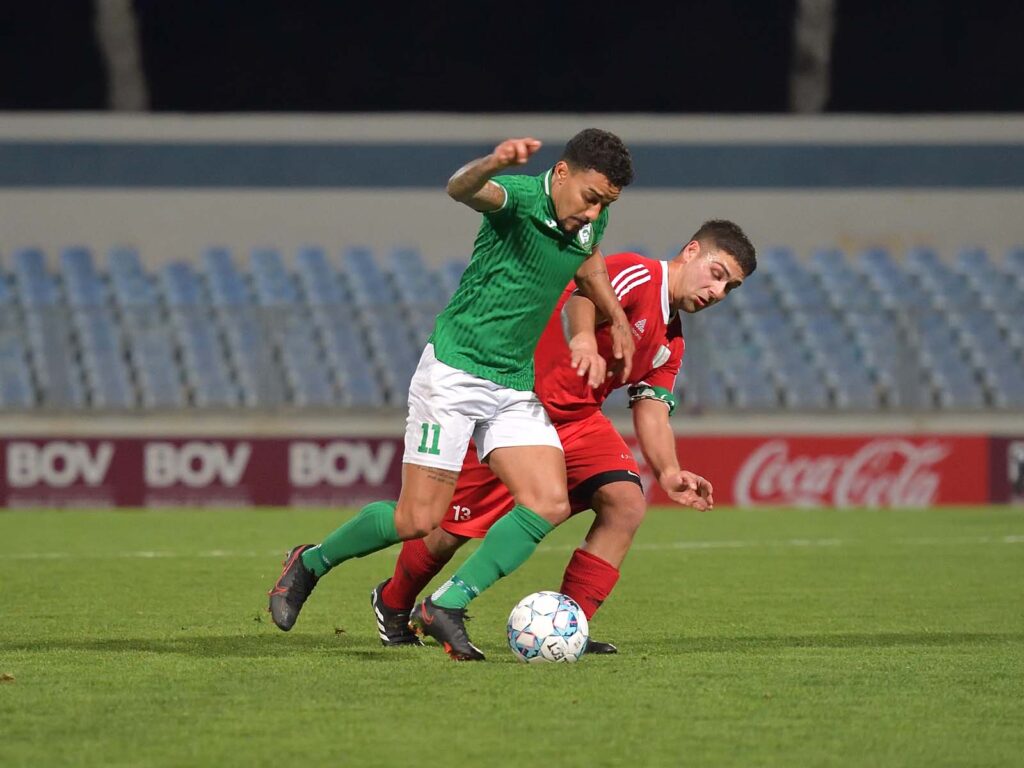 Timeline
Oratory produced more offensive play during the first period and managed to take the break with a one-goal lead.  Sannat struggled to produce a reaction and they failed to create serious danger towards Oratory's goal.
3' Oratory went very close to scoring through a strike from a long distance by Daniel Atzori that shaved the post and the ball ended wide.
5' Sannat replied with good action from the right flank where Aaron Azzopardi delivered a cross towards the area, Oratory's defence hesitated to clear the ball but the shot by Sannat's striker Henry Fabian Solis hit the crossbar.
11' Sannat were again dangerous through a header by Matthias Michael Uzor following a cross by Henry Fabian Solis that ended wide.
16' Oratory's Pablo Vinicius De Moraes Ferreira had an attempt from a long-ranged free-kick that got a deflection and Sannat's goalie saved with some difficulty to a corner.
22' (0-1) Oratory opened the score when Goncalves Barbosa delivered a cross towards the goalmouth from the left flank, the defence failed to clear the danger and Daniel Atzori capitalised from the opportunity and netted with a low shot towards the far post.
23' Sannat could have created more danger when Nicholas Grima ran to follow a through pass but Oratory's goalie Angelo Brignoli left his position on time to clear the ball from the danger area.
24' Oratory were again dangerous through a low shot by Daniel Atzori that was cleared from the small area by defender Anthony Sultana.
HT (0-1)
Second Half
Sannat tried to increase their efforts after the break but Oratory maintained their composure and justified their lead by keeping control of play, continued to create more dangerous play and made sure of the win by scoring two more goals.
35sec. Sannat's Marlon Mamo operated a personal action but his effort from outside the area was neutralised by goalie Angelo Brignoli.
4' Oratory replied through a free-kick from a long distance by Pablo Vinicius De Moraes Ferreira that was saved by goalie Lorjean Xuereb.
8' (crossbar) The Youths could have created more danger but a shot from outside the area got a deflection and ended in a corner.  From the resultant corner action, Pablo Vinicius De Moraes Ferreira received from Karl Formosa but the former saw his shot that hit the crossbar.
9' (protests for penalty) In the following actions Oratory protested for a penalty on separate occasions when Goncalves Barbosa and Vinicius Ferreira tried to pass inside Sannat's area.
13' Oratory once again was dangerous through a lob from a long distance by Vinicius Ferreira that ended just wide.
16' Sannat's goalie was well placed and saved to a corner a free-kick from an angled position by Vinicius Ferreira.
21' In another good action by Oratory Vinicius Ferreira passed to Daniel Atzori who turned around his direct opponent but his shot was weak and was saved by goalie Lorjean Xuereb.
23' (0-2) (red card – penalty) Oratory was awarded a penalty for a foul by Daniel Borg on Goncalves Barbosa.  Sannat's defender was sent off after receiving the second caution and Pablo Vinicius De Moraes Ferreira made it 2-0 with his shot from the spot-kick.
34' (post) Oratory could have added another goal but a strike from outside the area by Vinicius Ferreira was stopped by the post.
35' (0-3) The Youths managed to score the third goal that arrived through a curling shot by Haraan Hajazan Goncalves Barbosa that ended out of the reach of Sannat's goalie.
39' Sannat replied with a shot by Henry Fabian Solis that ended wide.
FT (SL 0 – OY 3)
Referee: Alex Johnson