22 March 2022
GFA BOV Gozo Football League Division II (MD 14) Kercem Arkafort Stadium
St Lawrence Spurs FC: 2
Xaghra United FC : 0
48' (red card) Jonathan Xiberras (XU)
49' (1-0) Alen Haska
69' (2-0) Alen Haska
St Lawrence S:

J. Grima, G. Portelli, A. Andrew, C. Grima, A. Haska, V. J. Saliba, J.  Xuereb, C. Azzopardi, D. Micallef, J. M. Portelli, C. Mercieca.
Xaghra U:

A. Debono, J. Bajada, J. Xuereb, L. Sultana (J. Camilleri), M. Cordina, S. Bonello, F. Cauchi (B. Meilak), A. Cini, E. Galea, T. Agius (L. Camilleri), E. Scerri. 
St Lawrence Spurs obtained three important points in the first match from the penultimate Match-Day of the campaign from a 2-0 win over Xaghra United.  This was a match between two sides who were on equal points and at the second place from the bottom of the table before this encounter.  With this win, the Spurs took fourth place on the standings and will now look forward to obtaining at least one point from their last match to end the league at a respectable place on the final table.
This third win for St Lawrence on Xaghra United in the campaign was well deserved and matured with a brace scored by their main striker Alen Haska when they had an extra player on the field.  With these two goals, Haska is now sharing the top-scorer table of the category together with Xaghra's Shemar Tristan Blair.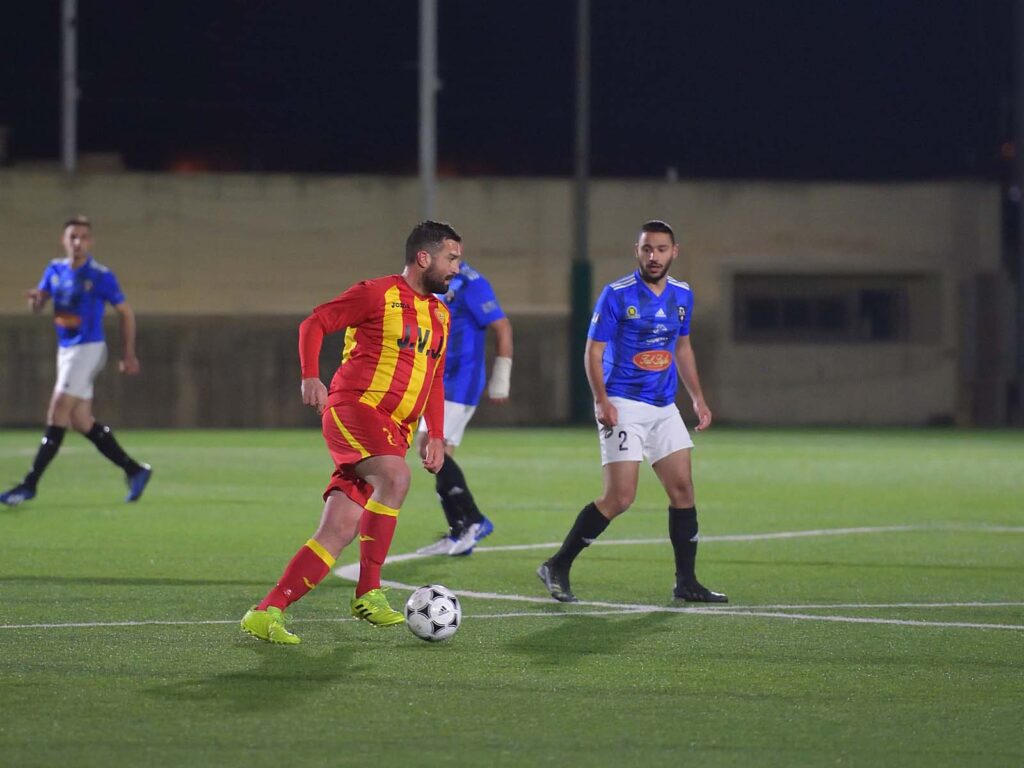 Timeline
Xaghra tried to surprise their opponents during the opening stages but as time passed by St Lawrence imposed more offensive pay and created more scoring opportunities.
5' Xaghra's Jonathan Xiberras had an attempt following a corner kick by Matthias Cordina that ended wide.
11' The Spurs replied with a low drive from an angled position by Alen Haska that passed in front of Xaghra's goal but the other strikers failed to connect for a tap-in.
12' Xaghra's Luke Sultana produced a personal action within St Lawrence's territory but his effort ended just wide.
28' A free-kick by St Lawrence's Alen Haska ended high.
38' The same Serbian striker had a good shot that was well saved by Xaghra's goalie Aiden Debono.
44' Xaghra's defence cleared badly from their area but the shot by Alen Haska from an angled position ended over the crossbar.
45' The Spurs went very close to open the score but a strike by Charles Mercieca following a cross by Alen Haska was stopped by the post.
HT (0-1)
Second Half
The Spurs practically took full control of the play from the early stages of the second period as their opponents ended up playing with a player less and therefore they found it difficult to share play.
48' (red card) Xaghra ended playing with a player less when Jonathan Xiberras was sent off following a second yellow card received for a foul n Alen Haska.
49' (1-0) St Lawrence capitalised from the resultant free-kick as Alen Haska placed beyond the reach of Xaghra's goalie from the same set-piece.
7' St Lawrence were again dangerous through a shot by Charles Mercieca that was well saved by goalie Aiden Debono.
11' A shot on the run by St Lawrence's Jurgen Mario Portelli ended wide.
24' The Spurs doubled the score with a fine strike from an angled position by Alen Haska.
30' St Lawrence's Alen Haska could have registered a hat-trick but his attempt following a cross by Jurgen Mario Portelli missed the target.
32' Xaghra could have re-opened the issue but a good shot by Matthias Cordina was well saved by Sty Lawrence's goalie Justin Grima.
33' Xaghra's goalie Aiden Debono was well placed and neutralised a good shot by St Lawrence's Christian Grima.
FT (SLS 2 – XU 0)
Referee: Anthony Paul Vella