31 March 2022
GFA BOV Gozo Football League Division II (MD 14) Kercem Arkafort Stadium
Munxar Falcons FC : 0
Zebbug Rovers FC : 2
69' (0-1) Orlando Atzori
89' (0-2) Daniel Mesa Pineros
Munxar F:

D. Galea, J.P. Grima, C. Gafa, P. Parnis,  P. Rapa, M. Azzopardi (R. Grima), M. Tabone (O. Farrugia), L. Portelli, A. Carvalho, J. Vella (J. Grima), M. Farrugia.
Zebbug R:

F. Portelli, I. Buttigieg, C. Gauci, P. D. Mesa, E. Gauci, N. J. Cini, J. Azzopardi, M. Grech, O. Atzori, R. Saliba, P. Spiteri.
Zebbug Rovers confirmed their good moment of form expressed in the final matches of the campaign and consolidated their third spot on the table with a 2-0 win over second-placed Munxar Falcons. Zebbug must be very disappointed with their performances in the matches from the second round as they practically compromised the possibility to be serious challengers for the runners-up position. In this match, the two teams failed to create serious scoring opportunities during the first half but after the break, Zebbug were more adventurous and clinched the win by capitalising on two good chances and ended up obtaining a deserved win.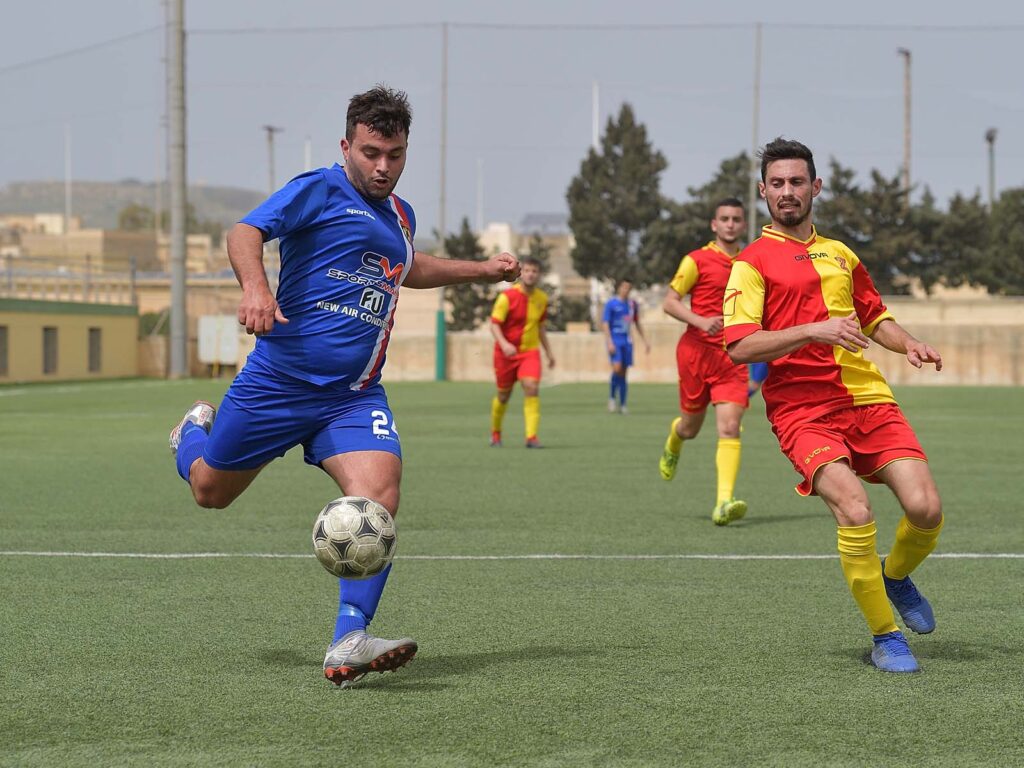 Timeline
Play for most of the first half took place in the midfield where the defensive departments were in control of the respective strikers so it was not surprising that the first half ended in a goalless draw.
10' Zebbug's goalie Francesco Portelli was well placed and neutralised a shot by Munxar's Ayesller Carvalho.
35' Zebbug's best attempt towards Munxar's goal arrived through a shot from a long distance by Orlando Atzori that ended wide.
HT (0-0)
Second Half
The Rovers came out more determined for the second period and increased their efforts in an attempt to take command of ply. Munxar on the other hand continued to struggle to create danger within Zebbug's territory and found it more difficult when they conceded Zebbug's first goal.
4' Zebbug's Daniel Mesa Pineros had an attempt directly from a free-kick that ended just high.
8' The same Mesa Pineros entered Munxar's area with a personal action but his low drive was deflected to a corner by goalie Daniel Galea.
22' The Rovers continued to be more confident Munxar's goalie was again called to make a good intervention to turn to a corner another low shot by Daniel Mesa Pineros.
24' (0-1) Zebbug managed to take the lead when Daniel Mesa Pineros had a good shot that was partially saved by goalie Daniel Galea and from the rebound, Orlando Atzori concluded easily goal from close distance.
36' Munxar's goalie denied Zebbug from adding another goal when he made two consecutive important interventions to block a shot by Nathan Cini following a personal action and he a; so save the second attempt from the rebound by the same Cini.
37' Munxar could have created more danger but a shot on the run by substitute Robert Grima ended just wide.
42' Zebbug were again dangerous when Ryan Saliba released Paul Spiteri but the latter saw his shot that ended just wide.
44' Zebbug made sure of the win by scoring the second goal that arrived through a fine shot by Daniel Mesa Pineros following a personal action.
FT (MF 0 – ZR 2)
Referee: Jason Portelli