31 March 2022
GFA BOV Gozo Football League Division II (MD 14) Kercem Arkafort Stadium
Gharb Rangers FC: 1
Qala Saints FC: 4
15' (0-1) Brandon Said
21' (0-2) Brandon Said
66' (0-3) Brandon Said
73' (1-3) Rodrigo Apestegui Duran
77' (1-4) penalty Brandon Said
Gharb R:

O. Xuereb, A. Borg (J. Xerri), C. Cutajar, N. Attard, C. Dingli,S. Farrugia, M. Ciangura, D.  R. Apestegui, J. Cefai Farrugia, S. Azzopardi, P. P. Buttigieg.
Qala S:

M. Zammit, J. Portelli, S. Sillato (C. Farrugia), Jsph. Buttigieg, M. Zerafa, Josef Buttigieg (C. Portelli), S. Muscat, E. Buttigieg (M. Buttigieg), R. Meilak (S. Farrugia), B. Said, E.R. Okpokwu (S. P. Spiteri).
Champions Qala Saints continued to express their superiority in the lower category this season and ended the penultimate Match-day with a convincing 4-1 win over bottom-placed Gharb Rangers. With the points obtained Qala took also advantage of the defeat conceded by second-placed Munxar Falcons and extended their lead to seventeen points and are also heading towards ending the campaign without a defeat.
Qala dictated matters throughout the encounter and made sure of the win by scoring two goals in each half where the protagonist was undoubtedly striker Brandon Said who scored the four goals for his side. Said is now leading the top scorer's table with fifteen goals.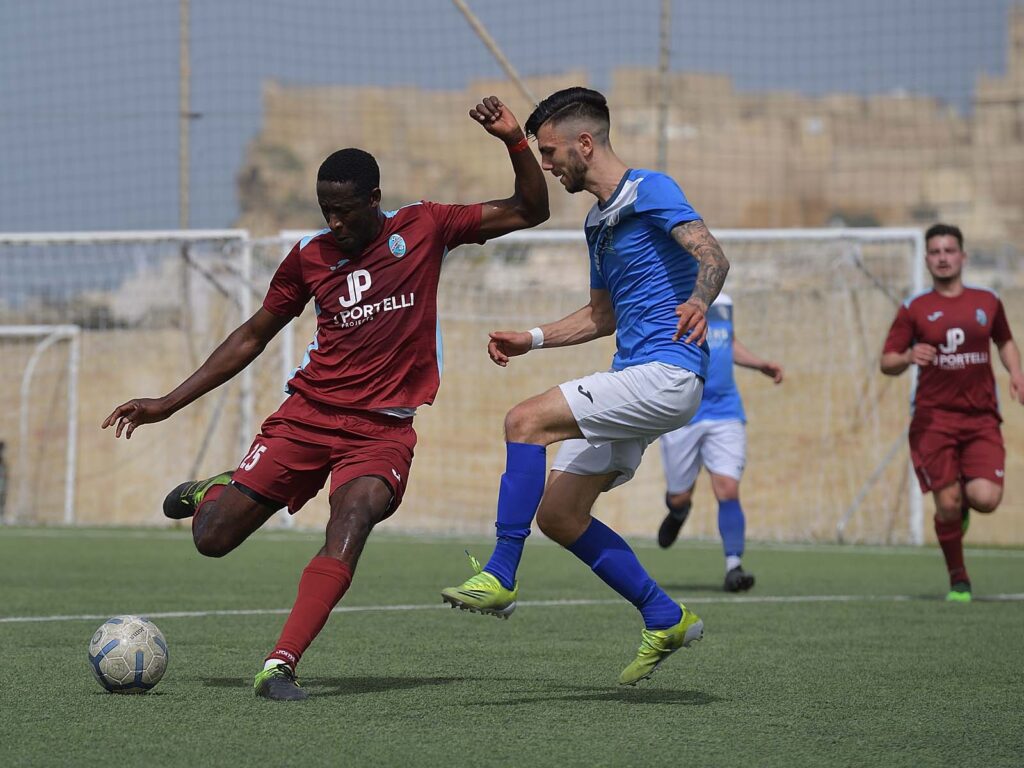 Timeline
Qala took command of play from the first minutes of play and tried to pave the way to obtaining a win by scoring early goals.
5' (0-1) The Maroons opened the score in their first serious attempt toward Gharb's goal through a first-timer from close distance by Brandon Said following a cross from the right flank by Michael Zerafa.
19' Gharb's goalie Owen Xuereb was well placed and neutralised a shot from outside the area by Ebube Ralph Okpokwu.
20' Qala's Brandon Said had a good header that just missed the target.
21' (0-2) The Saints doubled the score with a low shot by Brandon Said following a good cross by Ryan Meilak.
24' Qala's Ebube Ralph Okpokwu arrived on the ball before Gharb's goalie but the attempt ended wide.
36' Gharb's goalie Owen Xuereb made another good save following a strike by Ebube Ralph Okpokwu.
43' The same goalkeeper tuned to a corner with some difficulty a shot by Brandon Said.
45' Qala's Ebube Ralph Okpokwu missed a good opportunity to score the third goal but the striker lifted incredibly over the crossbar from an ideal position.
HT (0-0)
Second Half
Gharb tried to come out of their defence after the break but the champions continued to enjoy territorial supremacy.
15' Qala's substitute Stefan Farrugia had a good shot on the run that ended just wide.
19' Gharb could have reduced the score but they were unlucky when a free kick by Christian Dingli was stopped by the crossbar with goalie Mattia Zammit beaten.
21' (0-3) Qala's Ebube Ralph Okpokwu released Brandon Said and the latter scored the third goal with a low shot addressed to the corner and marked his personal hat-trick.
28' (1-3) Gharb scored their consolation when Rodrigo Apestegui Duran entered Qala's territory and as soon as he entered the area the striker fired in goal.
32' (1-4) penalty Qala were awarded a penalty for handling by Christian Dingli and Brandon Said made sure of the win by scoring the fourth goal with his shot from the spot-kick.
FT (GR 1 – QS 4)
Referee: Paul Apap