20 March 2022
GFA BOV Gozo Football League Division II (MD 13) Kercem Arkafort Stadium
Qala Saints FC: 1
Munxar Falcons FC : 0
51' (1-0) Ebube Ralph Okpokwu
Qala S:

M. Muscat (M. Zammit), J. Portelli, S. Sillato, M. Zerafa, Jsp. Buttigieg (S. Farrugia), M. Buttigieg, S. Muscat, E. Buttigieg, R. Meilak, B. Said, E.R. Okpokwu (S.P. Spiteri).
Munxar F:

D. Galea, J.P. Grima, C. Gafa, P. Parnis, A. Buttigieg (D.P. Borg), M. Azzopardi, L. Meilak, L. Portelli, R. Grima (O. Farrugia), M. Farugia, K. Mizzi.
Newly crowned champions of the BOV Gozo Football League of the second division Qala Saints are very close to ending the campaign undefeated as they managed to register their twelfth win from thirteen matches by obtaining a 1-0 win over their closest rivals Munxar Falcons.
The Maroons deserved the win as they produced more offensive play and kept their opponents on the defensive for most of the encounter.  Qala's win could have been with a larger margin but they missed some very good scoring opportunities so that they kept their rivals in contention for a positive result until the final minute.  However, Munxar found it very difficult to create serious danger towards Qala's goal particularly because they had their prolific striker Ayesller Carvalho missing due to suspension.  With this result, Munxar is still favourites to end the campaign at the runners-up position and to earn the possibility to challenge for promotion in a play-off against the team who finishes at the second place from the bottom on the table of the top flight.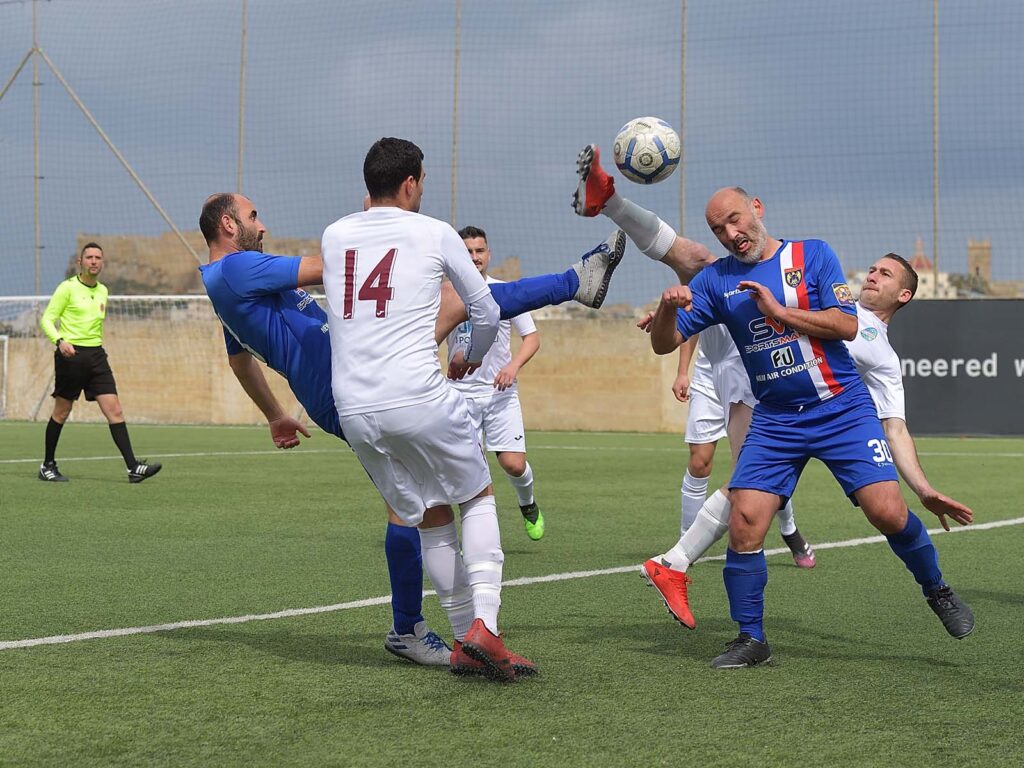 Timeline
Qala was more aggressive during the opening stages but Munxar defended well and made it difficult for their opponents to open the score. 
3' The Maroons could have scored an early goal when an attempt by Ryan Meilak was cleared off the line by central defender Mario Farrugia and from the rebound, an overhead kick by Brandon Said hit the post.
8' Qala were again dangerous through a shot by Michael Zerafa following a short free-kick that ended just wide.
38' Qala could have capitalised better when Ebube Ralph Okpokwu headed inside the area following a free-kick by Samwel Muscat but goalie Daniel Galea had good timing and saved the danger before Brandon Said could hit towards goal.
45' The Falcons created the only dangerous action when Robert Grima delivered a cross inside Qala's area from the left flank but goalie Matthew Muscat left his position in time to take the ball before Paul Parnis could hit towards goal.
45+1' Munxar's goalie Daniel Galea saved without difficulty a shot from an angled position by Samwel Muscat.
HT (0-0)
Second Half
Qala continued to dictate matters from the initial stages of the second period and paved the way to the win by taking the lead after a few minutes of play.
6' (1-0) Qala opened the core when goalie Daniel Galea partially blocked a cross-shot from the right flank by Samwel Muscat and from the rebound, Samuel Sillato passed to an unmarked Ebube Ralph Okpokwu who pushed the ball into an open goal from close distance.
27' A free-kick by Qala's Brandon said ended just wide.
30' Munxar's goalie Daniel Galea was called to make a good save following a shot from outside the area by substitute Stefan Farrugia.
 39' The Maroons could have doubled the score but a header by Brandon Said following a free-kick by Ryan Meilak
FT QS 1 – MF 0)
Referee: Joseph Scerri