19 March 2022
GFA BOV Gozo Football League Division II (MD 13) Kercem Arkafort Stadium
Xaghra United FC: 2
Gharb Rangers FC : 0
36' (1-0) penalty Matthias Cordina
81' (2-0) Tristen Agius
Xaghra U:

A. Debono, J. Bajada (B. Meilak), C. Debono, L. Sultana (C. Cutajar), M. Cordina, S. Bonello, F. Cauchi, A. Cini, E. Galea T. Agius, E. Scerri.
Gharb R:

O. Xuereb, O. Saliba, A. Borg, C. Cutajar (J. Xerri), G. Debrincat, N. Attard, C. Dingli (D. Vella), M. Ciangura, R. Apestegui Duran (J. Azzopardi), J. Cefai Farrugia, M. Theuma (S. Azzopardi).
Xaghra United scored a goal in each half and registered the third win over bottom-placed Gharb Rangers in the campaign.  With the points obtained Xaghra are now joining St Lawrence at a mid-table position and made sure of avoiding ending the league at the bottom of the table.  At the same time, with this defeat, Gharb lost their chances to recover any position on the table in the remaining two matches of the campaign.
The match was conditioned by the strong wind and rain which made it very difficult for the two sets of players to express good play.  Gharb tried hard to obtain a positive result from this match but they committed mistakes that compromised the possibility to remain in contention until the end of the encounter. Xaghra managed to capitalise from the chances that came their way and could look forward to improving their place on the final standings of the category.
This was also an important match for their veteran player and assistant coach Brian Meilak as he came in as a substitute during the dying moments of the encounter and marked his 651st appearance in serious teams in Maltese football to remain the Maltese player with most appearances in local football.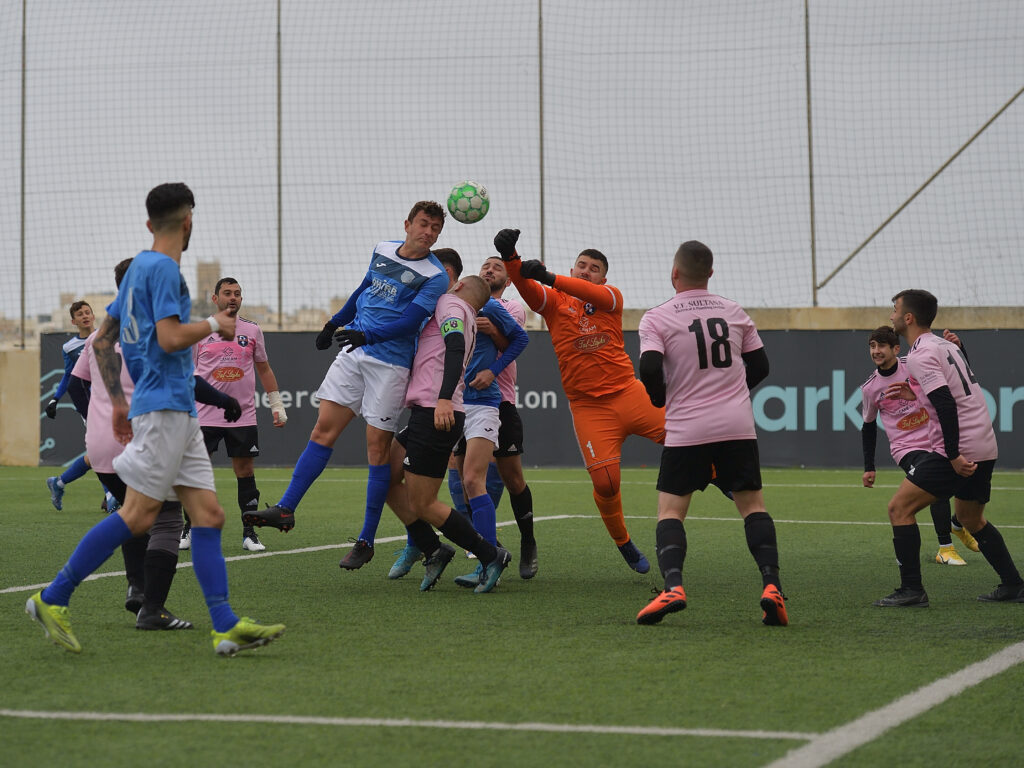 Timeline
Play during most of the first period was blocked in the midfield. Xaghra seemed more offensive during the initial stages but Gharb came out of their defence as time passed by and created more offensive play than their opponents.
21' Gharb went very close to open the score but a direct corner kick by Joseph Cefai Farrugia was cleared off the fatal line by Xaghra's rearguard.
30' Xaghra replied through a free kick by Matthias Cordina that was saved to a corner by goalie Owen Xuereb.
36' (1-0) penalty Xaghra were awarded a penalty for a foul by Nicholas Attard on Luke Sultana and Matthias Cordina opened the score with his shot from the spot-kick.
41' Xaghra were again dangerous but a low shot by Francesco Cauchi was blocked by Gharb's goalie Owen Xuereb.
45' Gharb could have levelled the score but a header by Joseph Cefai Farrugia was cleared off the line by Luke Sultana and from the rebound, the effort by Gabriel Debrincat was deflected to another corner.
HT (1-0)
Second Half
Gharb came out for the second period determined to recover the deficit but they found it very difficult to create serious danger and ended up conceding space for effective breaks by their opponents.
13' Xaghra operated a counter breakthrough Tristen Agius who entered Gharb's territory but his final shot missed the target.
Xaghra neutralised Gharb's efforts with authority for most of the time and the two goalkeepers were not called to make any difficult interventions.
31' Xaghra's goalie Aiden Debono was well placed to save a free-kick by Gharb's Nicholas Attard.
35' Gharb had their best opportunity to level the score but a heder by Andrew Borg following a corner kick by Joseph Cefai Farrugia ended wide.
36' (2-0) Xaghra practically made sure of the win when Luke Sultana operated a counter break, Gharb's keeper left his position in an attempt to block the danger but Sultana was released Tristen Agius concluded easily into an open goal.
45+4' Gharb could have scored a consolation goal but a corner kick by Joseph Cefai Farrugia passed in front of Xaghra's goal but the strikers failed to connect.
FT (XU 2 – GR 0)
Referee: Ranald Portelli