10 April 2022
GFA BOV Gozo Football League Division I (MD 19) Gozo Stadium
Hard-earned win for the champion
Nadur Youngsters FC: 2
Oratory Youths FC : 0
31' (1-0) Joseph Zammit
84' (2-0) Marcelo Junior Barbosa
Nadur Y:

S. Sultana, M. Tabone (I. Xuereb),  L. Moreira, J. Zammit, M.J. Barbosa, S. Cassar, E. Bruno Domingos, G. Hili (O.P. Bugeja), G. Farrugia (J.M. Vella), J. Parnis (L. Atzori), G. Muscat.
Oratory Y:

A. Brignoli, J.V. Ferrari Silva, D. Atzori, K. Farrugia, H.H. Goncalves Barbosa, D.G. Lago, P. Vinicius De Moraes Ferreira, D. Azzopardi (I. Belhaj), J. Grima, S. Azzopardi, S. Curmi (M. Zammit).
Nadur Youngsters once again took full advantage of the result of their closest rivals and obtained a 2-0 win over Oratory Youths to take their lead over the second place at the end of Match-Day 19 to fifteen points.  Nadur Youngsters, who have been declared mathematically champions weeks ago, however, found it more difficult than expected to put their minds at rest from the win at an earlier stage of the match.
Nadur produced more offensive play and also managed to score an early goal but most of the encounter Oratory were well organised in their defence and remained in contention to earn a positive result by creating danger within Nadur's territory through sporadic breaks.  With this result, Oratory remains with a comfortable lead over the two teams involved in the red zone but they still need two points from the last two matches to be mathematically sure of retaining their division in the top flight.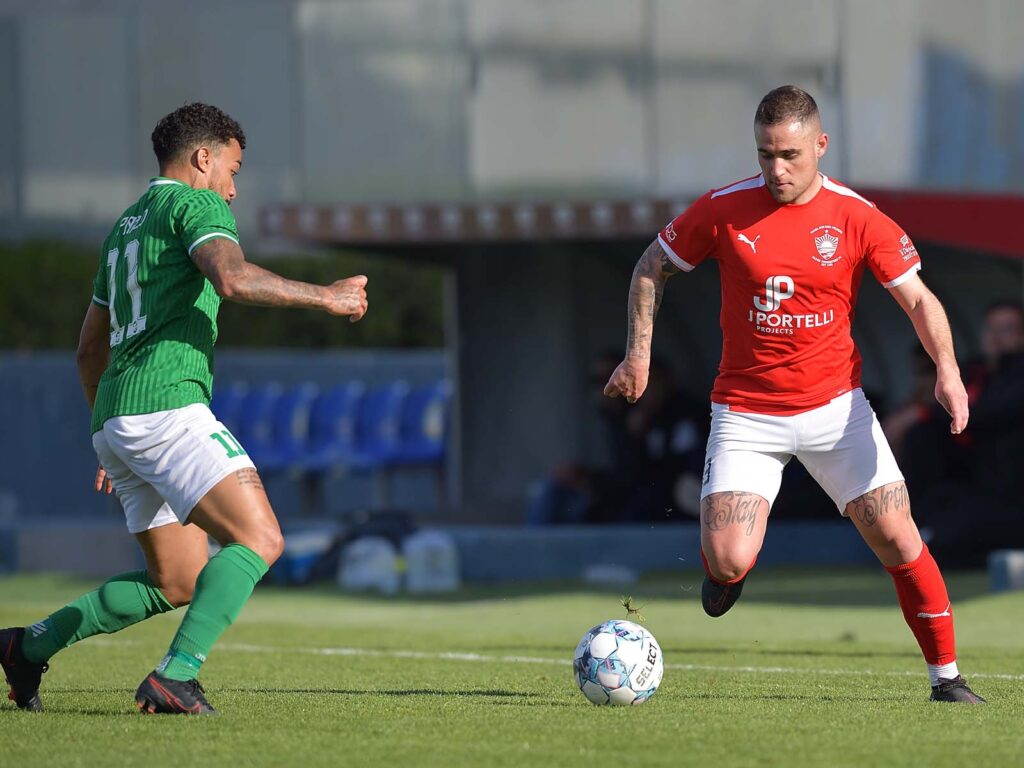 Timeline:
The Youngsters took control of the play from the first minutes of the encounter but they seemed overconfident for most of the time and failed to create serious scoring opportunities.  However, Nadur increased their efforts during the last part of the first half and paved the way to the win by taking the lead just after the half-hour mark.
15' Nadur went close to opening the score but an attempt directly from a free-kick by Marcelo Barbosa ended just wide.
29' Nadur produced a dangerous action through Ederson Bruno Domingos but his initiative was blocked to a corner by central defender Joao Ferrari Silva.
30' The Youngsters had an effort from an angled position by Gennaro Hili that missed the target.
31' (1-0) Nadur opened the score when Ederson Bruno Domingos passed from the right-hand side inside Oratory's area and from his inviting cross, the defence failed to clear from the goalmouth so that Joseph Zammit netted from close distance.
37' Oratory's keeper made a difficult save to block a first-timer by Stefan Cassar after receiving from Ederson Bruno Domingos.
HT (1-0)
Second Half
After the break, Nadur continued to dictate matters while Oratory continued with their defensive deployment in an attempt to keep their area clear from danger and managed to remain in contention to obtain a positive result for most of the second period.
7' Oratory's goalie Angelo Brignoli was well placed and saved a header by Lucas Moreira from a corner kick by Ederson Bruno Domingos.
10' Oratory had their best opportunity to level the score but a shot by Pablo Vinicius ended wide.
11' Nadur replied with an effort from close distance by Stefan Cassar that was blocked by goalie Angelo Brignoli.
12' In the following action Nadur could have capitalised better but Joseph Zammit and Jordi Parnis arrived at the same time on the ball and failed to hit toward the goal.
19' Oratory went very close to surprising the more quoted opponents when the defence cleared badly a corner kick by Pablo Vinicius and Goncalves Barbosa took the ball but had his strike that got a deflection and ended inches away from goal.
25' Nadur went again close to double the score but a shot by Stefan Cassar following a prolonged action was blocked to a corner by central defender Samuel Azzopardi
26' From the resultant corner kick by Ederson Bruno Domingos, an overhead kick by Joseph Zammit was saved with difficulty by Oratory's goalie Angelo Brignoli.
39' (2-0) Nadur put their minds at rest from another win by scoring the second goal that arrived through a personal action by Marcelo Barbosa passes through Oratory's defence and fired in goal with a fine shot.
FT (NY 2 – OY 0)
Referee: Krisztian Kavai