9 April 2022
GFA BOV Gozo Football League Division II (MD 15) Kercem Arkafort Stadium
St Lawrence Spurs FC: 1
Gharb Rangers FC: 1
45+2' (0-1) Carlos Cutajar
79' (1-1) penalty Alen Haska
St Lawrence S:

J. Grima, L. Attard (A. Portelli), G. Portelli, A. Attard, C. Grima, A. Haska,L. Cilia (C. Mercieca), V.J. Saliba, J. Xuereb, C. Azzopardi, J.M. Portelli.
Gharb R:

O. Xuereb, A. Borg (P.P. Buttigieg), C. Cutajar, G. Debrincat, N. Attard, S. Farrugia, M. Ciangura, R. Apestegui Duran, J. Cefai Farrugia, S. Azzopardi, J. Xerri (J. Muscat).
St Lawrence Spurs and Gharb Rangers ended their commitments in the campaign and in the 2021/2022 season on a positive note as they earned a point each from a draw of two goals.  With this result, St Lawrence ended the league at the fourth place on the final standings which may be considered a satisfactory placing although they had ambitions to be more competitive with the top teams.  On the other hand, this was Gharb's fourth draw from fifteen matches but they still ended the league at the bottom of the table as they only managed to obtain one win from the other eleven matches.  This was also the third draw between the two sides in the league matches,
The final result of the encounter is just as Gharb managed to take the lead during a phase when the play took place mainly in the midfield, but the Spurs produced a strong reaction after the break and could have levelled the score at an earlier stage of the second half but Gharb's goalie was in a fine form and distinguished himself with a series of fine saves.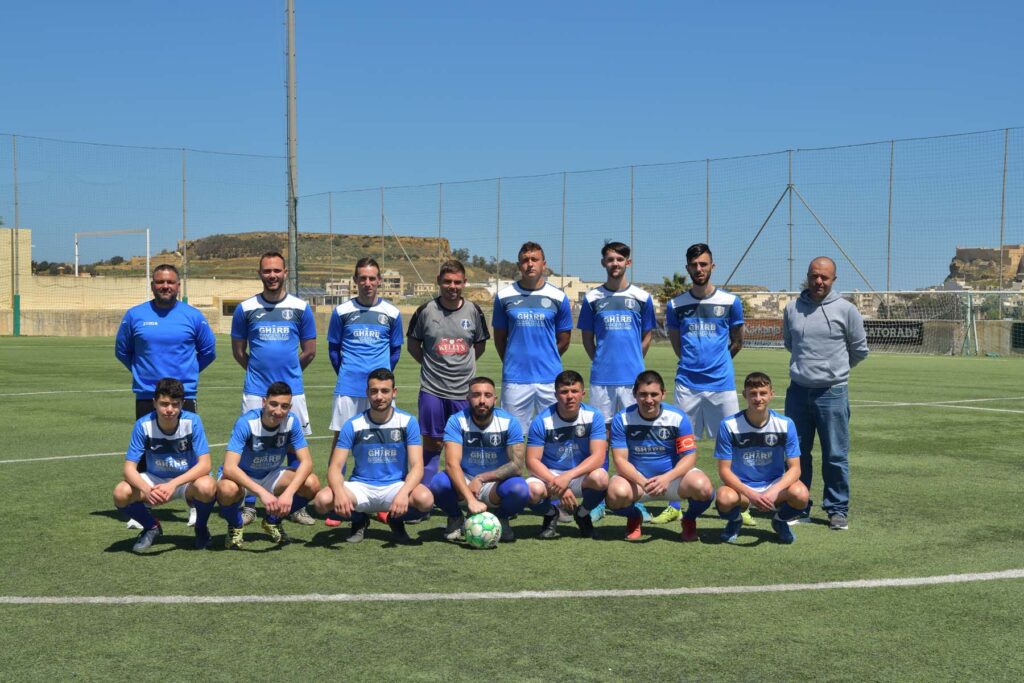 Timeline
During most of the first period, the play was quite balanced with few scoring opportunities at the two ends of the pitch, but Gharb managed to take the break in the lead with a goal scored during stoppage time before halftime.
6' St Lawrence created the first dangerous action when Jurgen Mario Portelli failed to connect from n ideal position and Gharb's defence cleared the danger.
8' The Spurs had another attempt through a strike by Andrew Attard from outside the area that ended high.
10' Gharb replied with an attempt from the edge of the area by Rodrigo Apestegui Duran that ended high.
 17' (goal disallowed) St Lawrence had a goal scored by Alen Haska that was disallowed for an offside infringement.
18' The Rangers replied with an attempt from a free-kick by Rodrigo Apestegui Duran that was well saved by goalie Justin Grima.
33' The same goalkeeper was called to make a difficult save following another good effort by the same Apestegui Duran.
45+2' (0-1) Gharb opened the score through an initiative by Carlos Cutajar who arrived on the ball before St Lawrence's central defender and the goalkeeper and netted with a low shot.
HT (0-1)
Second Half
St Lawrence came out determined to recover the score and held command of play for most of the second period.
2' St Lawrence's Alen Haska had a low shot from a good position that was well saved by Gharb's goalie Owen Xuereb.
6' The same striker had another good effort towards Gharb's goal that ended high.
10' St Lawrence were again dangerous through their striker Alen Haska, but the latter saw his shot directly from a free-kick that was saved to a corner by goalie Owen Xuereb.
16' (crossbar) St Lawrence was unlucky when a shot from an angled position by Alen Haska was stopped by the crossbar.
17' Gharb's goalie was well placed and managed to block a shot from outside the area by Andrew Attard.
19' In another offensive action by St Lawrence, Alen Haska entered Gharb's area but his shot from a good position ended wide.
32' The Spurs could have created more danger but a header by Christian Grima following a corner kick by Jurgen Mario Portelli ended just wide.
34' (1-1) penalty The Spurs levelled the score when they were awarded a penalty for a foul by substitute Peter Paul Buttigieg on Jurgen Mario Portelli and Alen Haska converted from the spot-kick.
45' Gharb went very close to obtaining a dramatic win but an effort by Gabriel Debrincat was well saved by St Lawrence's goalie Justin Grima.
45+6' St Lawrence also went close to scoring the decisive goal but a low shot by Jurgen Mario Portelli was well saved by goalie Owen Xuereb.
45+7' The last scoring opportunity of the match came to St Lawrence but a header by substitute Charles Mercieca following a free kick by Alen Haska ended just high.
FT (SLS 1 – GR 1)
Referee: Jo-Anna Vassallo