10 April 2022
GFA BOV Gozo Football League Division II (MD 15) Kercem Arkafort Stadium
Xaghra United FC : 0
Munxar Falcons FC: 2
89' (0-1) Ayesller Carvalho
90+2' (0-2) Ayesller Carvalho
Xaghra U:

A. Debono, S. Galea, J. K. Farrugia, A. Farrugia (C. Debono), L. Sultana (J. Bajada), B. Meilak, M. Cordina (F. Cauchi), S. Sultana (A. Cini), J. Camilleri (S.T. Blair), T. Agius, E. Scerri.
Munxar F:

D. Spiteri, J.P. Grima, C. Gafa, L. Mielak, J. Grima (J. Vella), L. Portelli, A. Carvalho, R. Grima (A. Buttigieg), D. P. Borg (M. Azzopardi), M. Farrugia, K. Mizzi (M. Debrincat).
In the last match from the BOV Gozo Football League of the second division 2021/2022, Munxar Falcons obtained a 2-0 win over Xaghra United with two goals that arrived during the dying moments of the encounter.  This match did not have any impact on the final standings of the two sides as Munxar were already certain of their runners-up position, and therefore will have a possibility to win promotion from a play-off against the team who finishes in the second place from the bottom of the top flight, while Xaghra could not improve their fifth place.  Munxar's striker Ayesller Carvalho ended up the protagonist of this match by scoring a brace when the match seemed to head to a goalless draw, although the Falcons enjoyed territorial supremacy for most of the time.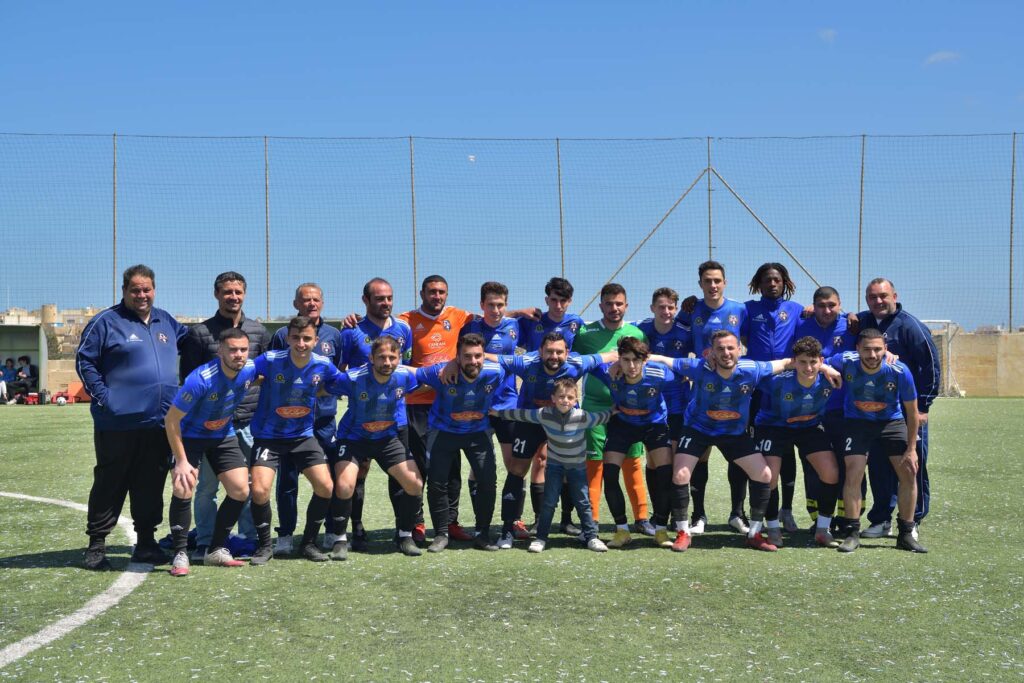 Timeline
Munxar came out more adventurous and saw more of the ball.
3' Munxar's Brazilian striker Ayesller Carvalho had a good attempt following a personal action that ended just wide.
21' Xaghra's goalie Aiden Debono was called to make a difficult save to partially block a shot by Luke Meilak and from the rebound, Ayesller Carvalho concluded on the side of the net.
26' Munxar were again dangerous through a header by Ayesller Carvalho following a corner kick by Joseph Grima that ended wide.
29' Xaghra's goalie was at the right place and neutralised an attempt from a free-kick by Munxar's Ayesller Carvalho
HT (0-0)
Second Half
Munxar continued to be the better side on the field after the break and continued to create dangerous actions.
1' Xaghra's goalie Aiden Debono saved without difficulty a strike from outside the area by Ayesller Carvalho.
2' The Falcons could have capitalised better when Luke Portelli delivered a cross from the right flank but the shot from an angled position by Kenneth Mizzi ended wide.
4' Xaghra's goalie was again called to make a good save following a shot by Robert Grima.
10' The same goalkeeper once again denied Munxar from scoring when he partially saved another good shot by Robert Grima and from the rebound substitute Jamie Vella concluded wide.
15' Munxar were again dangerous through an effort by Jamie Vella that was again neutralised by goalie Aiden Debono.
16' The Falcons missed another good scoring opportunity when a shot by Luke Meilak missed the target.
27' Munxar operated a dangerous action where Luke Meilak released Ayesller Carvalho but the latter saw his low drive that ended inches wide.
37' Munxar's substitute Mark Debrincat delivered an inviting ball to Jamie Vella but the latter saw his shot from a good position that ended over the crossbar.
44' (0-1) Munxar's efforts were rewarded and opened the score when substitute Aaron Buttigieg delivered a cross inside Xaghra's area and Mark Debrincat prolonged towards the goalmouth so that Ayeller Carvalho arrived on the ball and netted easily from close distance.
45+2' (0-2) Munxar sealed the win by scoring the second goal when Xaghra's defence cleared badly across from a short corner by Luke Portelli and Ayesller Carvalho surprised the rear guard and headed in a goal
FT (XU 0 – MF 2)
Referee: George Anthony Attard