13 April 2022
BOV GFA Knock Out Division II (S/Final) Gozo Stadium
Xaghra United FC : 0
Munxar Falcons FC : 0
a.e.t.
Xaghra U win 3-1 on penalties
Penalties:
Munxar: Ayesller Carvalho (0-1), Michael Tabone (saved), Luke Meilak (post), Mario Farrugia (post)
Xaghra: Matthias Cordina (1-1), Shemar Tristan Blair (2-1), Steve Sultana (3-1),
Xaghra U:

L. Camilleri, J. Bajada, J. Xiberras, A. Farrugia (E. Scerri), C. Debono (T. Agius), L. Sultana (F. Cauchi), S.T. Blair, M. Cordina, S. Sultana, S. Bonello, E. Gaea.
Munxar F:

D. Galea, J.P. Grima, C. Gafa, A. Buttigieg, M. Azzopardi (M. Debrincat), L. Mielak, N. Haber (M. Farrugia), L. Portelli, A. Carvalho, D. P. Borg (R. Grima), K. Mizzi (M. Tabone).
Xaghra United earned the possibility to end the 2021/2022 season on a positive note as they obtained the qualification to the BOV GFA Knock Out Competition for the lower category with a 3-1 win over the runners-up of the campaign Munxar Falcons in a penalty shoot-out.
The semi-final match between Xaghra and Munxar remained at a deadlock after 120 minutes of play.  Munxar created more scoring opportunities during playing time, particularly during the first half, but they failed to capitalise on their good chances and left their opponents in contention.  Munxar were also unlucky as during the regular time they had three attempts on separate occasions that were stopped by the woodwork.
Xaghra, on the other hand, had a timid approach but as time passed by they grew in confidence and threatened the favourites for the qualification with sporadic breaks.  Xaghra ended up sharing play with their opponents and earned the place in the final of the second most important competition for the lower category in the penalty shoot-out.  Xaghra scored their first three shots from the spot-kick, while Munxar only scored one goal from four penalty kicks.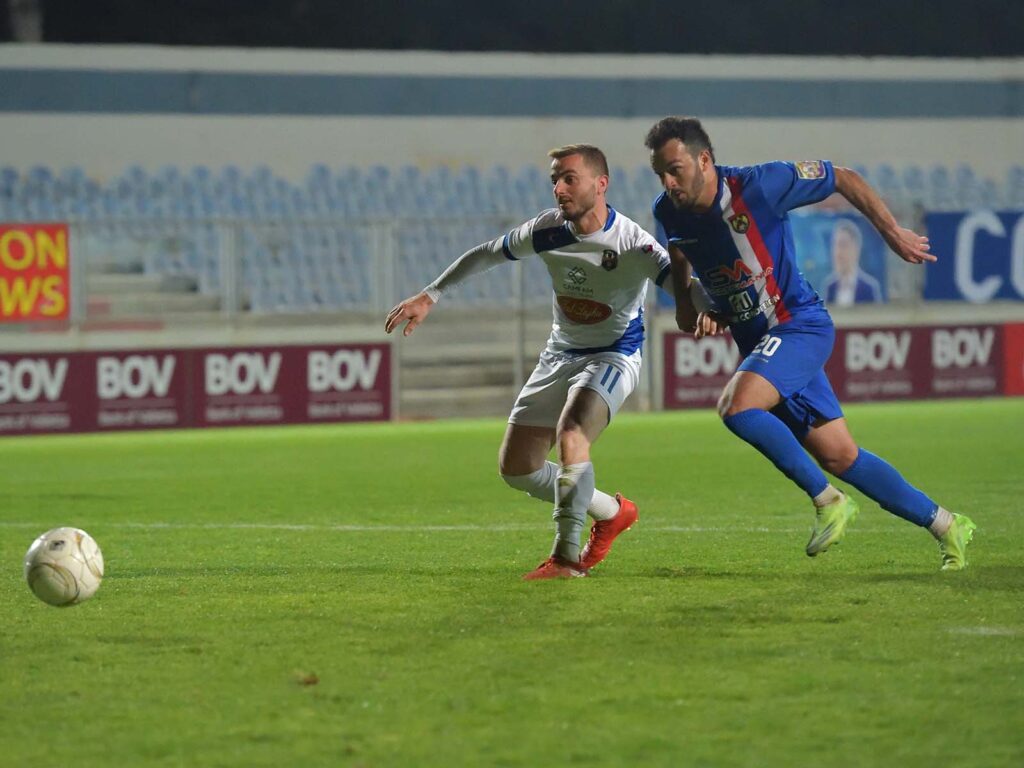 Timeline
For most of the first half, Munxar dictated matters and created some good scoring opportunities but Xaghra defended well and also threatened their opponents with some effective breaks.
5' (crossbar) Munxar went very close to scoring an early goal but an attempt from a free-kick by Ayesller Carvalho was stopped by the crossbar.
17' The Falcons were again dangerous but an attempt directly from a free-kick by Ayesller Carvalho was blocked by goalie Leonard Camilleri and from the following action the ball arrived again to the same Brazilian striker but his low shot was saved in two attempts by Xaghra's keeper.
20' Xaghra replied with a header by Shemar Tristan Blair following a cross by Christian Debono that was well saved by Munxar's keeper Daniel Galea.
24' Xaghra's goalie Leonard Camilleri was called to make a difficult save following a strike by Munxar's John Paul Grima.
39' (post) Munxar were again unlucky as a good shot by Luke Portelli hit the post.
40' In the following action Ayseller Carvalho came face to face with Xaghra's goalie but his lob was deflected by the keeper so that defender Silvan Bonello avoided a certain goal when he cleared to a corner.
42' Xaghra went very close to taking the lead when Christian Debono released Shemar Tristan Blair and the latter lobbed over the goalkeeper who was out of his position but Munxar's Luke Meilak recovered and avoided a certain goal by clearing the ball off the fatal line.
43' Munxar replied through a free kick by Ayesller Carvalho that ended just wide.
HT (0-0)
Second Half
After the break, Munxar tried to retain their territorial supremacy but Xaghra were more confident and managed to keep the danger away from their area.  For most of the time during the second-period play took place mainly in the midfield and the outcome of this match remained in contention.  As a result, it was not a surprise that the regular time ended in a goalless draw so the encounter had to be extended to the extra time.
27' (crossbar) Munxar were denied from scoring for the third time by the woodwork as a strike from outside the area by John Paul Grima.
39' The Falcons could have created more danger but a strike by Derek Paul Borg from a good position, following a clearance by the defence, got a deflection and the ball ended in a corner.
42' (protests for penalty) Munxar protested for a penalty as Kenneth Mizzi ended on the floor inside the area following a challenge with defender Steve Sultana.
43' Xaghra had an effort through a direct free kick by Matthias Cordina that ended wide.
45+1' Xaghra's goalie was well placed and neutralised an effort by Munxar's Luke Meilak following a clearance by the defence.
90 mins. (0-0)
Extra Time 1st half
Play continued to be balanced from the early stages of the first half of extra time where the two defensive departments prevailed over the respective strikers.
13' Xaghra created a good opportunity when Johann Bajada crossed from the left flank but Shemar Tristan Blair headed badly and goalie Daniel Galea saved the danger.
15+3' Munxar replied through a strike from outside the area by Ayesller Carvalho that missed the target.
Extra Time 2nd half
For the last part of the encounter, the two sides continued to find it difficult to capitalise on their respective scoring opportunities so the qualification had ended up being decided in a penalty shoot-out.
5' Munxar's goalie Daniel Galea made a difficult save to block a shot from close distance by Shemar Tristan Blair who entered the area with personal action.
9' Xaghra's goalie denied Munxar from opening the score with a fine save following a header by Robert Grima following a corner action.
15' (goal disallowed) Xaghra could have scored a goal on the stroke of the 120 minutes when Tristen Agius passed to Johann Bajada outside Munxar's area, the latter released Shemar Tristan Blair who placed it in the net as the goalkeeper left his position in an attempt to block the danger but the goal was disallowed for an offside infringement.
120mins. (0-0)
Penalties:
Munxar: Ayesller Carvalho (0-1), Michael Tabone (saved), Luke Meilak (post), Mario Farrugia (post)
Xaghra: Matthias Cordina (1-1), Shemar Tristan Blair (2-1), Steve Sultana (3-1),
FT a.e.t. (XU 0 – MF 0)
Xaghra U win 3-1 on penalties
Referee: Jason Portelli