12 November 2022
BOV GFA Cup (Q/finals) Kercem Arkafort Stadium
SK Victoria Wanderers : 0
Ghajnsielem FC : 3
10' (0-1) Joao Pedro Oliveira Santos
45' (0-2) Michael Bezzina
52' (0-3) Claudio Henrique Da Silva Barbosa
SK Victoria W:
O. Xuereb, N. Camilleri, A. Refalo, W.J. Meilak (N. Grech), A.J. Obaje, E. Zammit (L. Fenech), S. Harland, S.F. Bajada, K. Grima (O. Fenech), N. Vella, J.G. Vella (J. Saliba).
Ghajnsielem:
M. Muscat, K.Borg (T. Sciberras), A. Xuereb, D. Farrugia, M. Bezzina (K. Bajada), J.P. Oliveira Santos, N.I. Belhadj (M.A. Scicluna), K. Grima (D.P. Rapa), J.V. Candido, C.H. Da Silva Barbosa (C. Camilleri), P. Dos Santos Cruz.
Ghajnsielem obtained a 3-0 win over second-division side SK Victoria Wanderers and retained their chances to be serious challengers for the BOV GFA Cup. Ghajnsielem dictated matters for long stretches throughout the ninety minutes. The Wanderers tried to resist Ghajnsielem's superiority and most of the time, they defended well and made it very difficult for the strikers to convert their play into more goals.
Ghajnsielem's win matured with two goals scored before the end of the first half and a third goal that arrived before the hour mark so that during the last part of the encounter, which was played in difficult weather conditions due to the heavy rain, the actions on goal were rare.
Ghajnsielem will play against Kercem Ajax in the semi-finals of the competition.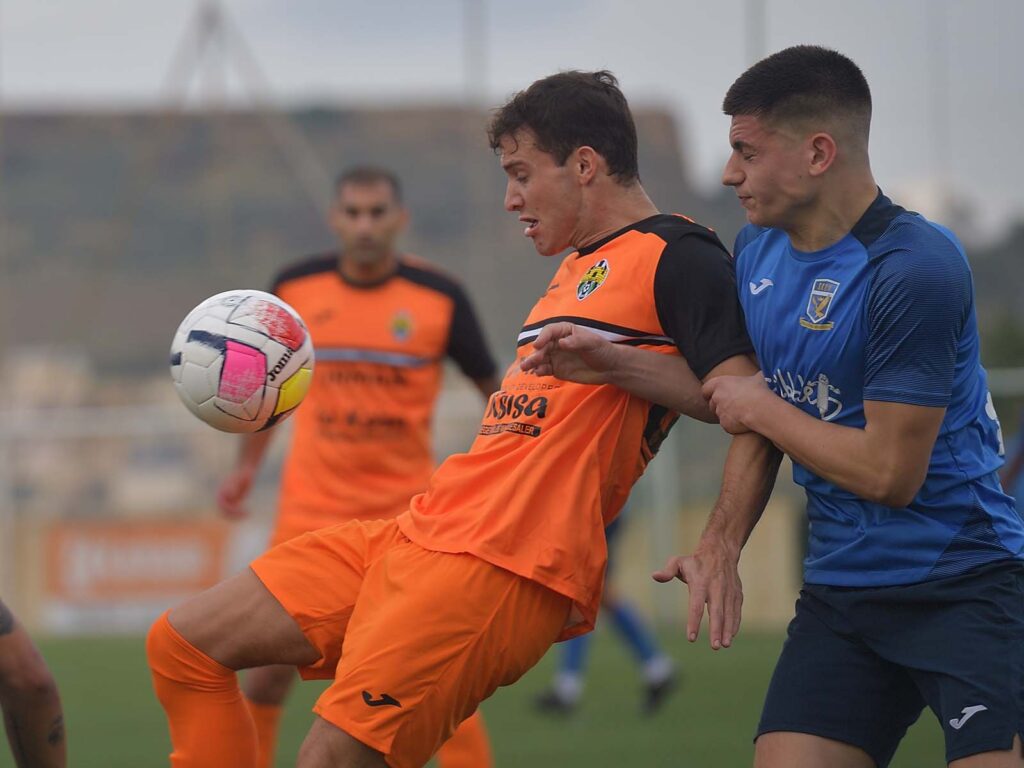 Timeline
Ghajnsielem came out very aggressive and produced pressure on Victoria's defence from the early minutes of play. Ghajnsielem took the lead with an early goal and continued to dictate matters as Victoria's reaction was sterile.
5' Victoria's goalie Omar Xuereb was called to make a difficult intervention to save a good shot by Alberto Xuereb.
6' The same goalkeeper was almost surprised following a low shot from outside the area by Joao Pedro Oliveira Santos and the ball ended in a corner.
7' From the resultant corner kick by the same Oliveira Santos, Victoria's defence failed to clear the ball but from the resultant melee, defender James William Meilak denied a certain goal when he headed away from the goalmouth.
10' (0-1) Ghajnsielem opened the score with a goal that arrived with a spectacular shot directly from a free kick by Joao Pedro Oliveira Santos.
20' Victoria's keeper Omar Xuereb was called to make another good save to turn to a corner an attempt directly from a free kick by Oliveira Santos.
23' Ghajnsielem were again dangerous but a strike from outside the area by Michael Bezzina ended high.
29' Victoria's goalie made another important intervention when Oliveira Santos delivered the ball inside the area from a free kick but the goalie punched away in time just before Patrick Dos Santos Cruz could hit towards the goal.
40' Victoria's first attempt towards goal arrived through a cross-shot from the right flank by James William Meilak after receiving from Aud-Gustine James Obaje.
43' Ghajnsielem's goalie Matthew Muscat was well-placed and blocked a close-range shot from an angled position by Aud-Gustine James Obaje.
45' (0-2) The Blacks doubled the score when Claudio Henrique Da Silva Barbosa entered the area from the left flank and from his low cross Michael Bezzina concluded in goal with a low drive.
HT (0-2)
Second Half
Ghajnsielem continued to express territorial supremacy after the break but the Wanderers tried to come out more of their defence but the actions at the two ends of the pitch were rare.
6' The Wanderers threatened Ghajnsielem's goal from a direct free kick by Neil Camilleri that was saved to a corner by Ghajnsielem's goalie Matthew Muscat.
7' (0-3) Ghajnsielem increased their lead through a low shot by Claudio Henrique Da Silva Barbosa after exchanging the ball with Michael Bezzina.
36' Ghajnsielem's goalie Matthew Muscat denied the Wanderers from scoring a consolation gal when he saved a good shot by Aud-Gustine James Obaje from an ideal position.
FT (SKVW 0 – GHJ 3)
Referee: Slododan Petrovic