12 November 2022
BOV GFA Cup (Q/finals) Kercem Arkafort Stadium
Kercem eased past second division leaders Xaghra
Xaghra United FC: 1
Kercem Ajax FC: 5
25' (0-1) Andrew Mizzi
32' (0-2) Karl Formosa
37' (0-3) Pablo Vinicius De Moraes Ferreira
42' (0-4) Karl Formosa
52' (1-4) Matthias Cordina
88' (1-5) Andrew Mizzi
90+1' (penalty missed – saved) Luiz Henrique Santana Motta (KA)
Xaghra U:

L. Xuereb, J. Bajada (J.K. Bajada), S. Galea, C. Debono (J. Camilleri), L. Sultana (J. Xuereb), L. Meilak (N. Camilleri), M. Cordina, S. Sultana, E. Galea (E. Scerri), F.J. Xuereb, L.Garcia Panesso.
Kercem A:

G. Bugeja, D. Cassar, N. Mercieca, L.H. Santana Motta, C. Attard, P. Vinicius De Moraes Ferreira, A. Mizzi, G. Cardona (B. Da Cruz), K. Formosa, A. Zammit (N. Inguanez), M.V. Da Costa Soares Da Silva (C. Briffa).
In the first match from the Quarter Finals of the BOV GFA Cup, Kercem Ajax obtained a 5-1 win over the leaders of the second division Xaghra United and became the first side to reach the semi-finals of the second most important competition in Gozitan football. Kercem paved the way to the win by scoring four goals during the second part of the first half, so they controlled play without difficulty after the break.
Kercem were favourites to obtain the qualification but during the first part of the encounter, Xaghra seemed motivated and tried to share play with their more quoted opponents. Kercem broke the deadlock before the half-hour mark and dominated play for the rest of the encounter as the qualification was practically determined before the end of the first half. The protagonists in Kercem's win were Andrew Mizzi and Karl Formosa who scored a brace each.
In the semi-finals, Kercem will play against Ghajnsielem.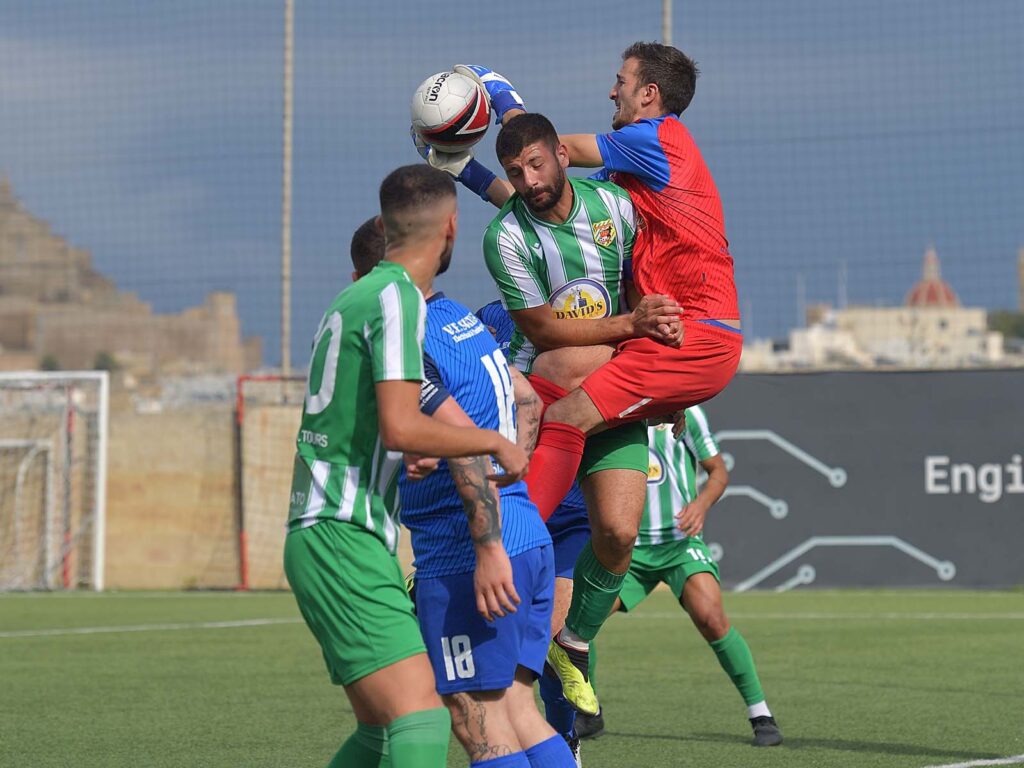 Timeline
Play during the opening stages took place in the midfield as Xaghra managed to share play through their organisation on the field. However, as time passed by Kercem imposed their superiority and opened a comfortable lead by scoring on four separate occasions before the break.
15' Xaghra created the first scoring opportunity through a shot by Leiner Garcia Panesso that was saved to a corner by Kercem's goalie Gaetano Bugeja.
20' Kercem replied with a good shot by Daniel Cassar that was blocked with difficulty by Xaghra's keeper Lorjean Xuereb.
25' (0-1) Kercem opened the score when a strike by Pablo Vinicius De Moraes Ferreira was blocked by Xaghra's defence at the edge of the area and from the rebound Andrew Mizzi placed in goal with a fine shot that ended out of the reach of the goalkeeper.
31' Xaghra could have capitalised better when Leiner Garcia Panesso came face to face with Kercem's goalie but his attempt was weak and goalie Gaetano Bugeja neutralised without difficulty.
32' (0-2) Kercem punished their opponents for the missed chance and doubled the score when a low cross from the right flank by Daniel Cassar arrived to Karl Formosa who placed in goal with a low shot with the ball hitting the post before ending in the net.
37' (0-3) The Ajax added another goal that arrived through a low shot by Pablo Vinicius De Moraes Ferreira after exchanging the ball with Andrew Mizzi.
42' (0-4) Kercem increased their lead when Andrew Mizzi released Karl Formosa inside Xaghra's area and the latter placed easily in goal with a lob over the goalkeeper.
45+3' The Ajax could have created more danger but an attempt directly from a free kick by Pablo Vinicius Ferreira missed the target.
HT (0-4)
Second Half
The match lost much of its interest after the resumption.  Kercem continued to enjoy more possession but Xaghra were not demoralised and managed to neutralise Kercem's play for most of the time.  As a result Xaghra also tried to be more adventurous and scored a consolation goal.
7' (1-4) Xaghra reduced the deficit when Luke Meilak released Matthias Cordina inside Kercem's area and the latter placed in goal with a low shot towards the far post.
11' Kercem's Gabriel Cardona had a shot from a good position that ended high.
13' (post) The Ajax were unlucky when Pablo Vinicius Ferreira entered Xaghra's area with a personal initiative from the left flank but his attempt was stopped by the post with the goalkeeper beaten.
18' Xaghra were again dangerous but a shot from a good position by Luke Meilak ended high.
21' Xaghra's goalie Lorjean Xuereb was well placed and saved with some difficulty a shot from close distance by Karl Formosa.
23' Xaghra once again threatened Kercem's defence but a shot from outside the area by Leiner Garcia Panesso ended high.
35' Kercem's Bruno Da Cruz, who came on the field as a substitute one minute earlier, had an attempt directly from a free kick that was saved by goalie Lorjean Xuereb.
40' Xaghra's goalie Lorjean Xuereb once again denied Kercem from adding another goal when he managed to block a close-ranged attempt by Pablo Vinicius Ferreira.
43' (1-5) Kercem scored their fifth goal when Pablo Vinicius Ferreira released Andrew Mizzi and the latter netted with a low drive as the goalkeeper left his position in an attempt to block the danger.
45+1' (penalty missed – saved) The Ajax could have scored another goal when they were awarded a penalty for handling by Steve Sultana but Luiz Henrique Santana Motta's shot from the spot kick was weak and easily saved by Xaghra's keeper Lorjean Xuereb.
FT (XU 1 – KA 5)
Referee: Jason Portelli