5 November 2022
GFA KO Division I (Q/finals) Kercem Arkafort Stadium
Qala Saints FC : 3
Xewkija Tigers FC : 1
5' (1-0) Julian Yoiti Suzuki Bicudo
15' (2-0) Jordi Parnis
30' (penalty missed – high) Emanuel Buttigieg (QS)
34' (2-1) Rodney Buttigieg
38' (3-1) penalty Julian Yoiti Bicudo
Qala S:

M. Zammit, L. Grima, Jsph. Buttigieg, J.V. Ferrari Silva, M. Buttigieg (J. Xerri), J.Y. Suzuki Bicudo (M. Vella), A. Carvalho, E. Buttigieg, J. Parnis, N.C. Njoku (L. Attard), M. Xerri (K. Mifsud).
Xewkija T:
N. Kosanin (K. Attard), J. Vella, M. Mercieca (F. Xuereb), J. Buttigieg, R. Buttigieg, D. Bogdanovic (S. Spiteri), J. Arboleda Valencia, D. Merceica, D. Andelovic, S. Xuereb (T. Axiak), M. Bonnici (J. Camilleri).
Qala Saints obtained a deserved win over Xewkija Tigers in a match from the quarter-finals stage of the GFA KO competition for the first division and continued to confirm their excellent moment of form.  For most of the time play took place in difficult conditions due to the rain and the surface of the pitch which held some rainwater.
In this match, Qala managed to take command of the midfield at an early stage of the encounter and opened a two-goal lead so that their opponents were forced to struggle to produce a reaction.
The turning point of the match probably happened near the half-hour mark of the first period when Qala missed a scoring opportunity from a penalty action while Xewkija replied immediately by reducing the deficit.  Qala however scored their third goal from another penalty kick and controlled play throughout the second period.  In the semi-finals of this competition, Qala will meet the winner of the last match from the quarter-finals between Sannat Lions and Ghajnsielem.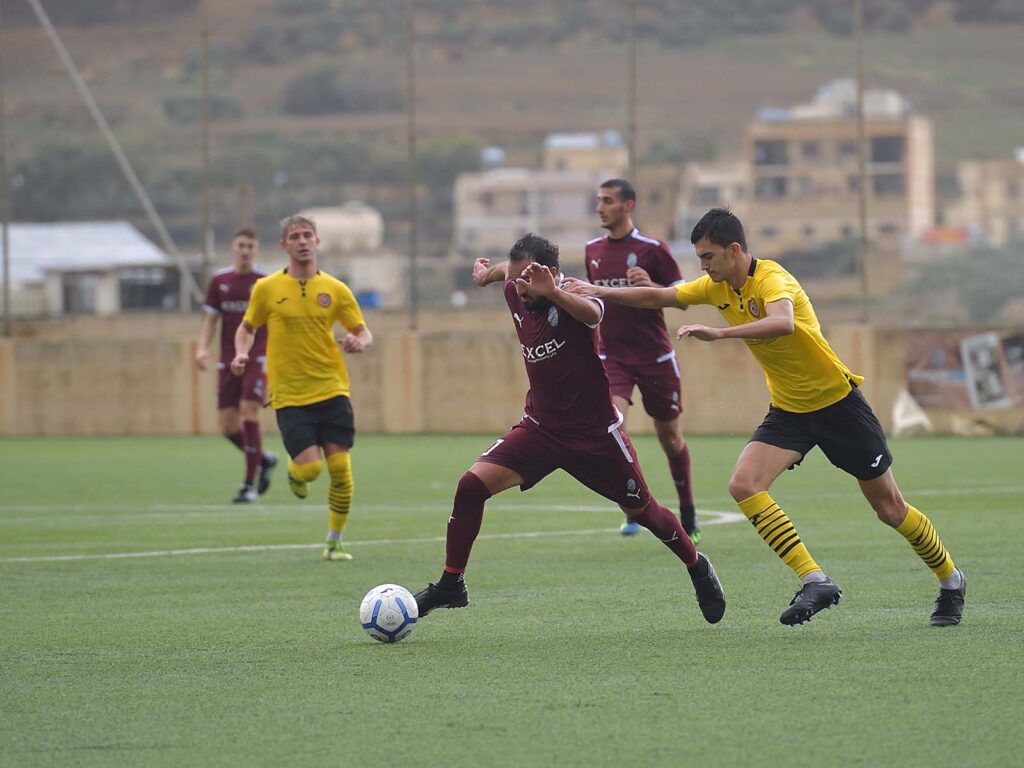 Timeline
Qala had a better start than their opponents and scored two early goals so they took the driving seat and managed to end the first half with a two-goal lead despite missing an opportunity to score another goal from a penalty.
5' (1-0) Qala opened the score when Julian Yoiti Suzuki Bicudo passed through Xewkija's defence from the right-hand side and surprised the goalkeeper with a low shot.
8' Xewkija replied through a header by Rodney Buttigieg that was easily saved by goalie Mattia Zammit.
10' The Tigers missed a good opportunity to score the equaliser when Jhon Arboleda Valencia entered Qala's area with a personal action but his shot from an ideal position ended wide.
14' Qala's central defender Joao Vitor Ferratri Silva denied Xewkija from scoring when he cleared to a corner from the goalmouth following a cross-shot by Matthias Mercieca.
15' (2-0) Qala doubled the score through Jordi Parnis who entered Xewkija's territory with personal action and fired in goal with a low shot.
24' Xewkija's goalie Nikola Kosanin was in the right place and saved a shot on the run by Qala's Martin Buttigieg.
29' (penalty missed – high) Qala was awarded a penalty for a foul by Dylan Mercieca on Nathan Chukwudi Njoku but Emanuel Buttigieg's shot from the spot kick ended high.
34' (2-1) Xewkija re-opened the issue when Rodney Buttigieg took advantage of some hesitation by Qala's keeper and the defence so that the striker arrived on the ball and headed easily into an open goal.
37' (3-1) penalty Qala were awarded a second penalty for a foul by goalie Nikola Kosanin on Julian Yoiti Bicudo and the same Brazilian striker re-established the two-goal lead for his side with his shot from the spot kick.
HT (3-1)
Second Half
Xewkija came out for the second period determined to produce a reaction but they found it very difficult to create serious scoring opportunities as Qala were well deployed at their defence and kept the danger away from their area.  Qala took full command of play during the last part of the encounter and went very close to making sure of the win by scoring the fourth goal.
9' Qala's goalie Mattia Zammit saved in two attempts a shot directly from a free kick by Damir Andelovic.
22' Qala were again dangerous through a fine shot by Martin Buttigieg following a clearance by the defence that ended just wide.
23' The Maroons went again close to scoring but a shot from an angled position by Jordi Parnis was blocked to a corner by Xewkija's keeper.
41' Qala missed a good opportunity to seal the win when Julian Yoiti Bicudo entered Xewkija's area with personal action and tried to turn around substitute goalkeeper Kyle Attard but the latter had good timing and managed to block the danger.
FT (QS 3 – XT 1)
Referee: Stefan Pace