3 December 2022
GFA BOV Gozo Football League Division I (MD 3) Gozo Stadium
Oratory Youths FC : 0
Qala Saints FC : 3
11' (0-1) Rafael Conrado Prudente
43' (0-2) Jordi Parnis
51' (0-3) Jordi Parnis
Oratory Y:
A. Brignoli (R. Sammut), J. Tabone, P. Rapa (M. Zammit), J. De Souza Ferreira, K. Farrugia (K. Hili), H.H. Goncalves Barbosa, A. Xuereb, A. Azzopardi (O. Curmi), N. Sutic, Ju. Attard (N. Said), S.U. Ubuwere.
Qala S:
O. Attard, L. Grima, Jsph. Buttigieg, J.V. Ferrari Silva (L. Attard), M. Buttigieg (Jsh. Buttigieg), J.Y. Suzuki Bicudo, A. Carvalho, E. Buttigieg, J. Parnis (J. Xerri), R.C. Prudente (N.C. Njoku), M. Xerri.
In the first match from the second round of the BOV Gozo Football League of the first division, Qala Saints obtained a convincing 3-0 win over Oratory Youths and took leadership on the table with one point more than Nadur Youngsters, the latter however have a game in hand. This was also Qala's second win over Oratory in the championship.
Qala practically made sure of the win with two goals scored during the first half.  Qala held command of play for most of the encounter and denied their opponents from producing a reaction.  Qala's hero in this match was their striker Jordi Parnis who scored a brace.  However, the Maroons produced a collective performance where they confirmed the excellent physical condition and efficient deployment with a strong defensive department and a hard-working midfield that supports the strikers who manage to conclude their play with various options.  With this result, Oratory remains within the relegation zone and in the following matches they should improve their play to move away from the lower places on the table.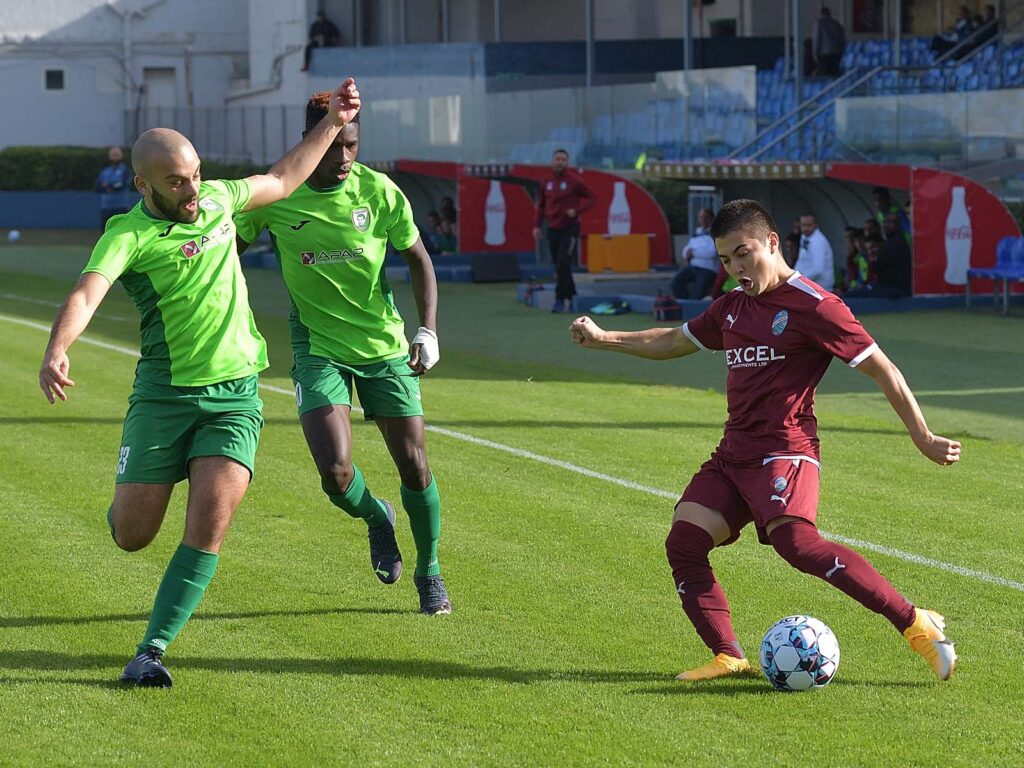 Timeline:
Qala took territorial supremacy from the early stages of the encounter and also managed to score after a few minutes of play so that they continued to be the better side on the field of play throughout the first half.  The Youths struggled to control Qala's play and only managed to operate sporadic breaks.  However, the Youths failed to capitalise on some actions within Qala's area so the goalkeeper was not called to make difficult interventions.
10' Oratory's goalie Angelo Brignoli was called to make a difficult save to turn to a corner a strike by Qala's Rafael Conrado Prudente.
11' (0-1) From the same corner kick taken by Ayesller Carvalho, Qala took the lead as Rafael Conrado Prudente headed into the goal from close distance.
17' (crossbar) Qala could have doubled their lead but an attempt directly from a corner kick by Jordi Parnis was stopped by the crossbar.
22' In another offensive action by Qala a shot by Martin Buttigieg from outside the area ended just wide.
34' Qala's Ayesller Carvalho also went close to scoring but his low shot from outside the area ended wide.
43' (0-2) Qala increased their lead when Jordi Parnis entered the area despite a challenge from an opponent and placed in goal with a low shot towards the far post.
HT (0-2)
Second Half
Oratory tried to produce a reaction from the first minutes of play of the second period.  However, Qala capitalised from their first break of the second half by scoring the third goal so that for the rest of the encounter the Maroons controlled play without difficulty.
6' (0-3) Qala practically put their minds at rest from the win when Jordi Parnis entered Oratory's area with personal action and concluded in goal with a low drive as the goalkeeper left his position in an attempt to block the danger.
18' Oratory went closest to reduce the deficit through a strike by Haraan Goncalves Barbosa that was blocked with some difficulty by Qala's keeper Owen Attard.
41' Qala protested for a penalty alleging handling by Jeferson De Sousa Ferrieera in an attempt to block the danger.
FT (OY 0 – QS 3)
Referee: Ezekiel Barbara