3 December 2022
GFA BOV Gozo Football League Division II (MD 3) Kercem Arkafort Stadium
Xaghra United FC: 2
Gharb Rangers FC: 2
15' (0-1) Gabriel Debrincat
39' (1-1) Joel Xuereb
54' (1-2) Gabriel Debrincat
71' (2-2) Luke Sultana
Xaghra U:
L. Xuereb, S. Galea, C. Debono, L. Meilak, J. Xuereb, M. Cordina, S. Sultana, M. Mamo, E. Galea, F.J. Xuereb (L. Attard), L. Garcia Panesso.
Gharb R:
J.P. Cassar, S. Farrugia, M. Ciangura, C. Cutajar, C. Cardona, G. Debrincat, V. Laketic, R. Portelli, J. Buttigieg, O. Calleja, N. Attard.
In the last match from Match Day 3 of the campaign leaders, Xaghra United dropped two points when they were held to a 2-2 draw by Gharb Rangers. Xaghra however retained sole leadership and they remain undefeated together with Gharb Rangers after three matches, as this was Gharb's third draw from their first three matches in the BOV Gozo Football League for the second division.
Although Xaghra were the favourite to win the match Gharb was a worthy challenger and was in the lead on two occasions. The Rangers however suffered Xaghra's reaction and did not manage to defend their lead. In this match, Xaghra may have approached the match with overconfidence as they seemed surprised during the first half hour of play and ended up trailing their opponents. The final score was a just result and rewards the efforts of the two sides throughout the ninety minutes.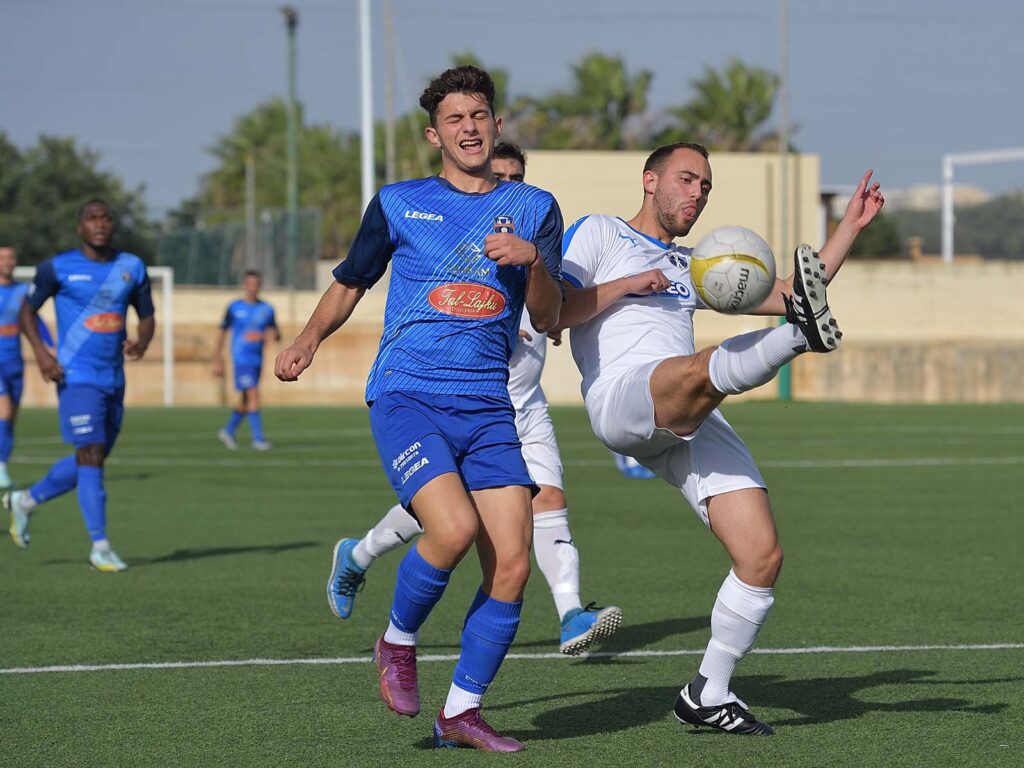 Timeline:
Gharb was more aggressive during the first part of the match and managed to conclude their play with various attempts towards Xaghra's goal. Gharb took a deserved lead but Xaghrs had a good reaction, levelled the score and ended up in the first half in better shape.
17'(0-1) Gharb opened the score when Viktor Laketic won the ball from the midfield, entered Xaghra's territory from the left flank and from his low inviting pass Gabriel Debrincat placed easily in goal from close distance.
20' Xaghra replied through a free kick by Mattias Cordina that ended just wide.
26' Gharb were again dangerous through an effort by Viktor Laketic following a personal action that was saved by goalie Lorjean Xuereb.
27' Xaghra could have created more danger when Joel Xuereb released Luke Meilak but the latter saw his shot from a good position that ended away from the goal.
37' (1-1) Xaghra levelled the score when Leiner Garcia Panesso won the ball on the left flank from Gharb's defence, entered the area and from his low pass Joel Xuereb netted with a tap-in.
44' Gharb were again dangerous but a free kick by Christian Cardona ended just wide.
HT (01-1)
Second Half
The match continued to be well contested as the two sides tried to win the full points at stake from this match. Xaghra struggled to maintain the momentum expressed during the final stages of the first half so they conceded Gharb's second goal and were forced to produce a reaction to save the result.
9' (1-2) Gharb regained the lead with another goal that arrived through their young striker Gabriel Debrincat.
26' (2-2) Xaghra recovered the deficit through a goal scored by substitute Luke Sultana.
FT (XU 2 – GR 2)
Referee: Wayne Sammut