11 December 2022
GFA BOV GFL 2nd Division (MD 4) Kercem Arkafort Stadium
St Lawrence Spurs FC: 1
Xaghra United FC : 0
55' (1-0) Jurgen Mario Portelli
90+3' (red card) Christian Debono (XU)
St Lawrence S:
C. Mercieca, M. Dingli (C. Grima), A. Ademilua, G. Portelli, V.J. Saliba, J. Grima, D. Micallef, J.M. Portelli, J. Saliba, W. Hili, J. Axiak.
Xaghra U:
L. Xuereb, S. Galea (E. Scerri), L. Meilak, J. Xuereb (D. Bartolo), M. Cordina, S. Sultana (C. Debono), M. Mamo, D. Azzopardi, E. Galea (G. Debono), F.J. Xuereb, L. Garcia Panesso.
St Lawrence Spurs obtained their first win in the campaign by defeating the leaders with a goal scored during the opening stages of the second period.  With the points obtained the Spurs moved away from the bottom of the table and confirmed the improvement expressed since the beginning of the season.  On the other hand, this was Xaghra's first defeat in the second-division league and it was the second consecutive match where they dropped points.
Contenders for promotion Xaghra had a disappointing performance and practically compromised the comfortable lead that they were enjoying at the beginning of the league.  In this match, they were surprised by a determined side who were not conditioned by the credentials of their opponents.  St Lawrence shared play from the early stages and grew in confidence after scoring the goal that decided the issue so that during the last half hour of play, Xaghra became frustrated and also left the field with a player less.
The outcome of this encounter may have an important impact on the league as five of the six teams n the category are squashed within three points, while the team at the bottom has a gap of four points from the leaders.  Moreover, there is no team who managed to be consistent in the first four matches of the campaign so the outcome of the league may turn out to be contested by more teams than it was originally expected.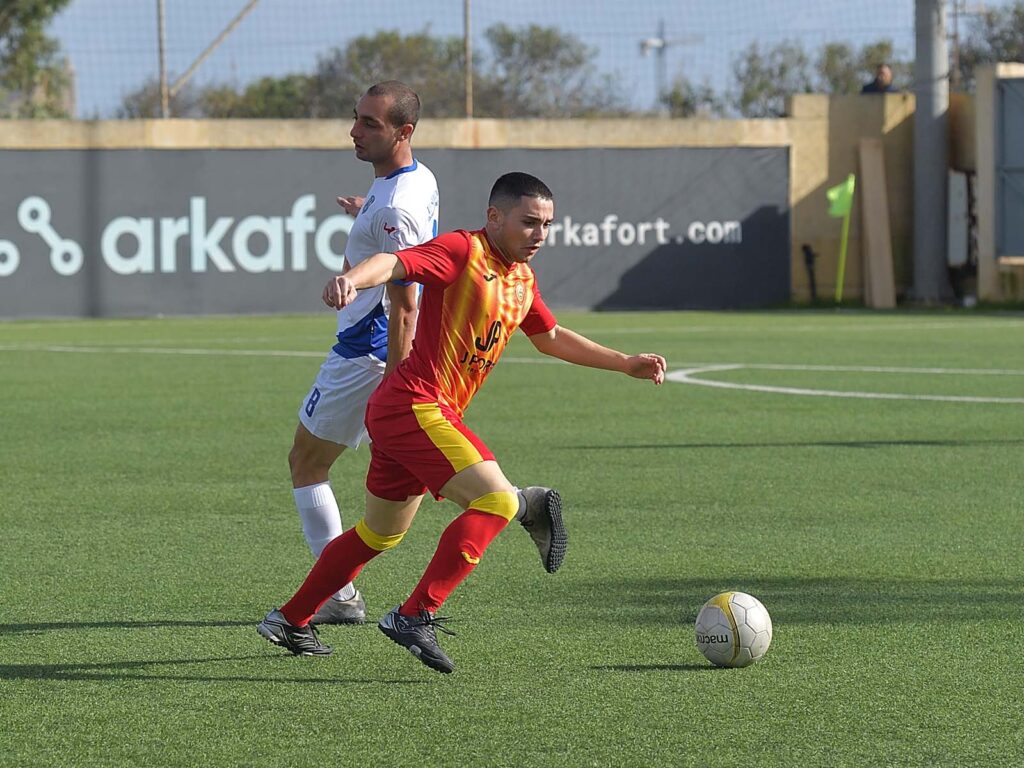 Photo: Anthony Cassar
Timeline:
Xaghra tried to take command of play from th beginning of the encounter in an attempt to recover from the disappointing draw obtained in their previous match.  However, the Spurs were well organised in their defence and as time passed by they became also dangerous with counter breaks.  Play for most of the second period took place in the midfield and the two defensive departments prevailed over their respective strikers.
HT (0-0)
Second Half
St Lawrence surprised their opponents during the second period as they increased their pressing in the midfield and produce some pressure on Xaghra's rear guard.  The Spurs opened the score before the hour mark and for the remaining minutes of play, they made it extremely difficult for their opponents to recover the deficit.
10' (1-0) St Lawrence scored the only goal of the encounter that arrived through Jurgen Mario Portelli.
45+3' (red card) Xaghra became nervous during the final stages of the match and ended up with a player less when substitute Christian Debono was sent off for fighting.
FT (SLS 1 – XU 0)
Referee: Reuben Spiteri Delicata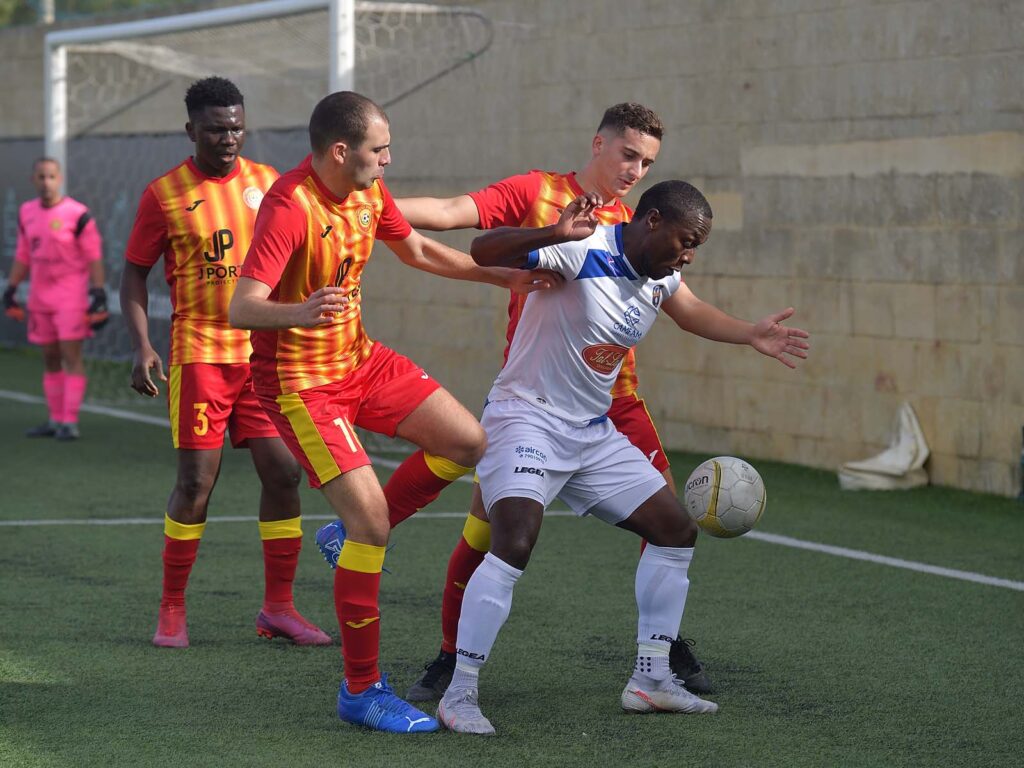 Photo: Anthony Cassar