10 December 2022
GFA BOV Gozo Football League Division I (MD 8) Gozo Stadium
Nadur Youngsters FC : 3
Victoria Hotspurs FC : 0
35' (1-0) Joseph Xerri
43' (2-0) Manwel Tabone
86' (3-0) Marcelo Barbosa
Nadur Y:
S. Sultana, L.B. Da Silva (M. Said), M. Tabone, I. Xuereb, J.M. Vella, M.Jr. Barbosa, I. Nedeljkovic, J. Xerri (M.P. Camilleri), G. Muscat (N. Mifsud), P. Dordevic.
Victoria H:
K. Barbara, D.C. Kassekar, O. Cremona, O.G. Fernandes, J. Azzopardi, L. Farrugia (C. Caruana), D. Hili, E.R. Okpokwu, A. Xiberras, A. Debrincat (J. Grech), E. Xiberras (S. Sillato).
Nadur Youngsters started their commitments in the second round of the BOV Gozo Football League of the first division with a 3-0 win over Victoria Hotspurs.  With the points obtained Nadur regained the leadership on the table at the end of match day 8, two points clear of their closest rivals Qala Saints.
This was the main match of the weekend as the two sides needed a win for different reasons.  Nadur need points to defend their edge over their challengers for the title, while Victoria Hotspurs were aiming to extend their positive run, after two draws and a win, in their attempt to move away from the relegation zone.  However, Nadur managed to prevail by scoring two goals before the end of the first half, capitalising from mistakes by the defence and making sure of the win by scoring a third goal near the end of the encounter.
Photo: Anthony Cassar
Timeline:
The Hotspurs had a better start and during the first minutes of play, they could have surprised their more quoted opponents.  However, Nadur resisted well and as time passed by they started to share play and scored two important goals before the break.
5' The Hotspurs went very close to take the lead when Ebube Ralph Okpokwu entered Nadur's area with a personal initiative but goalie Steve Sultana left his position in time and blocked the danger.
9' Nadur's goalie was again called to make a difficult intervention to clear the ball before Ebube Ralph Okpokwu could arrive to an inviting pass by Andrea Debrincat.
17' Nadur replied with an attempt by Marcelo Barbosa that was neutralised in two attempts by Victoria's goalie Kyle Barbara.
22' Nadur's Predrag Dordevic had an attempt directly from a free kick that ended away from Victoria's goal.
24' Nadur could have capitalised better when Joseph Xerri received the ball from Lucas Baretto Da Silva but the young striker hesitated to conclude and his attempt from a good position was blocked to a corner.
26' The Hotspurs replied with a strike by Adrian Xiberras that got a deflection and ended in a corner.
35' (1-0) Nadur opened the score through Joseph Xerri who concluded from the close distance a cross by Marcelo Barbosa following a prolonged action within Victoria's territory.  
43' (2-0) Nadur doubled their lead following a free kick taken by Gennaro Hili and Marcelo Barbosa so that the ball arrived to an unmarked Manwel Tabone who headed easily in goal from an ideal position.
HT (2-0)
Second Half
After the break, the Hotspurs tried to produce a reaction but they ended up conceding space at their defence so the match became more contested. The two sides were often erratic in their finishing and the outcome was practically decided with Nadur's third goal that arrived four minutes away from the end of regular time.
10' (protests for penalty) Nadur protested for a penalty when a shot by Marcelo Barbosa was blocked by Victoria's central defender Dimitri Kassekar.
16' Victoria's goalie Kyle Barbara made a good intervention to block an effort by Predrag Dordevic and from the rebound, Nadur's Joseph Xerri missed the opportunity to conclude in goal but Victoria's defender Oliver Cremona cleared the ball from the fatal line.
17' (goal disallowed) Nadur netted the ball for the third time through Igor Nedeljkovic but the goal was disallowed for an offside infringement.
21' Nadur's keeper Steve Sultana denied Victoria from re-opening the issue when he saved to a corner with difficulty an overhead kick by Olimpio Gabriel Fernandes following a free kick.
23' Victoria's keeper Kyle Barbara was again at the right place and saved to a corner a good effort by Nadur's Marcelo Barbosa.
28' (protests for penalty) Victoria Hotspurs protested for a penalty when Olimpio Gabriel Fernandes ended on the floor inside Nadur's area following a challenge with defender Lucas Baretto Da Silva.
30' Nadur's Igor Nedeljkovic had a good attempt from an angled position that ended on the side of the net.
41' (3-0) Nadur scored the third goal through Marcelo Jr Barbosa who won the ball from Victoria's defence and concluded in the net from a close distance.
FT (NY 3 – VH 0)
Referee: Daniel Portelli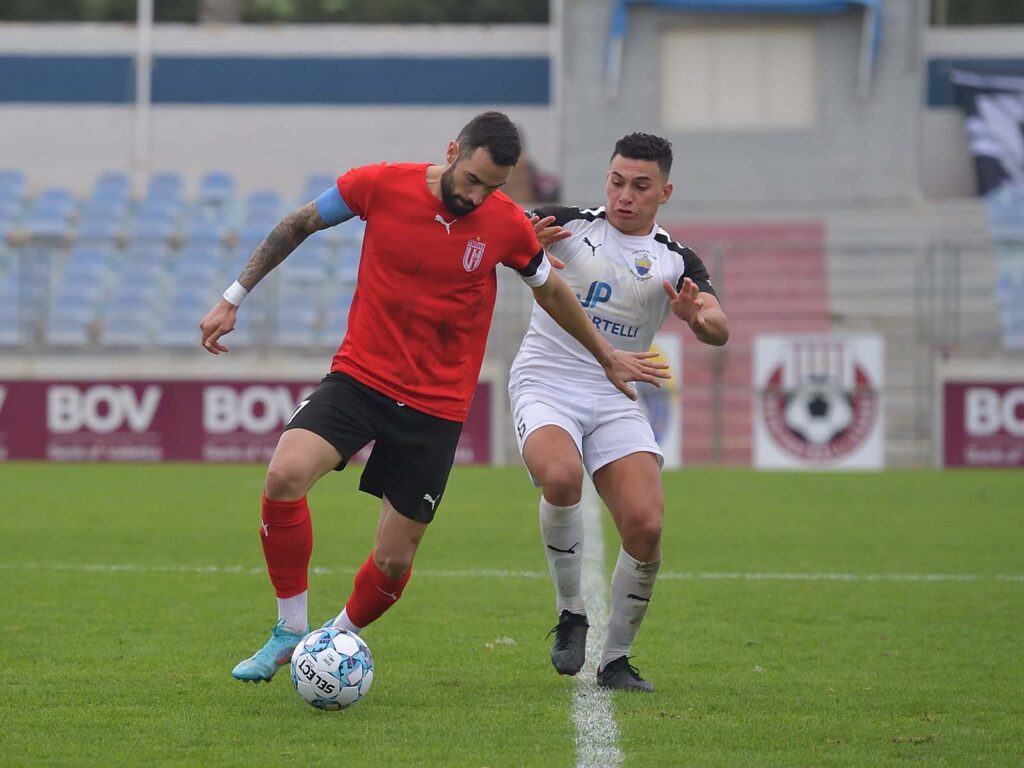 Photo: Anthony Cassar