10 December 2022
GFA BOV GFL 2nd Division (MD 4) Kercem Arkafort Stadium
Gharb Rangers FC : 0
Zebbug Rovers FC : 3
52'(0-1) Lorenzo Atzori
65' (0-2) Eric Gauci
67' (0-3) Lorenzo Atzori
Gharb R:
J.P. Cassar, S. Farrugia, M. Ciangura (A. Cini), C. Cutajar (C. Buttigieg), C. Cardona (J. Xerri), G. Debrincat, V. Laketic, R. Portelli (M. Tabone), J. Buttigieg (S. Azzopardi), O. Calleja, N. Attard.
Zebbug R:
F. Portelli, P. Spiteri (O. Saliba), M. Formosa (M. Grech), C. Gauci, R. Saliba, L. Atzori (O. Mercieca), D. Mesa Pineros, E. Gauci, C. Cauchi (J. Magro), M. Camilleri Psaila (N.J. Cini), M. Gauci.
Zebbug Rovers recovered from two disappointing results and earned the full points at stake from their match against Gharb Rangers with three goals scored during the second period.  The two sides were on equal points before the clash as Gharb were still undefeated in the campaign and earned three points from three draws, while Zebbug won one match from the first three matches but conceded defeats in the others.
The match was quite interesting during the first half as Gharb held territorial supremacy but failed to capitalise on their best actions within Zebbug's area.  However, the Rovers took command of play after the break and made sure of the win by scoring three goals in the space of fifteen minutes. Zebbug's young striker Lorenzo Atzori was the protagonist of the encounter by scoring the first and third goals for his side.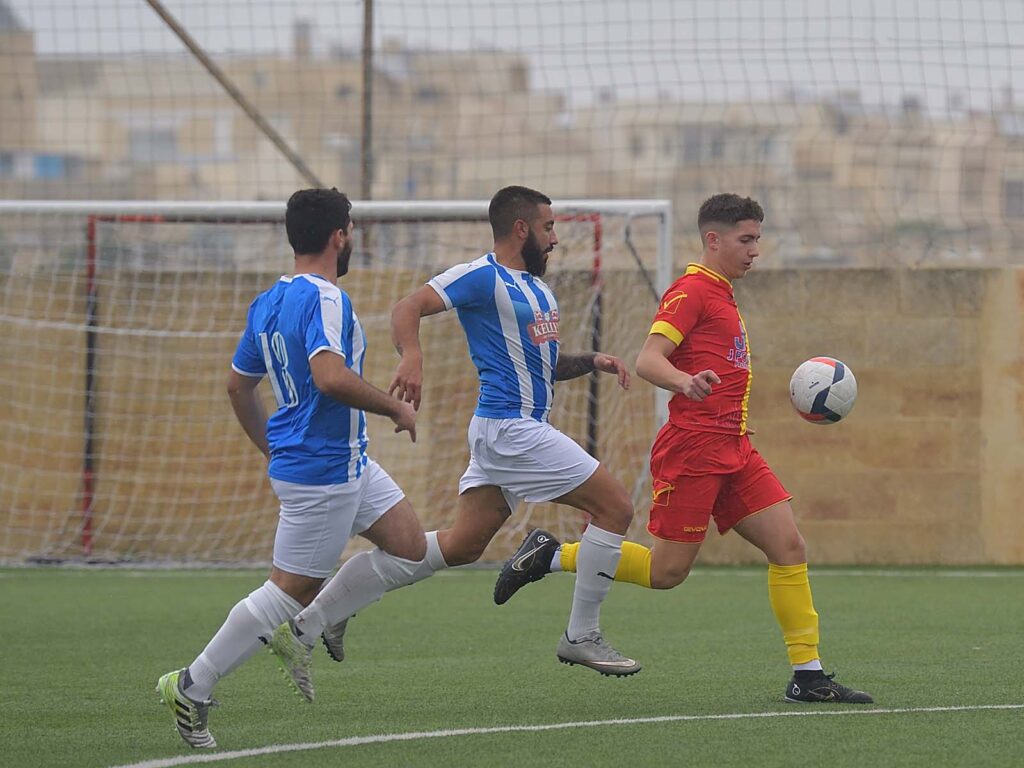 Timeline:
Gharb was more confident during the first period as they were coming from three matches where they obtained positive results and were therefore aiming to consolidate their good start by obtaining the first win.  On the other hand, Zebbug seemed timid and tried hard to defend their area in an attempt to avoid compromising the encounter at an early stage.  As a result, the actions at goal were rare and the two goalkeepers were not called to make any difficult interventions.
HT (0-0)
Second Half
After the resumption, Zebbug came out more determined and paved the way to obtain their second win in the campaign with goals scored within the opening half of the second period so Gharb became demoralised and did not manage to produce a reaction.
7' (0-1) Zebbug took the lead through a goal-scored Lorenzo Atzori.
20' (0-2) The Rovers kept insisting and doubled the score through Eric Gauci.
22' (0-3) Zebbug sealed the win with another goal scored by Lorenzo Atzori.
FT (GR 0 – ZR 3)
Referee: Jason Portelli