22 January 2023
GFA BOV Gozo Football League Division II (MD 8) Kercem Arkafort Stadium
Gharb Rangers FC : 0
Xaghra United FC : 3
2' (0-1) Daniel Azzopardi
12' (0-2) Matthias Cordina
61' (0-3) Leiner Garcia Panesso
Gharb R:
J.P. Cassar (E. Bajada), S. Farrugia, C. Cutajar (M. Tabone), C. Cardona (D. Vella), G. Debrincat (J. Xerri), C. Buttigieg (S. Azzopardi), R. Portelli, D. Galea, V.G. Soarez Souza, O. Calleja, N. Attard.
Xaghra U:
L. Xuereb, S. Galea (K. Mercieca), L. Meilak (J. Bajada), J. Xuereb (N. Camilleri), M. Cordina, M. Mamo (L. Sultana), D. Azzopardi, E. Galea, F.J. Xuereb, M. Bezzina (J. Formosa), L. Garcia Panesso.
In the last match from Match Day-8 of the BOV Gozo Football League of the second division Xaghra United obtained a deserved 3-0 win over Gharb Rangers so that they moved to the third place on the table, trailing the leaders by six points.  This was Xaghra's first win after five matches and with this result, they may re-open their chances to join the race for promotion.
The match between these two sides in the first round ended in a draw of four goals and therefore both Xaghra and Gharb came out with the intention to obtain a win.  However, Xaghra were more determined as they were also aiming to make up for the disappointments of the previous five matches and needed the win to take advantage of the results of the other matches of the weekend.  Xaghra deserved the win as they held command of play throughout the encounter.  They also managed to keep concentrated and did not repeat the overconfident attitude expressed in the previous matches so that Gharb was not allowed any chances to re-open the issue.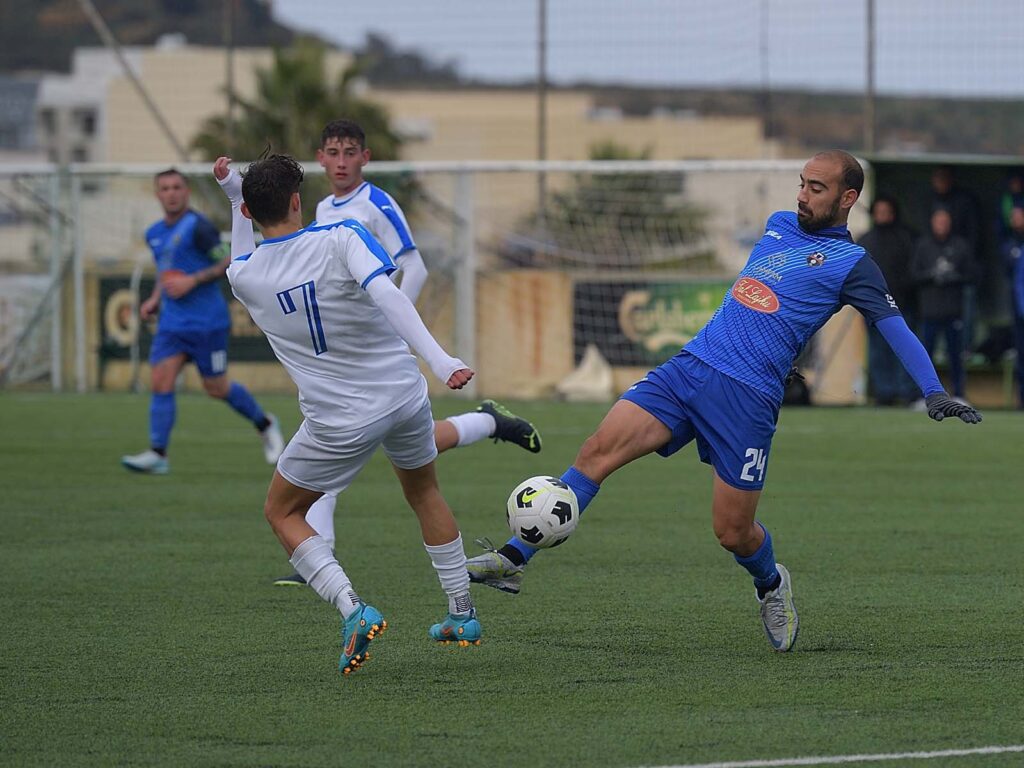 Timeline:
Xaghra were very aggressive during the first minutes of play and created continuous danger on Gharb's defence. Xaghra practically paved the way to the win by scoring two goals within the first quarter of an hour of play so that Gharb became demoralised and found it difficult to produce a reaction.
2' (0-1) Xaghra opened the score when Gharb's goalie failed to hold a corner kick by Michael Bezzina and from the resultant melee Daniel Azzopardi took advantage and fired in goal from close distance.
3' Xaghra kept insisting and a shot by Matthias Cordina from outside the area missed the target.
5' (goal disallowed) Xaghra's Savio Galea headed in the net a cross from the left flank but the goal was disallowed for an offside infringement.
7' Gharb continued to suffer Xaghra's play and cleared badly inside their area following a free kick from a long distance, but Fabian John Xuereb failed to capitalise as his header from an ideal position ended high.
12' (0-2) Xaghra converted their superiority by scoring another goal as Matthias Cordina doubled the score with a curling shot from an angled position that ended out of the reach of Gharb's goalie.
17' Gharb replied through a low shot from outside the area by Nicholas Attard that ended wide.
35' Gharb's goalie John Paul Cassar was called to make a good intervention to block a low shot by Leiner Garcia Panesso following a personal action.
HT (0-2)
Second Half
Xaghra came out for the second period with the intention to administer play. Xaghra created some dangerous actions towards Gharb's goal mainly through counter breaks but they also ended up conceding some potential scoring opportunities to their opponents.
6' Xaghra's Michael Bezzina entered Gharb's territory from the left flank but his attempt was well saved by Gharb's substitute goalkeeper Etienne Bajada.
9' The Rangers had a low shot from outside the area by Vitor Gabriel Soarez Souza that was well saved by Xaghra's keeper Lorjean Xuereb.
11' Xaghra went very close to add another goal when Joel Xuereb released Leiner Garcia Panesso in a counter break, the latter entered the area but had his effort partially saved by goalie Etienne Bajada and the ball arrived to Michael Bezzina who had his lob aimed towards a goal that was blocked on the line by central defender Nicholas Attard.
16' (0-3) Xaghra increased their lead through Leiner Garcia Panesso who surprised Gharb's goalie with a fine shot from an angled position.
22' Gharb continued to suffer Xaghra's breaks and the latter could have scored another goal but a shot on the run by Michael Bezzina, after receiving from Joel Xuereb, was blocked by goalie Etienne Bajada.
23' Xaghra's goalie Lorjean Xuereb was well placed and neutralised without difficulty a strike from outside the area by Christian Cardona.
30' Gharb's goalie was again called to make a good save to block a shot from outside the area by Matthias Cordina.
35' Gharb once again threatened Xaghra's defence through a shot by Vitor Gabriel Soarez Souza but goalie Lorjean Xuereb was again at the right place and saved the danger.
FT (GR 0 – XU 3)
Referee: Patrick Falzon