14 January 2023
GFA BOV Gozo Football League Division II (MD 7) Kercem Arkafort Stadium
Xaghra United FC: 2
Munxar Falcons FC: 2
15' (1-0) Joel Xuereb
59' (1-1) Stefan Farrugia
67' (2-1) penalty Leiner Garcia Panesso
73' (2-2) Brandon Said
Xaghra U:
L. Xuereb, S. Galea (D. Bartolo), L. Sultana, L. Meilak, J. Xuereb, M. Cordina (K. Mercieca), S. Sultana (J. Bajada), M. Mamo, D. Azzopardi, F.J. Xuereb, M. Bezzina, L. Garcia Panesso.
Munxar F:
D. Galea, C. Gafa, A. Buttigieg, R. Meilak (D.C. Njoku), S. Farrugia, H.F. Solis, M. Zerafa, B. Said, G. Sillato, S. Muscat, M. Farrugia.
Xaghra United and Munxar Falcons earned a point each from a draw of four goals in an interesting match which at the end could have gone either way.  Xaghra were the favourites to obtain the full points at stake from this encounter as they were coming from a series of four consecutive matches without a win.  Xaghra were also aiming to recover their position on the table in an attempt to re-open their chances to challenge for promotion.  The outcome of this match, therefore, satisfies Munxar more than Xaghra as the former were rewarded for their efforts and consolidated their lead over the bottom place on the table, while Xaghra were disappointed for conceding two equalisers despite the fact that they enjoyed more territorial supremacy and created more scoring opportunities.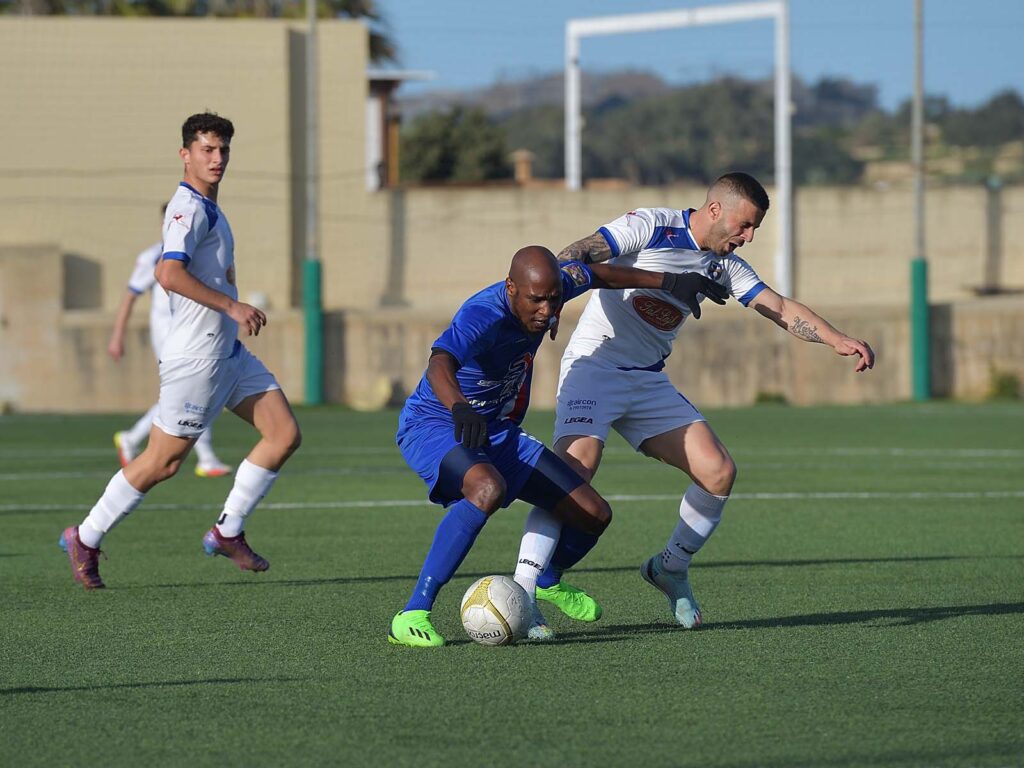 Timeline:
Xaghra came out more determined and took command of play from the early stages but they failed to convert their territorial supremacy into a comfortable lead so that Munxar remained in contention to obtain a positive result.
1' Xaghra could have created more danger but a header by Savio Galea from a corner action was saved by goalie Daniel Galea.
15' (1-0) Xaghra opened the score when Joel Xuereb received the ball at an unmarked position and placed in goal as the goalkeeper left his position in an attempt to block the danger.
22' Munxar replied through a direct free kick by Samwel Muscat that ended high.
24' Xaghra's Leiner Garcia Panesso missed a golden opportunity to double the score when he entered Munxar's area but concluded wide as he came face to face with the goalkeeper.
28' The same Leiner Garcia Panesso took the ball following a clearance by Munxar's defence but the former saw his attempt from an ideal position that ended wide.
42' Xaghra were denied a certain goal when Leiner Garcia Panesso lobbed over Munxar's goalie who left his position in an attempt to block the danger and Xaghra's Joel Xuereb headed towards an open goal but central defender Mario Farrugia recovered in time and headed away from the goalmouth to a corner.
45+4' Xaghra missed another good scoring opportunity when Leiner Garcia Panesso took the ball following a through pass from the midfield by Michael Bezzina but the low drive by the Columbian striker was weak and defender Gabriel Sillato recovered in time and cleared the ball from the danger area.
HT (1-0)
Second Half
After the resumption, Xaghra maintained their momentum and continued to create pressure on Munxar's defence but Munxar defended well and made it very difficult for their opponents to increase their lead.  Munxar surprised their opponents and managed to recover the score on two occasions so that the outcome remained uncertain until the end of the encounter.
9' Munxar's goalkeeper Daniel Galea was called to make a difficult intervention to save to corner a strike by Michael Bezzina.
14' (1-1) Munxar levelled the score when Xaghra's defence cleared badly from their area following a free kick and Stefan Farrugia took the ball and fired in goal from outside the area.
22' (2-1) penalty Xaghra regained the lead when they were awarded a penalty for a foul by Mario Farrugia on Michael Bezzina and Leiner Garcia Panesso made no mistake with his shot from the spot kick.
28' (2-2) Munxar managed to score a second equaliser when Xaghra's defence hesitated to clear the ball from their area following a corner kick by Ryan Meilak and Brandon Said took advantage and placed in goal from the resultant melee.
44' Xaghra's last opportunity to clinch the win but an effort by Michael Bezzina directly from a free kick ended wide.
45+2' Munxar also missed an opportunity to score the decisive goal but a lob from long distance by Stefan Farrugia when Xaghra's keeper was out of his position ended wide.
FT (XU 2 – MF 2)
Referee: Ranald Portelli