14 January 2023
GFA BOV Gozo Football League Division II (MD 7) Kercem Arkafort Stadium
Gharb Rangers FC : 3
St Lawrence Spurs FC: 5
6' (0-1) Victor John Saliba
30' (1-1) penalty Vitor Gabriel Soarez Souza
47' (2-1) Cyriel Buttigieg
62' (2-2) penalty Alen Haska
80' (2-3) Mark Dingli
86' (2-4) Mark Dingli
87' (2-5) Jurgen Mario Portelli
90' (3-5) Gabriel Debrincat
Gharb R:
J.P. Cassar, S. Farrugia (M. Tabone), M. Ciangura, J. Agius, C. Cutajar, C. Cardona, C. Buttigieg, J. Buttigieg (G. Debrincat), D. Galea, V.G. Soarez Souza, O. Calleja.
St Lawrence S:
J. Xiberras, G. Portelli, C. Grima, A. Haska, V.J. Saliba, L. Portelli (M. Dingli), J. Grima, D. Micallef, J.M. Portelli, J. Azzopardi (C. Azzopardi), J. Axiak.
St Lawrence Spurs earned three precious points from a 5-3 win over bottom-placed Gharb Rangers so that they moved to the third spot on the table and opened a good lead over the same Gharb.  This was St Lawrence's second win in the campaign where they confirmed to improvement registered throughout the first seven matches of the league.  St Lawrence is also close to the top position and may be considered among the potential challengers to the teams who are currently occupying the first two places on the table.
In this match, Gharb was aiming to register their first win in the campaign and also to move over the same St Lawrence on the table.  However, they compromised their ambitions during the final stages of the encounter by conceding three consecutive goals so that they left the field of play empty-handed and remain at the bottom place on the table.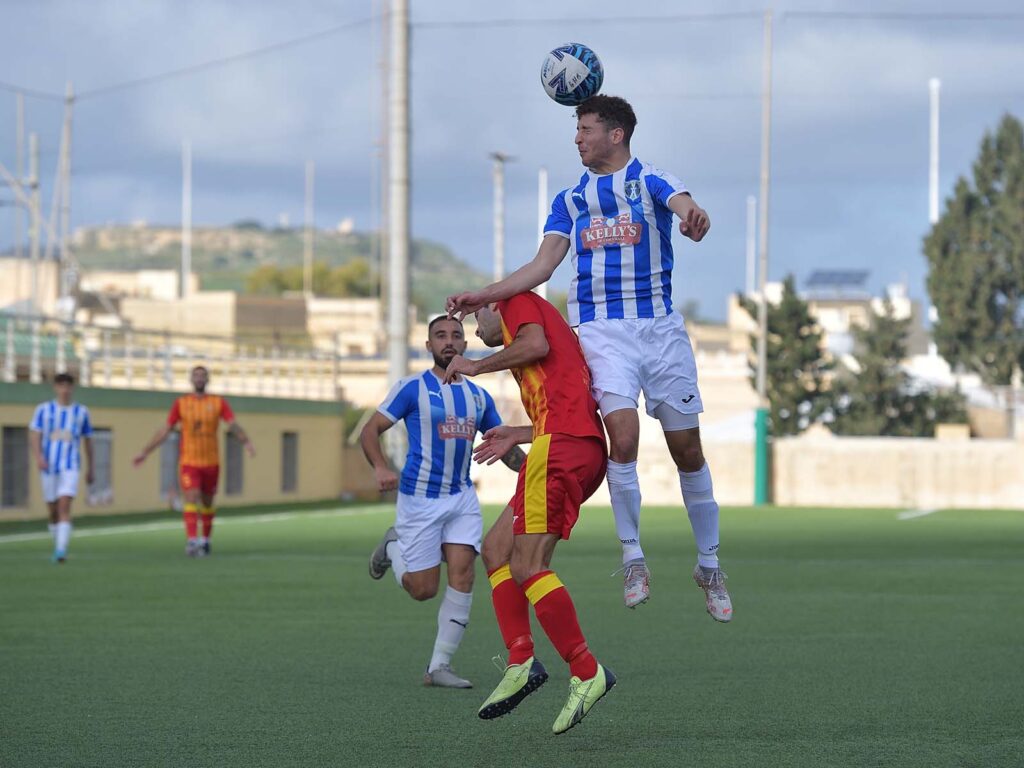 Timeline:
St Lawrence took command of play from the early stages and took a deserved lead but as time passed by they conceded more space to their opponents so that the second part of the first half was more balanced.
2' The Spurs missed a good opportunity to score but Luke Portelli failed to connect to an inviting cross by Alen Haska.
6' (0-1) St Lawrence opened the score when Jurgen Mario Portelli released Victor John Saliba with a through pass from the midfield, the latter entered Gharb's area and placed in goal with a low drive.
22' Gharb could have created more danger when St Lawrence's defence cleared badly from a free kick and the ball arrived to an unmarked Cyriel Buttigieg who headed badly and the goalkeeper neutralised without difficulty.
24' (post) St Lawrence was unlucky when a shot by Victor John Saliba after receiving from Jurgen Mario Portelli was stopped by the post.
26' The Spurs were again dangerous but an effort by Alen Haska from a free kick ended high.
29' (1-1) penalty Gharb operated a dangerous action within St Lawrence's area where Cyriel Buttigieg ended on the floor following a challenge by goalie Joel Xiberras but from the following action, Gharb won a penalty for a foul by St Lawrence's Joston Azzopardi on Vitor Gabriel Soarez Souza \and the same Brazilian striker converted from the spot kick.
40' St Lawrence went again close to scoring but a header from a good position by Victor John Saliba ended wide.
HT (1-1)
Second Half
Play continued to be balanced after the break and the outcome remained uncertain until the final stages of the encounter when the Spurs scored three consecutive goals without a reply.
2' (2-1) Gharb turned the result in their favour with a close-range header by Cyriel Buttigieg from a corner kick by Marco Ciangura that surprised St Lawrence's defence.
3' St Lawrence replied with an attempt by Alen Haska that was saved to a corner by Gharb's goalie John Paul Cassar.
8' The Spurs kept insisting and a header by Victor John Saliba from a free kick by Alen Haska ended wide.
17' (2-2) penalty St Lawrence was awarded a penalty for a foul by Steve Farrugia on Jurgen Mario Portelli and Alen Haska netted with his shot from the spot kick.
24' Gharb could have created more danger but a strike from outside the area by Vitor Gabriel Soarez Souza ended high.
35' (2-3) St Lawrence regained the lead with a fine shot by substitute Mark Dingli after receiving a through pass from the midfield.
41' (2-4) Gharb were demoralised and the Spurs added another goal when Alen Haska delivered a cross from the left towards the goalmouth and Mark Dingli hit towards the goal from close distance.
42' (2-5) St Lawrence scored their fifth goal through a tap-in by Jurgen Mario Portelli after receiving from Mark Dingli.
45' (3-5) Gharb made the score more respectable by scoring their third goal which arrived through a header by substitute Gabriel Debrincat following a corner kick by Marco Ciangura.
FT (GR 3 – SLS 5)
Referee: Patrick Falzon