29 January 2023
GFA BOV Gozo Football League Division I (MD 12) Gozo Stadium
Kercem Ajax FC : 3
Victoria Hotspurs FC : 0
37' (1-0) Bruno Da Cruz
45+1' (2-0) Gabriel Cardona
49' (3-0) Luiz Henrique Santana Motta
52' (red card) Dimitri Christian Kassekar (VH)
Kercem A:
D. Spiteri, D. Cassar, L.H. Santana Motta, D. Hili, J. Theuma, B. Da Cruz (C. Attard), O. Rolovic, P. Vinicius De Moraes Ferreira, A. Mizzi (C. Briffa), G. Cardona (K. Attard), K. Formosa.
Victoria H:
K. Barbara, D.C. Kassekar, O.G. Fernandes, J. Azzopardi (O. Cremona), B. Said, L. Farrugia (J. Grech), J. Pace (C. Caruana), N. Inguanez, L. Mancuso Lemos Santos Ferreira (S. Sillato), A. Debrincat, R. Silva Faria.
Kercem Ajax earned three precious points from a convincing win over relegation strugglers Victoria Hotspurs and remains among the serious challengers for the title. With this win, Kercem also took full advantage of the draw registered between the joint leaders and reduced their gap from the top position to just three points.
For this match, Kercem seemed determined to take revenge for the defeat conceded in the clash against the same Citizens of the first round and paved the way to the win by scoring two goals during the dying moments of the first half. Kercem capitalised from their comfortable lead during the second period and also took advantage when the Hotspurs were reduced to ten players so that the win could have been obtained with a larger margin.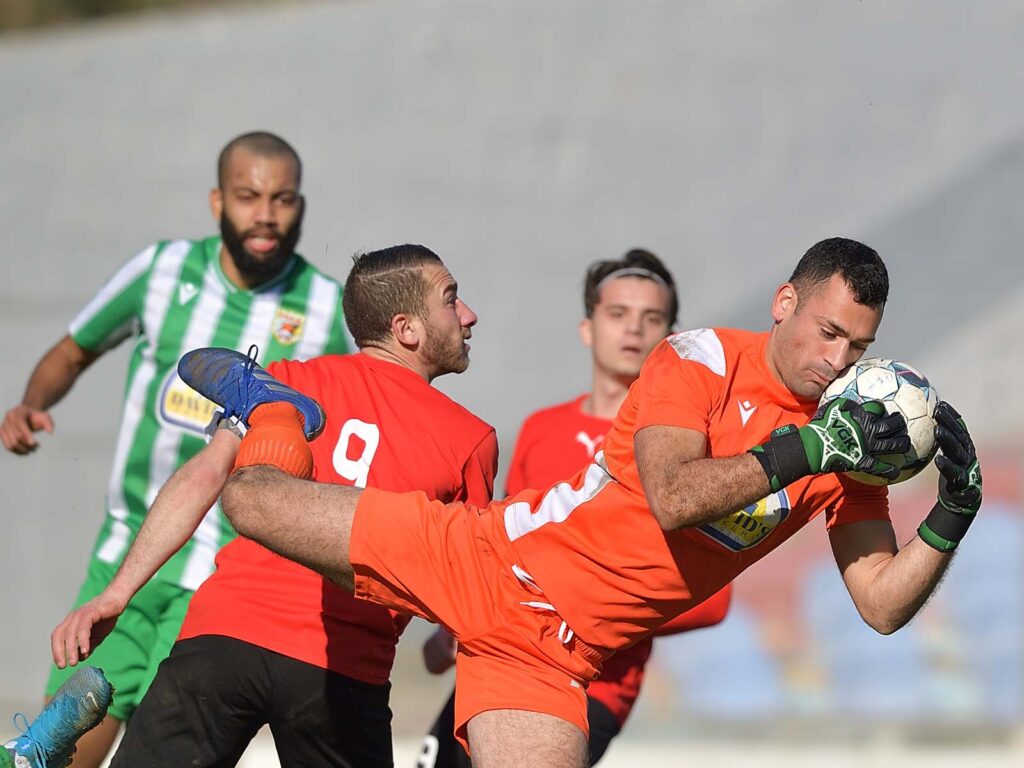 Timeline:
The match was quite balanced for most of the first half as the two sides were motivated to take command of the play. As a result, the two defensive departments were often in control of the respective strikers and open scoring opportunities were rare. Kercem however managed to score two goals near the end of the first half so they took the break with less pressure
4' Kercem went very close to opening the score when Bruno Da Cruz released Pablo Vinicius Ferreira inside Victoria's area but the latter saw his attempt from an angled position that ended on the side of the net.
13' The Ajax were again dangerous through a free kick by Bruno da Cruz that ended wide.
15' The Hotspurs replied with a header by Ricardo Silva Faria following a free kick by Olimpio Gabriel Fernandes but the ball ended high.
23' (protests for penalty) Kercem protested for a penalty following a challenge by Victoria's central defender Dimitri Kassekar on Kercem's Gabriel Cardona.
32' The Hotspurs could have capitalised from a good action as Ricardo Silva Faria unmarked Lucas Mancuso but the latter had his shot from an angled position that ended on the side of the net.
34' (protests for penalty) Kercem protested for the second time for a penalty when Pablo Vinicius Ferreira ended on the floor when he tried to pass Victoria's Nicholas Inguanez.
37' The Hotspurs were again dangerous through a header by Lucas Mancuso following a free kick by Olimpio Gabriel Fernandes, but the ball ended high.
37' (1-0) Kercem opened the score when Bruno Da Cruz had perfect timing to follow a cross from the right flank by Pablo Vinicius Ferreira and the former placed in goal with a shot on the run.
45+1' (2-0) Kercem doubled the score when Pablo Vinicius Ferreira passed through Victoria's defence with personal action and from his low pass Gabriel Cardona netted easily from close distance.
HT (2-0)
Second Half
Kercem maintained their momentum from the first minutes of play of the second period so that they increased their lead and held command of play for the rest of the encounter. The Hotspurs came out demoralised for the second period and they never seemed in a position to stage a reaction particularly because they were reduced to ten players a few minutes after conceding the third goal.
4' (3-0) Kercem scored their third goal when Victoria's defence cleared badly a free kick from the right flank and the ball arrived to Luiz Henrique Santana Motta who had his close ranged shot that was partially blocked but the ball still ended in the net.
6' The Hotspurs could have created more danger but a shot from a good position by Brandon Said ended wide.
7' (red card) Victoria was reduced to ten players when Dimitri Christian Kassekar was sent off for denying Pablo Vinicius Ferreira from entering the area.
20' Victoria were again dangerous through a shot by Olimpio Gabriel Fernandes that was neutralised by Kercem's goalie Daniel Spiteri.
22' Kercem went close to adding another goal but a header by Ognjen Rolovic following a cross by Pablo Vinicius Ferreira ended wide.
31' Victoria's goalie Kyle Barbara was called to make a good intervention to block to a corner a good shot by Ognjen Rolovic.
33' Kercem continued to create danger and Pablo Vinicius Ferreira could have added another goal but his attempt from close distance ended high.
34' Victoria almost conceded the fourth goal when Gabriel Cardona entered the area with a personal action but his low shot aimed towards the far post ended wide.
FT (KA 3 – VH 0)
Referee: Jo-Anna Vassallo