28 January 2022
GFA BOV Gozo Football League Division I (MD 12) Gozo Stadium
Ghajnsielem FC : 1
Xewkija Tigers FC : 1
48' (0-1) Johnny Camilleri
54' (red card) Dylan Mercieca (XT)
82' (1-1) Patrick Dos Santos Cruz
Ghajnsielem:
A. Parnis, T. Sciberras, D. Farrugia, J.P. Oliveira Santos, K. Farrugia (D.P. Rapa), P. Vella (C. Camilleri), K. Grima, M.A. Scicluna (J. Xuereb), J.V. Candido, P. Dos Santos Cruz.
Xewkija T:
N. Kosanin, J. Vella, M. Mercieca (S. Xuereb), J. Buttigieg, D. Bogdanovic, J. Arboleda Valencia, A. Bozovic, D. Mercieca, D. Andelovic, C. Abela, J. Camilleri (M. Bonnici).
In the first match from Match Day 12 of the BOV Gozo Football league of the first division Ghajnsielem and Xewkija Tigers shared the spoils in a draw of two goals so that the latter defended their fourth place on the table and retained a three-point lead over the same Ghajnsielem.  With this result, and with just two matches left for each side until the end of the second round, Xewkija become the favourites to take the last place available to play in the championship pool during the second and final phase of the championship.
Ghajnsielem, who was coming from a very negative patch, which saw them dropping down on the table despite their ambitions at the beginning of the season to be among the challengers, fielded a depleted side as a number of their usual regular players were missing due to suspensions, transfers and injuries.  However, the Blacks were motivated and shared play with their opponents so that the encounter turned out to be well-contested and the win could have gone either way.  However, the point obtained by each side rewards the efforts of the two sets of players and it was also a just result.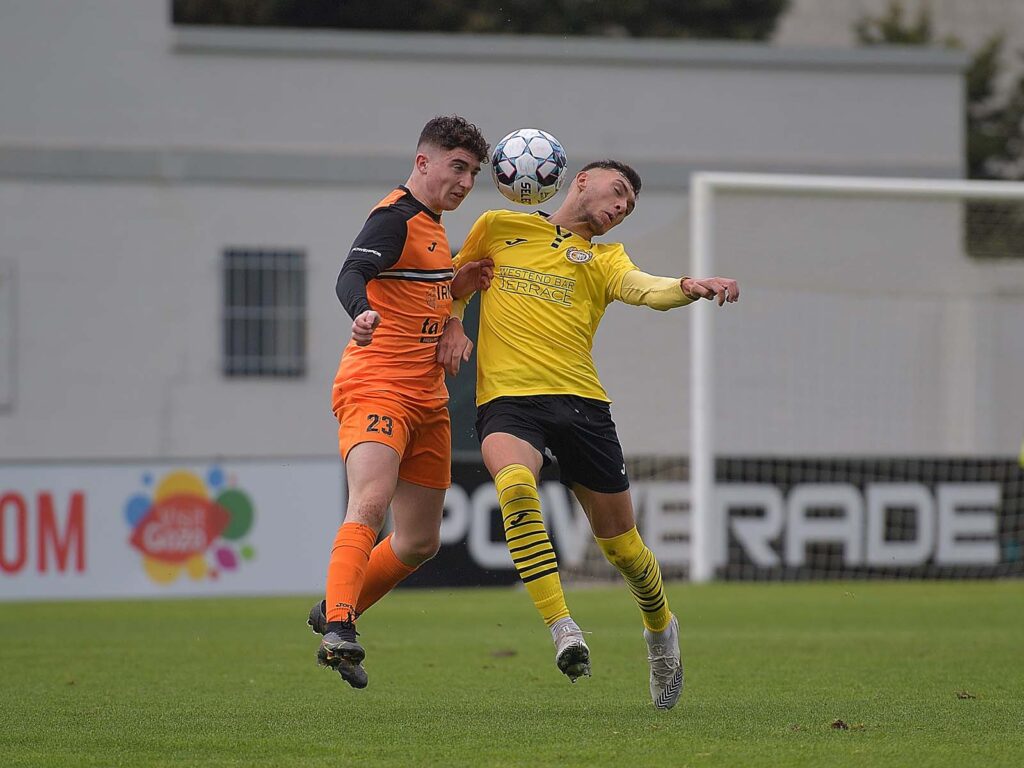 Timeline:
Ghajnsielem was more adventurous than their opponents for most of the first half but Xewkija managed to resist well and as a result, the two sides created some potential scoring opportunities.
5' Xewkija's defender Aleksa Bozovic denied Ghajnsielem from scoring an early goal when he cleared off the line a low shot by Joao Pedro Oliveira Santos that seemed heading out of the reach of the goalkeeper.
17' Ghajnsielem were again dangerous but goalie Nikola Kosanin left his position in time and cleared the ball before striker Patrick Dos Santos Cruz could conclude towards the goal.
21' Xewkija failed to capitalise on a potential scoring opportunity when Jhon Arboleda Valencia entered the area from the left flank but from his low pass Matthias Mercieca hesitate to conclude and the defence recovered to clear the danger.
24' Ghajnsielem's Joao Pedro Oliveira Santos continued to be a continuous threat to Xewkija's defence and went again close to open the score but his low shot was well blocked by goalie Nikola Kosanin.
25' Xewkija replied with a close-ranged shot by Damir Andelovic following a cross by Matthias Mercieca but goalie Adrian Parnis was well-placed and blocked the danger.
28' Xewkija's goalie Nikola Kosanin was called to make the best save of the afternoon to turn to a corner a strike from outside the area by Joao Pedro Oliveira Santos.
31' (protests for penalty) Xewkija protested for a penalty when Matthias Mercieca ended on the floor when he tried to pass two defenders inside Ghajnsielem's area but the referee did not note any infringement and the young striker was also cautioned for simulation.
HT (0-0)
Second Half
The match continued to be well contested from the first minutes of play of the second period.  Xewkija managed to put their heads in front but they ended up playing with a player less than a few minutes later so Ghajnsielem increased their efforts in an attempt to recover the deficit.
2' Ghajnsielem could have created more danger but a shot from a good position by Kurt Bajada was saved in two attempts by goalie Nikola Kosanin.
3' (0-1) Xewkija opened the score when a shot by Josiah Buttigieg arrived to Johnny Camilleri who managed to pass his direct opponent and concluded in goal from close distance.
9' (red card) Xewkija were reduced to ten players when Dylan Mercieca was shown a straight red card for his intervention on Kevin Farrugia.
25' Ghajnsielem went very close to levelling the score when Xewkija's defence failed to clear the ball from a free kick by Joao Pedro Oliveira Santos but the shot by substitute Chris Camilleri was blocked by Xewkija's keeper.
26' Xewkija operated a break in the following action where Jhon Arboleda Valencia entered Ghajnsielem's area but his shot aimed towards an open goal was cleared off the fatal line by substitute Dylan Paul Rapa.
37' (1-1) Ghajnsielem scored the equaliser when Patrick Dos Santos Cruz arrived on the ball before Xewkija's keeper following a cross for the right by Kurt Bajada and the Brazilian striker headed towards an open goal.
39' The Blacks were again dangerous through a strike from an angled position by Joao Pedro Oliveira Santos that ended wide.
42' Ghajnsielem's goalie Adrian Parnis denied Xewkija from taking the lead when he block a shot from an unmarked position by Matthias Mercieca and in the following action Xewkija's Damir Andelovic had a shot from an angled position that ended on the side of the net.
45+3' Xewkija had their last opportunity to score the decisive goal when Jhon Arboleda Valencia released Josiah Buttigieg but the attempt by the latter missed the target.
FT (GHJ 1 – KA 1)
Referee: Darryl Agius