14 February 2023
GFA BOV Gozo Football League Division I (MD 14) Gozo Stadium
Sannat Lions FC : 0
Nadur Youngsters FC : 6
9' (0-1) Predrag Dordevic
13' (0-2) penalty Marcelo Jr Barbosa
51' (0-3) Joseph Zammit
54' (0-4) Marcelo Jr Barbosa
60' (0-5) Predrag Dordevic
66' (0-6) Stefan Cassar
Sannat L:
L. Buttigieg, A. Sultana, O. Grech (M. Mifsud), D.A. Cuero, N. Grima, D. Borg, L. Silva Gomes, C. Dingli, A. Azzopardi, T. Borda Ovalle, M. Farrugia (P. Said).
Nadur Y:
S. Sultana, L.B. Da Silva, M. Tabone, I. Xuereb (P.P. Camilleri), J.M. Vella (G. Farrugia), M. Jr. Barbosa, S. Cassar, G. Hili, G. Dourado Ferreira (M.P. Camilleri), G. Muscat (J. Zammit), P. Dordevic (M. Said).
Nadur Youngsters consolidated their credentials as hot favourites to retain the title won last season as they obtained three pints from a 6-0 win over bottom-placed Sannat Lions and ended the second round with a five-point lead over their closest challengers.
Nadur's win arrived with the least possible effort.  The Youngsters as expected dominated throughout the ninety minutes so that the win matured with two goals scored during the first part of the encounter and four more goals scored after the break.  Nadur was without their main striker Igor Nedeljkovic for this match but the reigning champions still managed to create various scoring opportunities.  Marcelo Barbosa and Predrag Dordevic were the main protagonists in this win as they scored a brace each, while the other goals scored by Joseph Zammit and Stefan Cassar were very encouraging as the two young players are trying to find the best form after a long period out of the action due to serious injuries.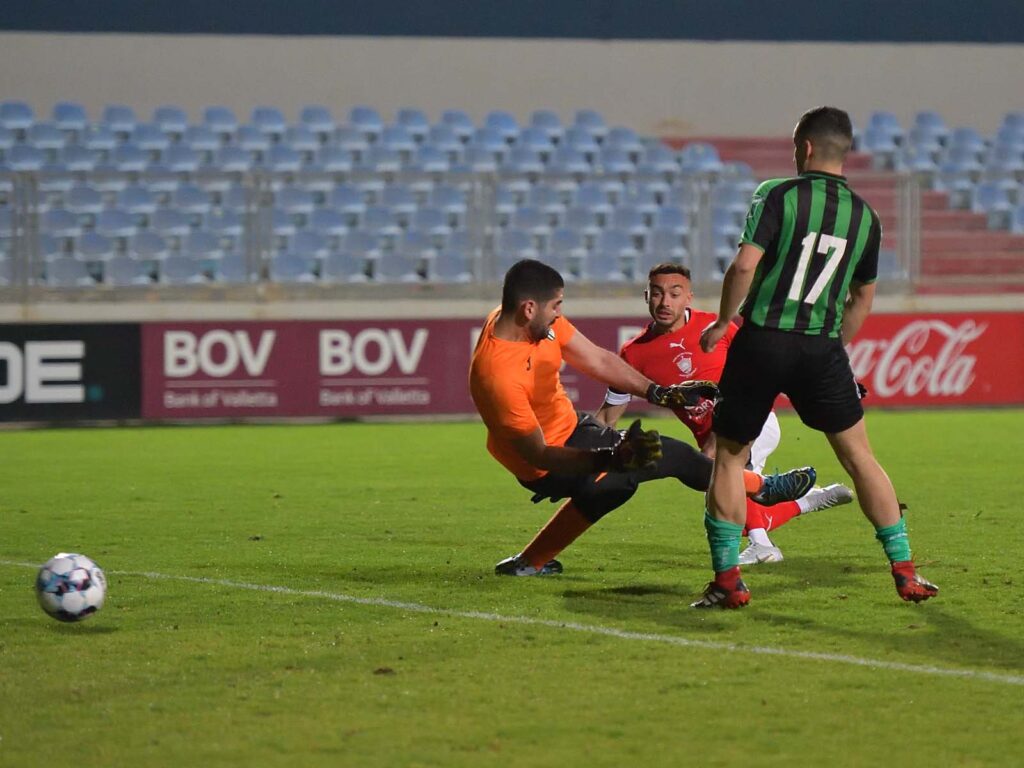 Timeline:
Nadur took command of play from the first minutes of play and paved the way to the win with two goals scored during the early stages of the encounter.  Nadur however was very often erratic in their finishing as they could have ended the first half with a larger lead.
5' Nadur's first attempt towards Sannat's goal arrived through a shot from outside the area by Lucas Baretto Da Silva that ended away from goal.
9' (0-1) Nadur opened the score when Marcelo Barbosa passed inside Sannat's area with personal action and the ball arrived to Predrag Dordevic who fired towards the goal with the ball getting a deflection before ending in the net.
13' (0-2) penalty Nadur was awarded a penalty for a foul by Sannat's Daniel Borg on Marcelo Barbosa and the same Brazilian striker converted from the spot kick. 
19' Sannat replied with an attempt from a free kick by Deison Arvey Cuero but the ball ended high.
20' Nadur were again dangerous through a strike by Stefan Cassar but the attempt ended wide.
23' Nadur's Lucas Baretto Da Silva had a header for a corner kick by Gennaro Hili that ended wide.
30' Sannat's goalie Luke Buttigieg was well placed and blocked to a corner a close-ranged attempt by Gustavo Dourado Ferreira following a low cross towards the far post by Predrag Dordevic.
34' Nadur were again dangerous but a low shot by Stefan Cassar following a clearance by the defence ended wide.
39' Sannat's keeper was again called to make an important intervention to block an effort by Marcelo Barbosa after receiving from Stefan Cassar.
42' Nadur's Marcelo Barbosa had a shot from an angled position that missed the target.
45+2' Nadur missed an open scoring opportunity when Lucas Baretto Da Silva delivered an inviting cross towards Sannat's goalmouth but Gustavo Dourado Ferreira hit badly from a close distance and the ball ended wide.
HT (0-2)
Second Half
After the resumption, Nadur continue to dominate the encounter and improved their efficiency in their attempts so that they ended up obtaining the win with a large score.
3' Nadur could have increased their lead but Marcelo Barbosa concluded badly from an ideal position following a low cross by Joseph Mario Vella.
6' (0-3) Nadur added another goal when Marcelo Barbosa headed inside the area following a cross from the left flank and substitute Joseph Zammit came from behind the defence and headed in a goal from close distance.
9' (0-4) Sannat seemed demoralised and conceded another goal that arrived through Marcelo Barbosa who controlled the ball inside Sannat's area following a cross by Ian Xuereb and netted easily with a low drive.
14' Sannat's goalie Luke Buttigieg made another good intervention to save to a corner a good attempt by Joseph Zammit.
15' (0-5) From the same corner action taken by Gennaro Hili, the ball arrived to an unmarked Predrag Dordevic who concluded easily in goal.
21' (0-6) Nadur continued to create continuous danger within Sannat's territory and scored the sixth goal through a close-ranged shot by Stefan Cassar after receiving from substitute Matthias Said.
27' (post) Nadur's Marcelo Barbosa went close to register a personal hat-trick but his shot from a good position after receiving from Matthias Said was stopped by the post and the goalkeeper saved the danger.
FT (SL 0 – NY 0)
Referee: Andrea Sciriha