24 February 2023
GFA BOV Gozo Football League Division I: P/O (MD 15) Gozo Stadium
Ghajnsielem FC : 2
Sannat Lions FC : 1
45+1' (0-1) Lucas Silva Gomes
60' (1-1) Joao Pedro Oliveira Santos
76' (2-1) Kevin Farrugia
Ghajnsielem:
A. Parnis, K. Borg, A. Xuereb, D. Farrugia, J.P. Oliveira Santos, K. Farrugia (J. Xuereb), K. Grima, M.A. Scicluna, J.V. Candido, P.A. Mota De Lima, P. Dos Santos Cruz (D.P. Rapa).
Sannat L:
L. Buttigieg, A. Sultana, A. Takatori, T. Agius, D.A. Cuero, C.A. Sanchez Gonzales, D. Borg (P. Said), L. Silva Gomes, C. Dingli, M. Mifsud (O. Grech), A. Azzopardi.
In the opening match of the second phase of the BOV Gozo Football League of the first division, Ghajnsielem came from behind in the match against bottom-placed Sannat Lions and turned a defeat into a win with the odd goal from three with goals scored after the break.
This was a match from the Pay-Out where the two sides needed a win as the Blacks were aiming to consolidate their lead over the other teams in the relegation zone while Sannat needed the full points at stake to move away from the bottom of the table. The match was well contested where each side prevailed over the other for a half each.  Sannat were punished for not being able to build a good lead during the first half so during the second period they conceded Ghajnsielem's reaction.
The Blacks were released from the pressure during the second period and dictated matters so that they not only managed to recover the deficit but they took the lead and created some other good scoring opportunities which could have put their minds at rest from the win at an earlier stage. With the points obtained Ghajnsielem increased their lead over the same Sannat to ten points so that they are practically certain that they would avoid the drop.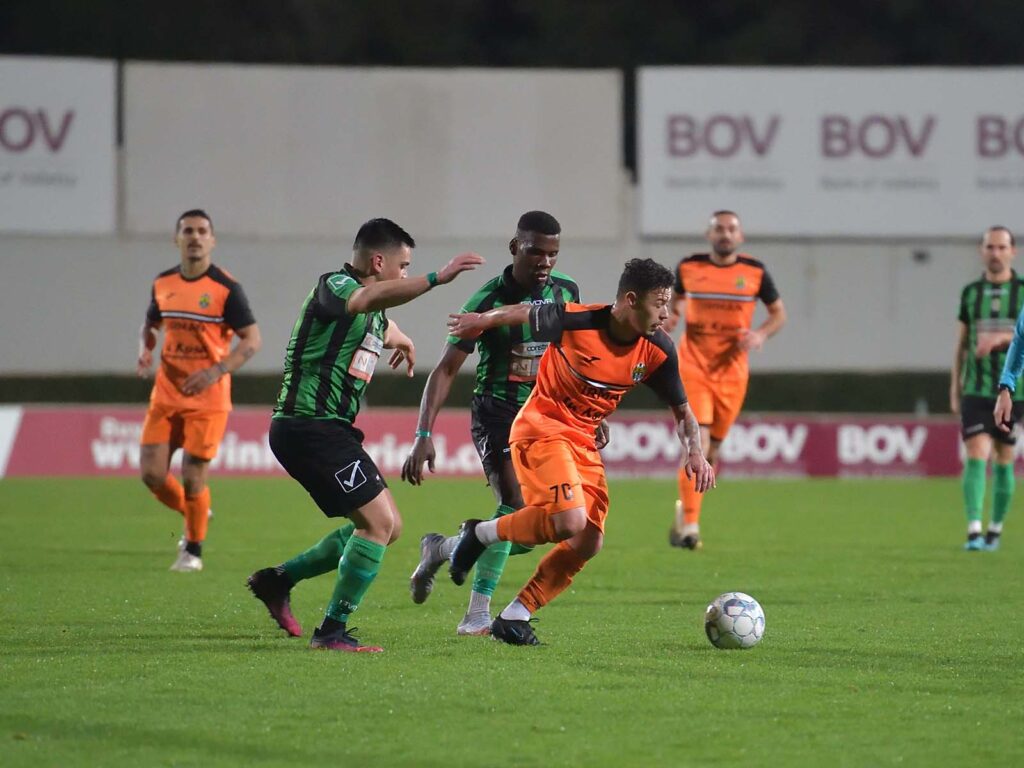 Timeline:
Sannat produced more offensive play throughout the first period, creating more scoring opportunities.  Sannat managed to take the break with a deserved one-goal lead that arrived during stoppage time.
2' Sannat first serious action arrived through an initiative by Camilo Andres Sanchez Gonzales but the striker saw his shot from a good position that missed the target.
7' Ghajnsielem's goalie Adrian Parnis was called to make a difficult intervention to save to a corner a good attempt by Lucas Silva Gomes following a personal action.
13' The same goalkeeper saved without difficulty a low shot from outside the area by Sannat's Deison Arvey Cuero.
14' Sannat kept insisting and created danger when Tristen Agius produced a personal action on the right flank but his cross-shot ended high.
17' Ghajnsielem replied with a header by Patrick Dos Santos Cruz following a corner kick by Joao Pedro Oliveira Santos but the ball ended wide.
22' Ghajnsielem's Joao Pedro Oliveira Santos had a strike following a personal action that ended away from goal.
25' Sannat went again close to score when Ghajnsielem's goalie Adrian Parnis failed to hold an attempt from a free kick by Deison Arvey Cuero but from the rebound, Christian Dingli's shot was blocked to a corner by the same goalkeeper.
28' Ghajnsielem's goalie Adrian Parnis was in the right place and neutralised without difficulty a good effort by Camilo Andres Sanchez Gonzales.
35' Sannat's goalie Luke Buttigieg was called to make an important intervention to block a strike directly from a free kick by Ghajnsielem's Joao Pedro Oliveira Santos.
45+1' (0-1) Sannat took the lead when Lucas Silva Gomes passed through Ghajnsielem's defence with personal action and netted with a low drive that surprised the goalkeeper.
HT (0-1)
Second Half
Ghajnsielem came out for the second period more determined and managed to level the score with a goal scored on the hour mark.  Ghajnsielem grew in confidence and for the rest of the encounter, they increased their pressure on Sannat's defence and ended up obtaining a deserved win.
2' Ghajnsielem missed a good opportunity to level the score when Pedro Augusto Mota De Lima was released within Sannat's territory but his low drive aimed towards an open goal ended wide.
6' Sannat's goalie Luke Buttigieg was well placed and neutralised a low shot by Kevin Farrugia.
13' Sannat could have created more danger when Lucas Silva Gomes defended the ball inside Ghajnsielem's area but from his pass, Deison Arvey Cuero concluded high from an ideal position.
14' The Blacks could have levelled the score when Daniel Farrugia prolonged inside Sannat's area following a free kick by Joao Pedro Oliveira Santos, but Junior Valdeci Candido incredibly concluded wide from a close distance.
15' (1-1) Ghajnsielem, however, scored the equaliser with a spectacular goal that arrived through a fine strike from an angled position by Joao Pedro Oliveira Santos that ended in goal despite the attempt by the goalkeeper to block the danger.
29' Ghajnsielem were again dangerous through a shot from outside the area by Joao Pedro Oliveira Santos that was blocked by goalie Luke Buttigieg.
30' The same goalkeeper was once again called to make a good save to turn to a corner another shot by Oliveira Santos.
31' (2-1) Ghajnsielem turned the result in their favour through Kevin Farrugia who surprised Sannat's defence from close distance following a corner kick by Joao Pedro Oliveira Santos.
35' Ghajnsielem continued to create more danger and Sannat's goalie was at the right place to partially save a shot by Joao Pedro Oliveira Santos so that the defence recovered and cleared the danger from the area.
41+1' Ghajnsielem could have sealed the win when Joao Pedro Oliveira Santos entered the area but his attempt from an angled position ended wide.
FT (GHJ 2 – SL 1)
Referee: Alex Johnson