19 March 2023
GFA BOV Gozo Football League Division I: T/4 (MD 18) Gozo Stadium
Nadur held to a draw and miss a second chance to clinch the title
Nadur Youngsters FC : 2
Xewkija Tigers FC : 2
24' (0-1) Rodney Buttigieg
26' (1-1) Predrag Dordevic
45+2' (2-1) Igor Nedeljkovic
62' (2-2) Damir Andelovic
74' (red card) Joseph Mario Vella (NY)
Nadur Y:
S. Sultana, L.B. Da Silva, M. Tabone, I. Xuereb, J.M. Vella, J. Zammit, M. Jr. Barbosa, S. Cassar (G. Farrugia), G. Muscat (J. Xerri), I. Nedeljkovic, P. Dordevic (M.P. Camilleri).
Xewkija T:
N. Kosanin, J. Vella, M. Mercieca (J. Camilleri), R. Buttigieg, J.A. Hernandez Leal, A. Bozovic, D. Mercieca, C. Camilleri, D. Andelovic, S. Xuereb , C. Abela.
In the last match of Match-Day 18 of the BOV Gozo Football League of the first division, leaders Nadur Youngsters were held to a draw by Xewkija Tigers so that they missed an opportunity to earn the points they needed to become mathematically champions.  Nadur still enjoys a five-point lead over their close rivals and they remain hot favourites to win the main honour in the remaining two matches until the end of the championship. 
This was Nadur's second consecutive match where they dropped crucial points in their attempt to achieve their target.  The Youngsters were coming from a disappointing defeat in their previous match and in this match against Xewkija they managed to end the first half in the lead but after the break, they conceded the reaction by their opponents so that the win at the end could have gone either way. Xewkija on the other hand confirmed a good moment of form and registered the second consecutive positive result in the Top-4 phase.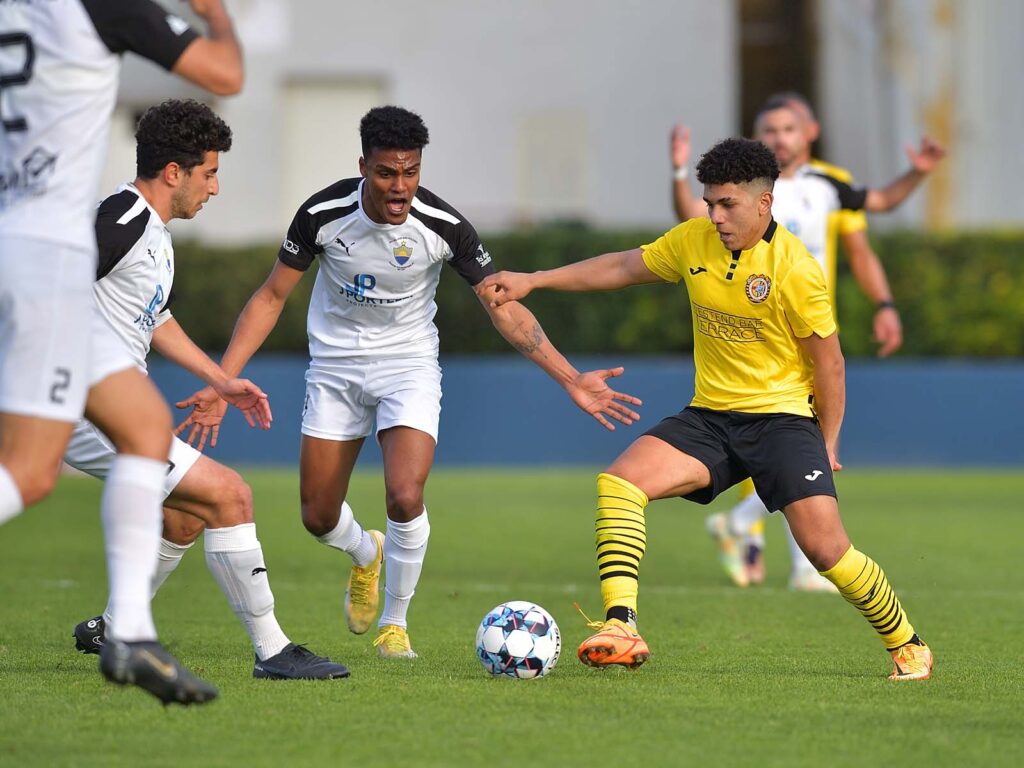 Timeline:
Nadur enjoyed more possession during the first half but they struggled to create serious danger towards Xewkija's goal.  Nadur found themselves trailing by one goal scored during the opening phase of the match but as time passed by, they imposed some superiority and ended the first half in the lead.
5' Xewkija's goalie Nikola Kosanin was well placed and saved to a corner an effort by Stefan Cassar after receiving from Igor Nedeljkovic.
12' (crossbar) Nadur's Marcelo Barbosa had a strike that was saved to a corner with the aid of the crossbar by goalie Nikola Kosanin.
21' (post) The same goalkeeper made another important intervention when he saved a corner effort by Igor Nedeljkovic following a cross by Stefan Cassar and the same Cassar was unlucky when his corner kick was stopped by the post.
24 (0-1) Xewkija opened the score when Rodney Buttigieg won the ball from Nadur's goalie and managed to place it easily into an open goal before the defenders could recover.
26' (1-1) Nadur had an immediate reaction and scored the equaliser through a header by Predrag Dordevic following a corner kick by Stefan Cassar.
45+2' (2-1) Nadur turned the result in their favour on the stroke of half time when Joseph Zammit headed towards Stefan Cassar within Xewkija's area, the latter saw his close ranged shot that was partially saved by the goalkeeper but from the rebound, Igor Nedeljkovic fired in goal.
HT (2-1)
Second Half
The second period turned out to be much more entertaining as Nadur tried to keep control of play but they conceded a comeback by Xewkija who levelled the score and became more dangerous particularly as they played the last part with an extra player on the field.
2' Xewkija's goalie Nikola Kosanin denied Nadur from adding another goal when he blocked a close-ranged attempt by Marcelo Barbosa who was alone inside Xewkija's area.
14' Xewkija replied with a header by Josmar Vella following a corner kick by Chris Camilleri that ended high.
17' (2-2) Xewkija recovered the deficit through a spectacular free kick by Damir Andelovic that surprised Nadur's goalie.
21' Xewkija were again dangerous when Rodney Buttigieg was unmarked inside Nadur's area but his shot from close distance was blocked by Nadur's goalie Steve Sultana.
26' The same goalkeeper was well placed and saved a free kick by Damir Andelovic.
29' (red card) Nadur ended up playing with a player less when Joseph Mario Vella received a second yellow card for a foul on Hernandez Leal.
35' Nadur's goalie Steve Sultana made a difficult intervention to save a curling shot by Hernandez Leal following a personal action.
39' Nadur had an attempt from outside the Ian Xuereb that ended wide.
40' Nadur's last opportunity to obtain the win arrived through a low shot by Joseph Zammit that was saved with difficulty by goalie Nikola Kosanin.

FT (NY 2 – XT 2)
Referee: Daniel Portelli