25 March 2023
GFA BOV Gozo Football League Division I: P/O (MD 19) Gozo Stadium
Sannat Lions FC: 1
Oratory Youths FC: 2
34' (0-1) penalty Jovan Mijuskovic
45+7' (0-2) o.g. Mario Mifsud
90+1' (1-2) Anthony Sultana
Sannat L:
L. Buttigieg, A. Sultana, A. Takatori, T. Agius (P. Said), D.A. Cuero, C.A. Sanchez Gonzales, D. Borg (A. Attard), L. Silva Gomes, C. Dingli, M. Mifsud (N. Grima), A. Azzopardi.
Oratory Y:
A. Brignoli, J. De Souza Ferreira, H.H. Goncalves Barbosa (P. Rapa), I. Belhadj (N. Said), A. Xuereb, O. Xuereb (D. Atzori), A. Azzopardi, N. Sutic, Ju. Attard, H. Muscat, J Mijuskovic.
Oratory Youths registered their second consecutive win in the Play-Out phase of the championship and with the points obtained, they made sure of a safe place on the standings which kept them away from direct relegation and the Play-Off.  Oratory repeated the positive performance of their previous match and their 3-0 victory over bottom-placed Sannat Lions was well deserved.
Sannat needed a win from this encounter to move away from the last place in the standings but in this match, Oratory dictated matters and the win could have been easy with a larger margin if it was not for Sannat's goalie who made a series of important interventions to keep his side in contention.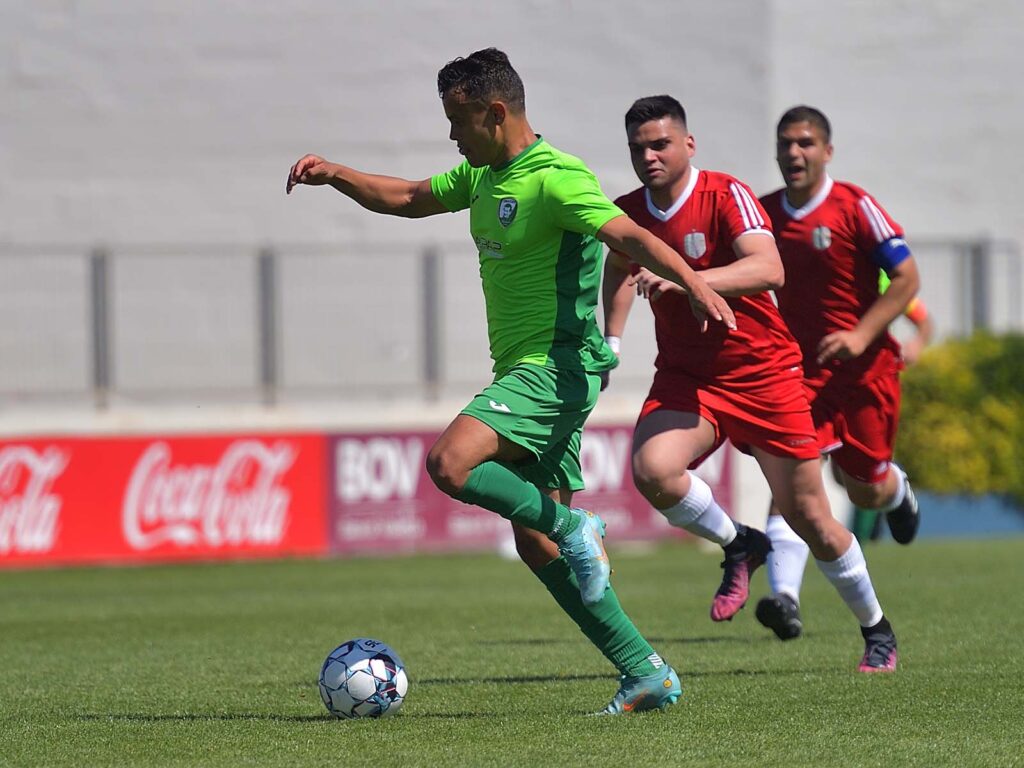 Timeline:
Sannat seemed motivated during the opening minutes but Oratory soon took control of the play and created danger each time they approached Sannat's area.  Oratory was also forced to make an early substitution as Omar Xuereb suffered a severe injury and the match was suspended for around five minutes.
8' Oratory went close to score an early goal when Haraan Goncalves Barbosa unmarked Jovan Mijuskovic but the latter saw his attempt that was well saved by Sannat's keeper Luke Buttigieg.
19' Oratory's Jovan Mijuskovic released Haraan Goncalves Barbosa within Sannat's territory but Sannat's goalie left his position in time to deny Goncalves Barbosa from concluding towards goal.
22' Sannat's goalie Luke Buttigieg was again called to make a difficult intervention to turn to a corner a lob by Ishmael Belhadj.
25' Oratory once again threatened Sannat's defence through a low shot by Andre Azzopardi but the goalkeeper was well-placed and saved the danger.
31' Sannat's first attempt on Oratory's goal arrived through a shot by Christian Dingli but goalie Angelo Brignoli saved without difficulty.
32' (0-1) penalty Oratory opened the score from a penalty, awarded for a foul by Aron Azzopardi on Andre Azzopardi and Jovan Mijuskovic converted from the penalty spot.
44' The Youths were again dangerous through an attempt directly from a free kick by Haraan Goncalves Barbosa but goalie Luke Buttigieg managed to save his goal with some difficulty.
45+7' (0-2) o.g. Oratory doubled their lead when Sannat's defender Mario Mifsud headed badly in an attempt to clear the ball from a shot by Haraan Goncalves Barbosa and the ball ended in the net despite the attempt of the goalkeeper to block the danger.
HT (0-2)
Second Half
After the resumption Sannat's reaction was sterile as Oratory were well deployed at their defence and continued to create more potential scoring opportunities.
9' Sannat's goalie saved with some difficulty a shot by Haraan Goncalves Barbosa from a good position.
12' Sannat could have created more danger but an overhead kick by Camilo Andres Sanchez Gonzales was weak and also missed the target.
19' Oratory's Haraan Goncalves Barbosa entered Sannat's area with a personal initiative but the Brazilian striker had his attempt that was saved by Sannat's goalie.
26' Sannat's defender Aron Azzopardi risked to commit an own goal when he hit badly in an attempt to clear the ball from the danger area following a free kick by Nikola Sutic but the ball ended over the crossbar.
36' Sannat were dangerous through a header by Camilo Andres Sanchez Gonzales following a corner kick by substitute Andrew Attard, but the ball got a deflection and was cleared to another corner.
45+1' (1-2) Sannat re-opened the issue for the final moments of the encounter when Camilo Andres Sanchez Gonzales delivered a cross from the left-hand side and Anthony Sultana's shot ended in the net despite the attempt of the goalkeeper to block the danger and with the ball hitting the post before crossing the fatal line.
FT (SL 1 – OY 2)
Referee: Ezekiel Barbara