25 March 2023
GFA BOV Gozo Football League Division I: T/4 (MD 19) Gozo Stadium
Xewkija Tigers FC : 1
Qala Saints FC: 1
34' (1-0) penalty Damir Andelovic
38' (1-1) Ayesller Carvalho
Xewkija T:
N. Kosanin, J. Vella, R. Buttigieg, J.A. Hernandez Leal, D. Bogdanovic, A. Bozovic, D. Mercieca, C. Camilleri, D. Andelovic, C. Abela, J. Camilleri (M. Bonnici).
Qala S:
F. Vella, L. Grima, Jsph. Buttigieg, J.V. Ferrari Silva, Jsh. Buttigieg, A. Carvalho, S. Attard, E. Buttigieg, N.C. Njoku, M. Xerri (S. Bajada).
Qala Saints missed the opportunity to remain in contention for the title, at least until Nadur Youngsters played their match from Match-Day 19 of the BOV Gozo Football League of the first division, as they were held to a draw of two goals by Xewkija Tigers.
The match between Xewkija and Qala turned out in an entertaining encounter as the two sides insisted to obtain the win. Xewkija were aiming to extend their good patch of positive results while Qala needed the full points at stake to remain in the race for the title. At the end of the encounter the point obtained by each side satisfied Xewkija more than their opponents, but more than that observers Nadur Youngsters celebrated the most as they became mathematically champions of the Gozitan football for the 14th time in the club history.
Qala Saints, who were without Julian Yoiti Suzuki Bicudo due to an injury and Jordi Parnis due to a suspension, were surprised by Xewkija's breaks during the first half.  The two goals of the encounter were scored during the first 45 minutes when play was balanced.  However, Qala increased their pressure after the break and went very close to turn the result in their favour on more than one occasion.  The Maroons also had a goal that was disallowed and during the final second, they also failed to capitalise from a melee in front of Xewkija's goal.  Xewkija's goalie Nikola Kosanin ended up as the protagonist of the encounter with a series of difficult saves that denied Qala from achieving their objective.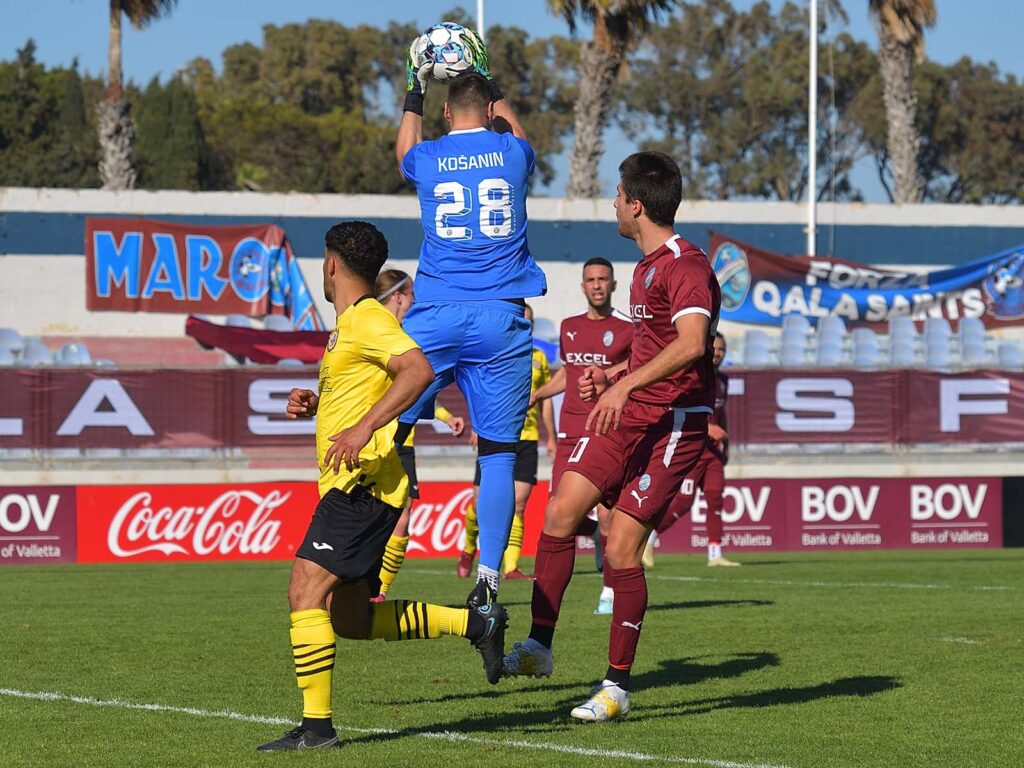 Timeline:
Play for most of the first period was balanced and the two sides created an offensive play in an attempt to take control of the encounter.  Xewkija managed to open the score but the Maroons had an immediate reaction and the first half ended in a just draw of two goals.
12' Qala's goalkeeper Franklin Vella was called to make an important intervention to block a strike by Jhonluis Hernandez Leal.
18' Qala could have capitalised better when Xewkija's defence hesitated to clear the danger and the ball arrived to an unmarked Ayesller Carvalho who concluded badly from an ideal position and his effort ended away from goal.
26' Xewkija also missed an opportunity where they could have concluded better when Qala's defence failed to clear the ball from their area and following a prolonged action the ball arrived to Rodney Buttigieg who lifted over the crossbar from close distance.
32' Qala's Rafael Conrado Prudente had a header from a corner kick by Shaun Attard that ended high.
33' (1-0) penalty Xewkija were awarded a penalty when Jhonluis Hernandez Leal was floored inside Qala's area by defender Emanuel Buttigieg and Damir Andelovic made no mistake with his shot from the penalty spot to put his side in the lead.
36' (protest for penalty) Qala protested for a penalty when Manwel Xerri ended up on the floor inside Xewkija's area following a challenge with Chris Camilleri.
37' Xewkija's Jhonluis Hernandez Leal had a good shot from just outside the area but the ball ended wide.
38' (1-1) Qala scored the equaliser through a low shot by Ayesller Carvalho that ended out of the reach of Xewkija's goalie.
42' Qala's keeper Franklin Vella was well placed and saved a good shot by Chris Camilleri.
HT (1-1)
Second Half
Qala came out for the second period to take the lead and for most of the time they held territorial supremacy.  However, Xewkija were well organised in their defence and made it very difficult for their opponents to convert their play into serious scoring opportunities so the outcome of the encounter was uncertain.
5' Qala's goalie Franklin Vella had good timing as he left his position to clear the ball in two attempts and denied Johnny Camilleri from concluding towards the goal.
7' The Maroons replied with a strike by Shaun Attard that was saved to a corner with difficulty by Xewkija's keeper Nikola Kosanin.
11' Qala went very close to take the lead when Shaun Attard delivered the ball towards the goalmouth from a corner kick but Xewkija's goalie Nikola Kosanin made the best save of the afternoon to turn to another corner the header by Joao Vitor Ferrari Silva.  From the same corner action, a header by Rafael Conrado Prudente ended high.
17' (goal disallowed) Qala thought that they turned the result in their favour when Rafael Conrado Prudente concluded in the net following a cross from the right by Shaun Attard but after some moments of contestation, the referee consulted his assistant and the goal was disallowed for handling.
22' Xewkija almost surprised their opponents but a shot on the run by Chris Camilleri following a cross by Damir Andelovic missed the target.
23' Xewkija were again dangerous when Rodney Buttigieg took the ball from Qala's defence outside the area but his attempt from close distance was cleared from the goalmouth by central defender Emanuel Buttigieg.
37' Qala could have created more danger when player-coach Shaun Bajada, who came in as a substitute during the final stages, delivered a cross from the left but Nathan Chukwudi Njoku headed over the crossbar.
44' Xewkija's goalie Nikola Kosanin once again distinguished himself and made a good save to turn to a corner an effort from an angled position by Shaun Bajada.
45+4' (crossbar) Qala almost scored a dramatic decisive goal but various attempts in a prolonged action in front of Xewkija's goalmouth were blocked.  It all started when Xewkija cleared badly a low cross from the left by Shaun Bajada and from the clearance, a header by Joao Vitor Ferrari Silva was saved by goalie Nikola Kosanin with the aid of the crossbar to a corner.  From the same corner kick by Shaun Bajada, Ferrari Silva headed inside Xewkija's area but consecutive attempts by Rafael Conrado Prudente and Nathan Chukwudi Njoku were blocked by the defence and the final shot by Lawrence Grima ended wide.
FT (XT 1 – QS 1)
Referee: Slawomir Olucha