11 March 2023
GFA BOV Gozo Football League Division II (MD 14) Kercem Arkafort Stadium
Munxar Falcons FC : 0
SK Victoria Wanderers: 5
3' (0-1) Sam Harland
7' (0-2) Aud-Gustine James Obaje
41' (0-3) Joseph George Vella
59' (0-4) Aud-Gustine James Obaje
70' (0-5) Sam Harland
90+1' (penalty missed – saved) Aud-Gustine James Obaje
Munxar F:
D. Spiteri, J.K. Farrugia, A. Buttigieg, G. Attard, R. Meilak, S. Farrugia, H.F. Solis, M. Zerafa (M. Spiteri), G. Cauchi, C. Vella, K. Mizzi.
SK Victoria W:
O. Xuereb, N. Camilleri, A.J. Obaje, E. Bugeja (J.W. Meilak), E. Zammit, S. Harland (M. Gafa), S.F. Bajada, O. Fenech (K. Grima), N. Vella (A. Touarha), J.G. Vella (J. Saliba), L. Fenech.
In the first match from the penultimate Match-Day of the campaign, SK Victoria Wanderers registered a handsome win over Munxar Falcons so that they retained their lead over their closest rivals and will need just one point from their last match to be mathematically sure of winning the title of the category and promotion.
In this match, the Wanderers scored an early lead and dominated their opponents for the rest of the encounter.  Victoria maintained composure throughout the ninety minutes and denied their opponents from creating dangerous situations within their territory.  Victoria's striker Aud-Gustine James Obaje scored a brace in this match, after three matches where he failed to find the net, and regained command of the top-scorer table of the category with 13 goals.
This match between Munxar Falcons and SK Victoria Wanderers was controlled by match officials from the San Marino Federation who is currently on a visit to Malta as part of the Referee Exchange Program of the MFA.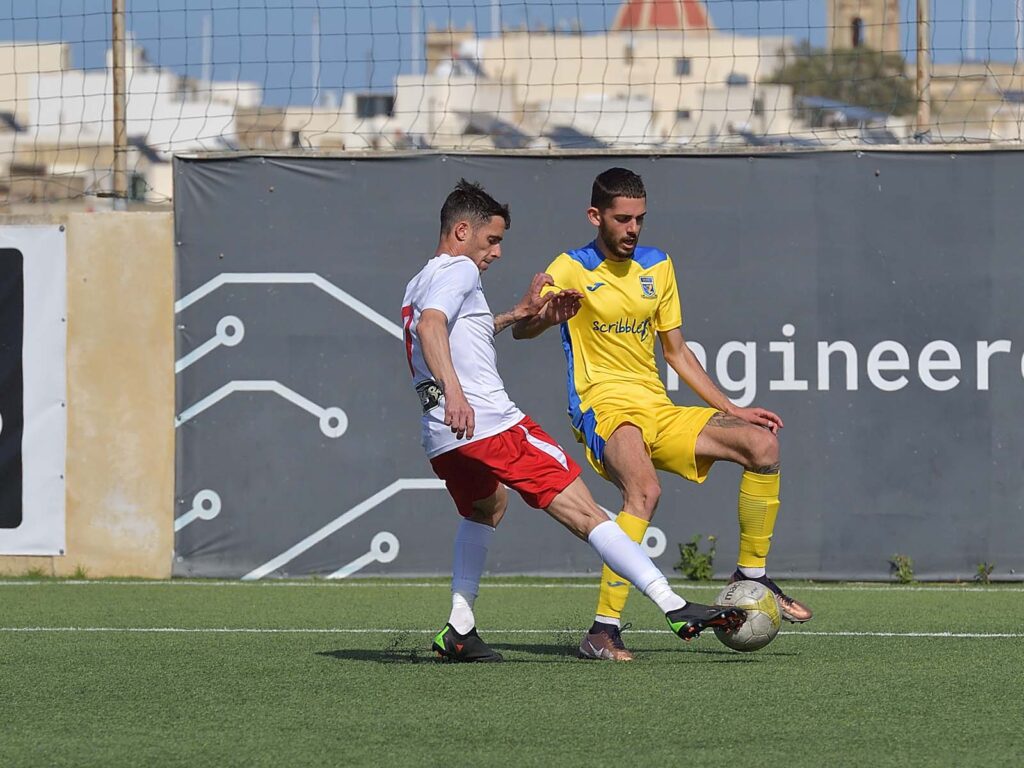 Timeline:
SK Victoria Wanderers had an excellent start and scored the first goal in their first attempt towards Munxar's goal and doubled the score a few minutes later so that the Falcons became demoralised and found it very difficult to create a reaction.
3' (0-1) SK Victoria Wanderers opened the score when Joseph George Vella released Sam Harland on the left flank and the latter entered the area despite the pressure of a direct opponent and placed in goal with a low shot.
7' (0-2) Victoria doubled the score through a low shot by Aud-Gustine James Obaje after receiving a through pass from the midfield.
27' (post) The Wanderers could have added another goal but a strike by Owen Fenech was stopped by the post.
41' (0-3) Victoria practically put their minds at rest from the win by scoring the third goal that arrived through a shot from an angled position by Joseph George Vella that surprised Munxar's goalie Damien Spiteri.
44' The same goalkeeper made the best save of the afternoon to turn to a corner with a curling shot aimed towards the far post.
HT (0-3)
Second Half
Munxar continued to find it difficult to control Victoria's play so the Citizens administered their lead with the least possible effort and also managed to increase their lead by scoring two more goals.
4' Victoria went close to score another goal when Emerson Zammit entered Munxar's area from the right flank but his low inviting cross was cleared to a corner by Aron Buttigieg before joseph George Vella could arrive for the tap-in.
8' Munxar almost reduced the deficit when Victoria's Aud-Gustine James Obaje headed badly within his area following a free kick but central defender Neil Camilleri recovered in time and cleared the dagger off the fatal line to a corner.
9' The Falcons could have capitalised better but Henry Fabian Solis failed to take the ball following a low shot from outside the area by Stefan Farrugia.
14' (0-4) The Wanderers increased their lead through a header by Aud-Gustine James Obaje following a corner kick by Joseph George Vella with the ball taking a deflection by a defender before ending in the net.
16' Munxar's goalie Damien Spiteri was well placed and blocked a low shot from close distance by Victoria's Emerson Zammit.
25' (0-5) SK Victoria Wanderers scored the fifth goal when goalie Damien Spiteri partially saved a low cross-shot by Aud-Gustine James and from the rebound Sam Harland concluded easily n goal from a close distance.
45+1' (penalty missed – saved) The Wanderers could have made it a half dozen when they were awarded a penalty for a foul by Aron Buttigieg on substitute Joseph Saliba and Aud-Gustine Obaje's shot from the penalty spot was saved by Munxar's goalie Damien Spiteri.
FT (MF 0 – SKVW 5)
Referee: Mattia Andruccioli (SMR)
Asst Referees: Andrea Depaoli (SMR), Andrea Zaghini (SMR)
4th Official Michele Beltrano (SMR)