11 March 2023
GFA BOV Gozo Football League Division II (MD 14) Kercem Arkafort Stadium
Xaghra retain their hopes for a possible decider with another win
St Lawrence Spurs FC : 0
Xaghra United FC: 1
14' (0-1) Michael Bezzina
St Lawrence S:
J. Xiberras, A. Ademilua, N. Haber, G. Portelli, T. Grech (M. Dingli), C. Grima, L. Portelli, J. Grima, C. Azzopardi, J. Saliba (J.M. Portelli), W. Hili.
Xaghra U:
L. Xuereb, J. Bajada (S. Bonello), S. Galea, C. Debono (M. Mamo), J. Xuereb (G. Debono), M. Cordina, D. Azzopardi, E. Galea, K. Mercieca (L. Sultana), M. Bezzina, L. Garcia Panesso.
Xaghra United extended their positive patch which started in the last matches of the second round with another win from their match against St Lawrence Spurs.  With the points obtained Xaghra remain three points behind the leaders SK Victoria Wanderers and therefore their only chance to keep challenging for promotion could arrive from a possible decider in that case that in the last Match-Day of the campaign, the Wanderers suffer a defeat and Xaghra will obtain a win.
In this match, Xaghra held territorial supremacy for most of the first half but they found it difficult to convert their play into scoring opportunism so their action on goal was rare and Xaghra only manages to take the break with a lead of one goal.  The Spurs tried to produce a reaction during the second period but Xaghra were well deployed and controlled their advantage until the final whistle.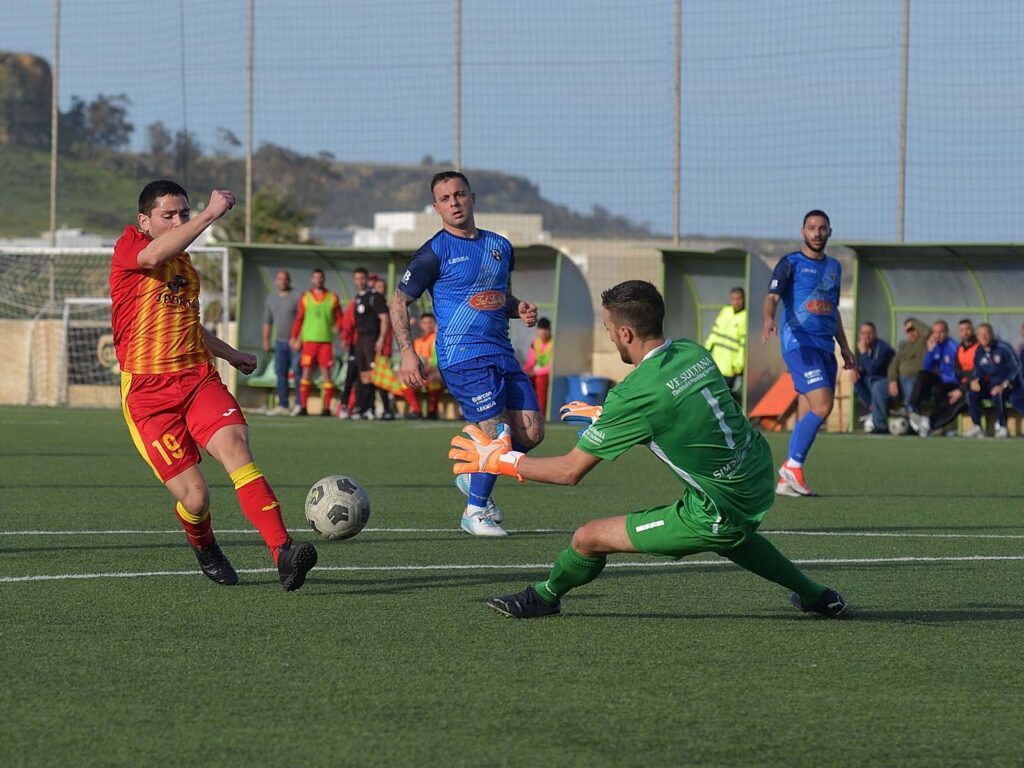 Timeline:
Xaghra came out more aggressive than expected but the Spurs were not demoralised and although they conceded an early goal they still manage to defend well and remained in contention to obtain a positive result.
14' (0-1) Xaghra opened the score when an effort by Leiner Garcia Panesso was blocked by the defence and the ball arrived to Michael Bezzina who fired in goal with a low shot from outside the area.
25' The Spurs replied with an attempt from a long distance by James Grima that missed the target.
35' Xaghra operated a fin move following an initiative by Michael Bezzina who released Matthias Cordina on the right flank but the low cross by the latter passed in front of St Lawrence's goal as Leiner Garcia Panesso failed to connect,
33' Xaghra's Leiner Garcia Panesso had a shot from a good position but the ball ended just wide.
38' The Spurs missed their best scoring opportunity of the first half when the ball arrived to Adebayo Ademilua from a long ranged free kick but the latter concluded incredibly high from close distance.
41' St Lawrence's goalie Joel Xiberras kept his side in contention when he managed to block a close-ranged attempt by Leiner Garcia Panesso following a personal action.
HT (0-1)
Second Half
After the resumption, St Lawrence increased their effort in an attempt to recover the score and for most of the time they produced more offensive play and also more potential scoring opportunities but Xaghra were well organised and managed to neutralise St Lawrence's play.
10' Xaghra had a good opportunity to double the score but a lob by Leiner Garcia Panesso when St Lawrence's goalie was out of his position ended wide.
12' St Lawrence operated a counter break when Wayne Hili released substitute Jurgen Mario Portelli but Xaghra's goalie Lorjean Xuereb left his position in time and denied the striker from concluding towards goal.
15' The same goalkeeper was called to make an important intervention to block a close-ranged attempt by Luke Cilia following an inviting low cross by Jurgen Mario Portelli.
23' St Lawrence was again dangerous but a shot by James Grima following a corner kick by Jurgen Mario Portelli ended wide.
45+5' The Spurs had their last opportunity to save the result but an attempt directly from a free kick by James Grima was neutralised by Xaghra's goalie Lorjean Xuereb.
FT (SLS 0 – XU 1)
Referee: Jo-Anna Vassallo