4 March 2023
GFA BOV Gozo Football League Division II (MD 13) Kercem Arkafort Stadium
Xaghra United FC: 5
Gharb Rangers FC: 2
13' (1-0) Matthias Cordina
18' (2-0) Kenneth Mercieca
36' (3-0) penalty Leiner Garcia Panesso
42' (4-0) Joel Xuereb
58' (4-1) Vitor Gabriel Soarez Souza
71' (4-2) penalty Cyriel Buttigieg
75' (5-2) Christian Debono
Xaghra U:
L. Xuereb, L. Sultana (B. Meilak), L. Meilak (J. Bajada), J. Xuereb (G. Debono), M. Cordina, S. Bonello, M. Mamo, D. Azzopardi, K. Mercieca (C. Debono), F.J. Xuereb (A. Farrugia), L. Garcia Panesso.
Gharb R:
E. Bajada, S. Farrugia, M. Ciangura, C. Cutajar, C. Buttigieg (M. Tabone), J.P. Grima (R. Portelli), J. Buttigieg (S. Azzopardi), D. Galea, V.G. Soarez Souza, O. Calleja, N. Attard.
Xaghra United scored four goal during the first period of the match against Gharb Rangers and paved the way to obtain three points which leaves them as serious challengers for promotion.  With this result, Gharb are mathematically sure to end the campaign at the bottom of the table.
Xaghra were favourites to obtain a win from this match and during the first half, they lived up to the expectations as they dominated their opponents and created danger each time that they entered Gharb's territory.  Xaghra reduced their pressure after the break and allowed their opponents to produce more offensive play.  Gharb tried to make the score more respectable but the destination of the points was already determined before the break.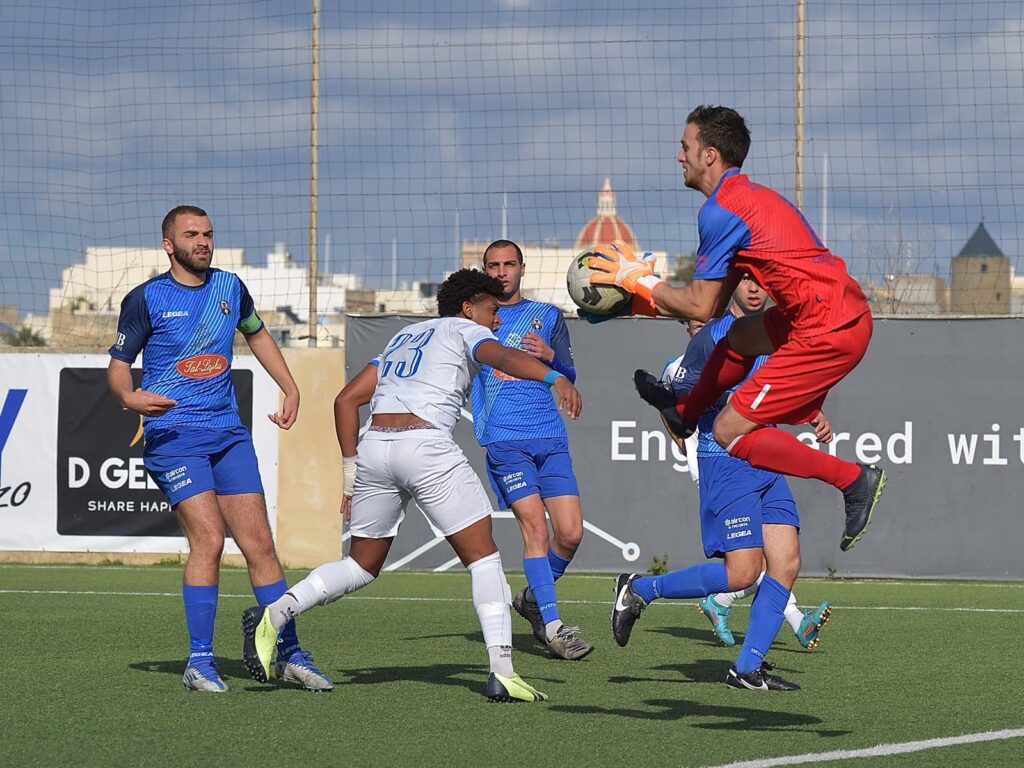 Timeline:
Play took place in the midfield during the first minutes of the encounter as Gharb tried to share play with their more quoted opponents, but Xaghra scored two goals in the space of five minutes at an early stage and added two more goals before the break so that they put their minds at rest from the win.
8' Gharb could have surprised Xaghra but Cyriel Buttieg failed to conclude from a good position following a prolonged action within Xaghra's area.
13' (1-0) Xaghra opened the score with a goal that arrived through a fine strike by Matthias Cordina from outside the area that ended out of the reach of Gharb's goalie.
18' (2-0) Xaghra doubled their lead when Leiner Garcia Panesso entered Gharb's area and from his low pass, the ball arrived to an unmarked Kenneth Mercieca who placed easily in goal with a low drive.
21' Gharb's keeper Etienne Bajada was well placed and blocked with some difficulty an effort by Leiner Garcia Panesso following a personal action.
26' Gharb replied with an overhead kick by Vitor Gabriel Soarez Souza, following a cross by Marco Ciangura that ended just wide.
30' Xaghra were again dangerous when Leiner Garcia Panesso entered Gharb's territory with a personal action but his low shot was well blocked by goalie Etienne Bajada.
36' (3-0) penalty Xaghra were awarded a penalty for handling by Josef Buttigieg and Leiner Garcia Panesso made no mistake from the spot kick so that he increased the lead for his side.
42' (4-0) Xaghra added another goal when Joel Xuereb received the ball on the left flank, entered the area and concluded in goal with a low drive.
45' Gharb's Vitor Gabriel Soarez Souza had a good strike from outside the area that ended just over the crossbar.
HT (4-0)
Second Half
After the resumption, Xaghra pulled off their foot from the pedal and Gharb took advantage so that they became more dangerous and managed to reduce the heavy deficit.
5' Xaghra's goalie Lorjean Xuereb was almost surprised following a long-ranged attempt by Vitor Gabriel Soarez Souza but from the rebound, Gharb's Cyriel Buttigieg concluded badly and the ball ended away from goal.
7' Gharb were again dangerous through an attempt by David Galea following a corner kick by Marco Ciangura but goalie Lorjean Xuereb was well placed and saved the danger to another corner.
12' The same goalkeeper was again called to make another difficult save to turn to a corner an attempt directly from a free kick by Steve Farrugia.
13' (4-1) Gharb was rewarded for their efforts and pulled one goal back when goalie Lorjean Xuereb failed to hold a corner kick by John Paul Grima and Vitor Gabriel Soarez Souza took the ball and netted from close distance.
21' (post) Gharb were unlucky when a header by David Galea following a corner kick by John Paul Grima was saved by goalie Lorjean Xuereb with the aid of the post and the defence cleared the danger with some difficulty.
23' Gharb's goalie Etienne Bajada denied Xaghra from scoring another goal when he saved a corner from a direct free kick by substitute Christian Debono.
25' (4-2) penalty Gharb was awarded a penalty for a foul by Silvan Bonello on Cyriel Buttigieg and the same young striker converted from the spot kick.
30' (5-2) Xaghra re-established the comfortable by scoring the fifth goal that arrived through a strike from outside the area by Christian Debono that ended in the lower corner of the net.
41' (post) Xaghra almost scored another goal when an effort by substitute Johann Bajada got a deflection by Gharb's Steve Farrugia bit the ball and hit the post with the goalkeeper beaten.
FT (XU 5 – GR 2)
Referee: Andrea Naudi