8 March 2023
GFA Division I KO S/final 2 Gozo Stadium
Ghajnsielem FC : 1
Qala Saints FC : 4
6' (0-1) Lawrence Grima
51' (0-2) Julian Yoiti Suzuki Bicudo
58' (0-3) Rafael Conrado Prudente
63' (0-4) Joshua Buttigieg
86' (1-4) penalty Joao Pedro Oliveira Santos
Ghajnsielem:
A. Parnis, K. Borg (J. Micallef), A. Xuereb (T. Sciberras), D. Farrugia, J.P. Oliveira Santos, N.I. Belhadj (P. Vella), K. Grima, K. Bajada (J. Xuereb), M.A. Scicluna (P. Dos Santos Cruz), J.V. Candido, P.A. Mota De Lima.
Qala S:
O. Attard, L. Grima, Jsph. Buttigieg, J.Y. Suzuki Bicudo (N.C. Njoku), Jsh. Buttigieg, S. Attard, E. Buttigieg, J. Parnis (K. Mifsud), R.C. Prudente (M. Vella), M. Xerri (L. Attard).
In the second semi-final match of the GFA Knock Out competition for the first division, promoted side Qala Saints obtained a 4-1 win over Ghajnsielem and confirmed their excellent run throughout this season. Qala, who maintained a place with the top teams in the championship and who are also semi-finalists in the BOV GFA Cup obtained a deserved qualification to the final.
The Maroons took an early lead and resisted Ghajnsielem's reaction during the first period but after the break, Qala took full command of play and made sure of the win by scoring three more goals.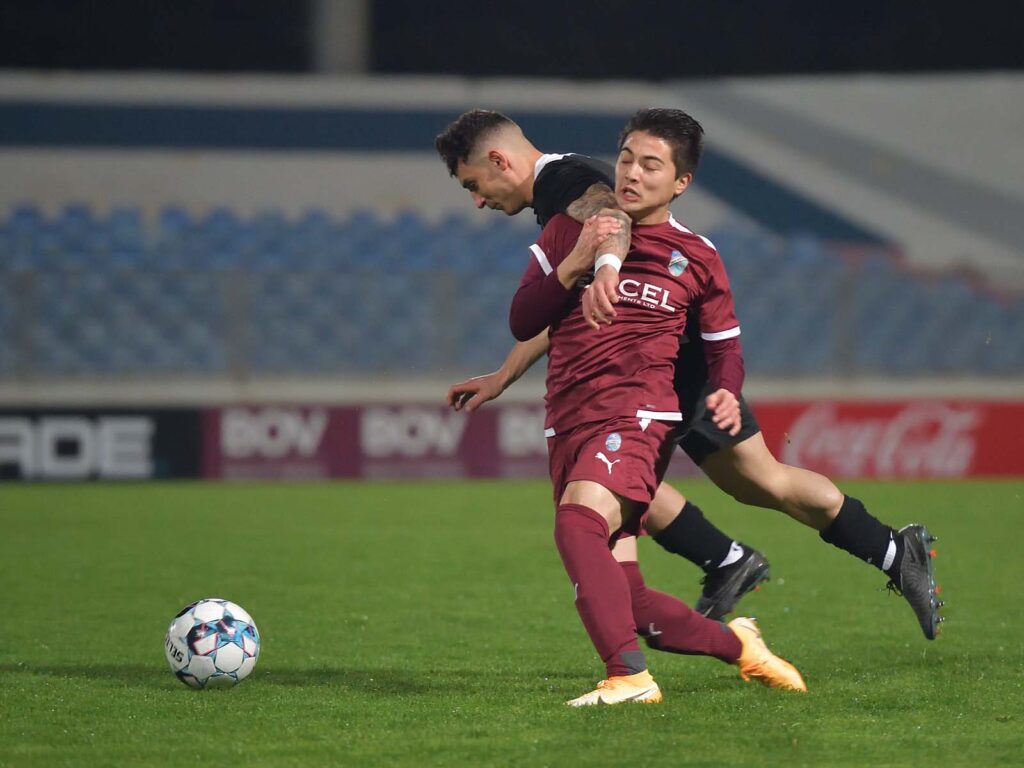 Timeline:
Qala came out more determined and managed to score an early goal but they failed to maintain pressure on their opponents so that Ghajnielem recovered as time passed by and could have levelled the score before the end of the first half.
6' (0-1) Qala opened the score when Julian Yoiti Suzuki Bicudo delivered the ball inside Ghajnsielem's area from a corner and Lawrence Grima surprised the defence with a first-timer that ended in the net.
10' Ghajnsielem's goalie Adrian Parnis left his position in time to go out of the area and cleared the danger before Jordi Parnis could conclude towards the goal.
21' The Blacks replied with an effort by Pedro August Mota De Lima that ended wide.
34' Ghajnsielem kept insisting and were dangerous through a shot from a long distance by Joao Pedro Oliveira Santos that ended wide.
42' The Maroons missed an open scoring opportunity when Jordi Parnis entered Ghajnsielem's area, turned around the goalkeeper but missed the moment to conclude towards an open goal so that the defence recovered in time and blocked the danger to a corner.
HT (0-1)
Second Half
Qala regained command of play after the break and scored three goals in the space of a few minutes so they put their minds at rest from the qualification at an early stage.
2' Qala's Jordi Parnis had a good shot from an ideal position that ended high.
3' The Maroons were again dangerous but a shot on the run by Rafael Conrado Prudente following a cross by Suzuki Bicudo ended wide.
6' (0-2) Qala doubled the score through a header by Julian Yoiti Suzuki Bicudo following a cross from the right flank by Shaun Attard.
13' (0-3) Ghajnsielem were demoralised and Qala's Rafael Conrado Prudente added another goal with a close-range shot following a cross from the left flank by Lawrence Grima.
16' Ghajnsielem replied with an effort by Joao Pedro Oliveira Santos, after receiving from Pedro Auguisto Mota De Lima, which was neutralised by goalie Owen Attard.
18' (0-4) The Maroons increased their lead when Rafael Conrad Prudente released Joshua Buttigieg and the latter netted with a low shot.
30' (crossbar) Qala could have scored another goal but an effort from an angled position by Lawrence Grima hit the woodwork.
31' Ghajnsielem went again close to score when Kurt Grima's low cross from the right flank arrived to substitute Joshua Micallef but the latter saw his attempt that was saved by goalie Owen Attard.
36' Ghajnsielem's keeper Adrian Parnis was called to make a good save following a shot by substitute Nathan Chukwudi Njoku.
41' (1-4) penalty Ghajnsielem were awarded a penalty for a foul by Nathan Chukwudi Njoku on Joao Pedro Oliveira Santos and the same striker converted his shot from the penalty spot.
FT (GHJ 1 – QS 4)
Referee: Slobodan Petrovic