24 March 2023
GFA Division II KO Prel Rd Gozo Stadium
Gharb Rangers FC: 1
Xaghra United FC: 2
13' (red card) Marlon Mamo (XU)
51' (1-0) Cyriel Buttigieg
56' (1-1) Kenneth Mercieca
60' (penalty missed – saved) Vitor Gabriel Soarez Souza (GR)
80' (1-2) Joel Xuereb
Gharb R:
E. Bajada, S. Farrugia, C. Cutajar (D. Vella), C. Buttigieg (J. Xerri), J.P. Grima, M. Tabone (R. Portelli), J. Buttigieg (A. Cini), D. Galea, V.G. Soarez Souza, O. Calleja, N. Attard (S. Azzopardi).
Xaghra U:
L. Xuereb, J. Bajada (C. Debono), S. Galea, L. Sultana (J. Xuereb), M. Cordina, M. Mamo, D. Azzopardi (L. Meilak), E. Galea (S. Bonello), F.J. Xuereb, M. Bezzina, L. Garcia Panesso (K. Mercieca).
Xaghra United turned a defeat into a 2-1 win in the first match from the GFA 2nd Division Knock Out competition and earned a place in the semi-finals where they will face the champions of the category SK Victoria Wanderers.
The match turned out to be more contested than expected as Gharb were in contention for the qualification until the final stages.  Xaghra were forced to play with ten players for most of the encounter and was surprised by Gharb's offensive play.  The latter missed a golden opportunity to register a surprise win when they failed to convert a penalty on the hour mark so that during the last half hour of play Xaghra increased their efforts, dominated play and scored the goal that decided the issue ten minutes from the end of regular time.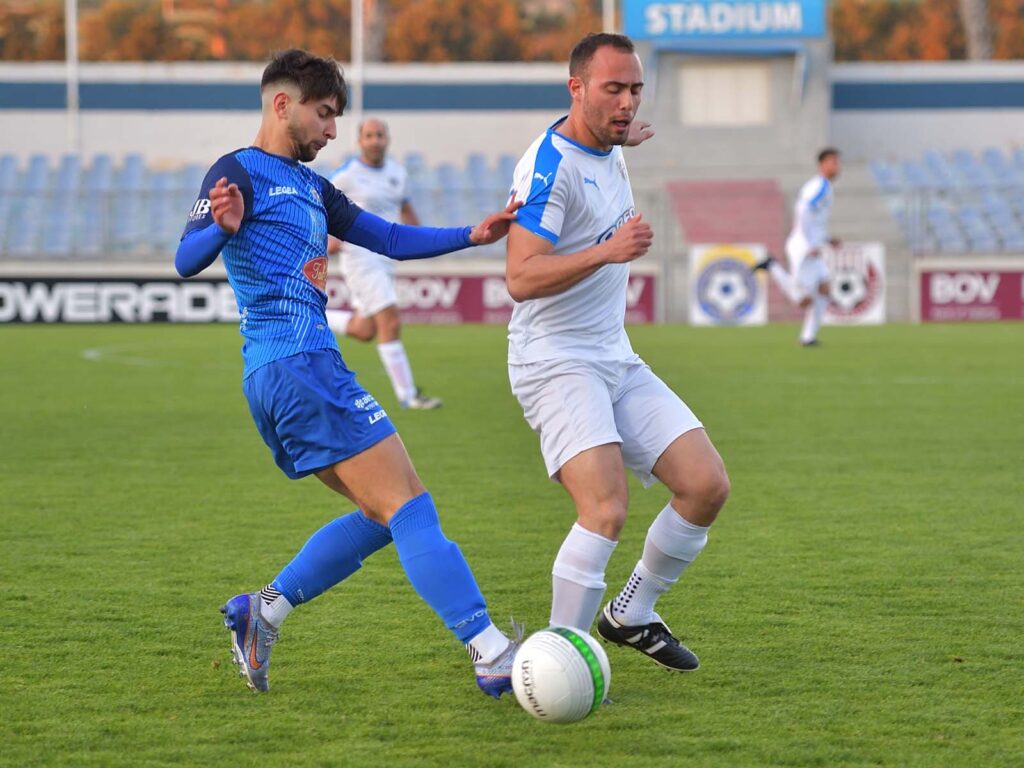 Timeline:
Xaghra produced more offensive play during the first period despite playing with a player less but they failed to capitalise on their best scoring opportunities so the Rangers gained confidence and threatened their opponents on sporadic occasions.
5' Xaghra went close to take an early lead but a shot from an angled position by Luke Sultana ended on the side of the net.
13' (red card) Xaghra were reduced to ten players when Marlon Mamo was shown a straight red card for abusive language.
15' Gharb almost capitalised from the extra player but a lob by Carlos Cutajar missed the target.
20' Gharb's keeper Etienne Bajada was called to make an important intervention to block an effort by Leiner Garcia Panesso.
26' Xaghra missed an open scoring opportunity when Matthias Cordina released Leiner Garcia Panesso but the latter concluded incredibly wide when he was alone facing the goalkeeper.
34'Gharb's goalie was almost surprised following a low shot from outside the area by Daniel Azzopardi, but the former managed to deflect the ball and play resumed from a corner.
HT (0-0)
Second Half
Play during the second half became much more exciting as Gharb scored an early goal but Xaghra had an immediate reaction and scored the equaliser.  Gharb missed an opportunity to regain the lead so Xaghra had a reaction and obtained the win despite playing with a player less for most of the time of the match.
6' (1-0) Gharb opened the score with a goal that arrived through a close-ranged header by Cyriel Buttigieg following a free kick by Steve Farrugia, that surprised Xaghra's keeper.
11' (1-1) Xaghra levelled the score when Michael Bezzina had a good shot following a personal action that was partially saved by goalie Etienne Bajada and from the rebound substitute Kenneth Mercieca headed into an open goal.
14' (penalty missed – saved) penalty Gharb could have regained the lead when they were awarded a penalty for a foul by Daniel Azzopardi on Vitor Gabriel Soarez Souza but the same Brazilian striker saw his shot from the penalty spot that was saved by goalie Lorjean Xuereb with the aid of the post.
20' Xaghra were again dangerous through a low shot from an angled position by substitute Luke Meilak but the ball ended wide.
28' Xaghra went again close to score but a strike by Kenneth Mercieca after receiving from Luke Meilak ended just high.
29' Gharb replied with a good effort by Vitor Gabriel Souarez Souza that ended wide.
30' The Rangers were again dangerous through a shot towards the far post by Cyriel Buttigieg that missed the target.
40' (1-2) Xaghra turned the result in their favour when substitute Joel Xuereb headed backwards towards the net with a free kick by Michael Bezzina.
45+4' Gharb could have forced extra time but a strike by substitute Andre Cini from outside the area was saved with some difficulty by Xaghra's goalie Lorjean Xuereb.
FT (GR 1 – XU 2)
Referee: Jason Portelli