22 October 2023
GFA BOV Gozo Football League 1st Division (MD 7) Gozo Stadium
Nadur Youngsters FC : 1
SK Victoria Wanderers FC : 0
75' (1-0) Marcelo Jr Barbosa
Nadur Y:
S. Sultana, J.A. Ferreira Dos Santos, I. Xuereb, J.M. Vella, J. Zammit, M.J. Barbosa, S. Cassar, M. Said (J. Xerri 89), G. Hili, G. Muscat (M. Tabone 89), J.V. De Oliveira Florencio.
SK Victoria W:
A. Parnis, A. Galiano Lazarini, N. Camilleri (N. Grech 83), K. Mercieca, M.V. Claudino Ramos (Choco), J. Conceicao Cabral, E. Zammit, C.S. Souza Da Silva (J. Saliba 86), G. Farrugia (N. Vella 83), A. Touarha, L. Fenech (O. Fenech 83).
Nadur Youngsters obtained a 1-0 win over SK Victoria Wanderers to remain the closest rivals to the leaders Qala Saints. Nadur, who had Marcelo Pereira Muniz suspended for this match, showed that they recovered from a difficult period midway through the first round of the championship as they managed to remain among the top teams and they are therefore in a position to be in a position to defend the title.
This was an important match for the two sides as Nadur needed the win to remain in touch with the leaders while the Wanderers were aiming to earn a positive result to move away from the red zone.  Nadur seemed more determined and tried to hold more command of play but they found it more difficult than expected to break the deadlock as the Wanderers defended well and as time passed by they also operated offensive play.  As a result, the match turned out to be quite interesting where the two goalkeepers distinguished themselves with some decisive saves which kept their respective sides in contention.  However, Nadur obtained the win with a goal that arrived on the half-hour mark of the second period so that during the remaining minutes they managed to defend the lead.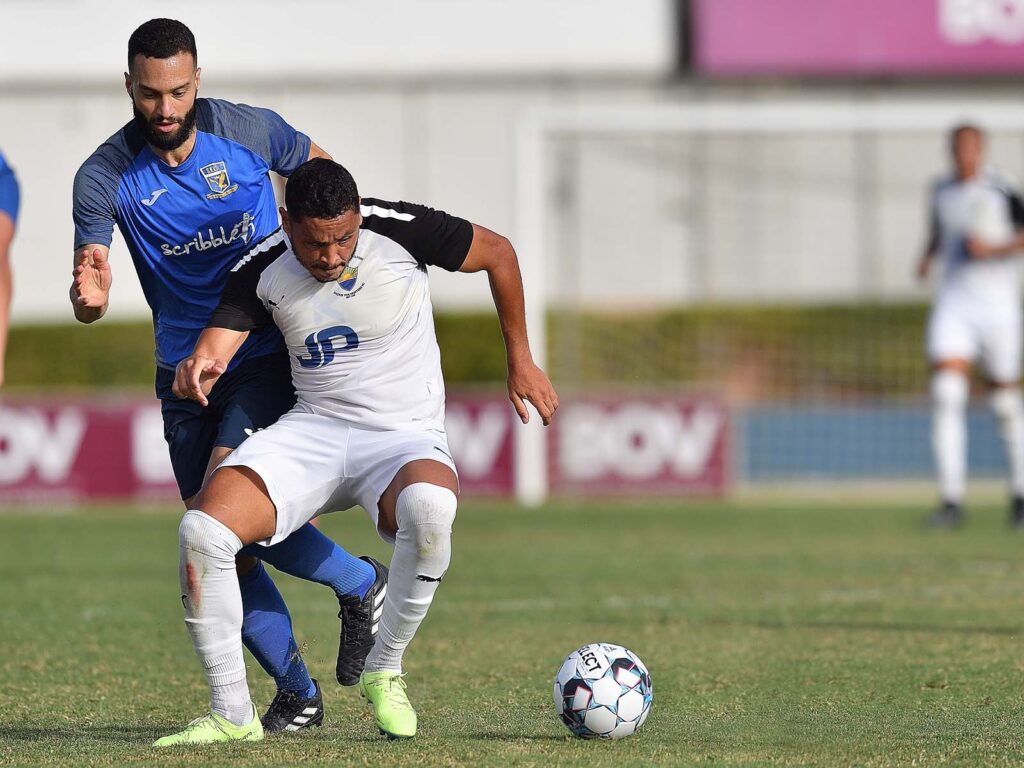 Timeline:
Nadur saw more of the ball during the opening stages of the first half, while the Wanderers tried to protect their area and operated mainly with sporadic counter breaks so that the two sides found it difficult to create serious scoring opportunities.
1' Nadur could have scored an early goal but a shot from an ideal position by Stefan Cassar was blocked by central defender Alexandre Galiano Lazarini.
14' Victoria's goalie Adrian Parnis had good timing to deny Matthias Said from concluding towards the goal after receiving from Marcelo Barbosa.
19' (protests for penalty) Nadur protested for a penalty alleging handling as Victoria's defence tried to clear the ball from their area following a free kick.
24' Victoria's first attempt towards Nadur's goal arrived through a shot from outside the area by Caique Silvio Souza Da Silva, following a clearance by the defence, but the ball ended wide.
35' Nadur's goalie Steve Sultana was well placed and saved a low shot from a good position by Emerson Zammit.
36' The same goalkeeper made a difficult intervention to deny the Citizens from opening the score when he blocked a first-timer by Junior Conceicao Cabral after receiving from Caique Silvio Souza Da Silva.
38' (protests for penalty) The Wanderers also protested for a penalty when Caique Silvio Da Silva ended on the floor as soon as he entered the area challenged by Junior Adenilson Ferreira Dos Santos.
41' The Wanderers kept insisting and could have created more danger when Marcus Vinicius Claudino Ramos passed outside the area to Junior Conceicao Cabral, but the latter hit badly and the goalkeeper saved without difficulty.
45+1' Victoria's goalie Adrian Parnis was also called to make another difficult save to block a fine shot by Marcelo Barbosa.
HT (0-0)
Second Half
Nadur tried to increase their efforts after the break but they also conceded some space at their defence so that the match continued to be well contested where the outcome was uncertain.
3' Victoria's goalie Adrian Parnis was again well placed and blocked a fine strike by Joao Vitor De Oliveira Florencio who entered the area from a counter break.
7' The Wanderers replied with a shot from outside the area by Caique Silvio Souza Da Silva after receiving from Claudino Ramos but the ball ended away from the goal.
10' Nadur's Marcelo Barbosa had a good attempt directly from a free kick but the goalkeeper deflected the ball to a corner.
22' Victoria's goalie Adrian Parnis continued to be a protagonist of the encounter as he made another important intervention to save a low shot by Marcelo Barbosa who passed through the defence with a personal action.
27' Victoria could have threatened Nadur's defence when Junior Conceicao Cabral passed to Emerson Zammit but the latter saw his attempt that missed the target.
30' (1-0) Nadur managed to open the score when they operated a counter break through Joao Vitor De Oliveira Florencio and from his pass Marcelo Jr Barbosa entered the area and fired in goal from a good position.
38' Nadur could have doubled their lead when Marcelo Barbosa released Stefan Cassar but Victoria's goalie Adrian Parnis left his position in time and denied the striker from concluding towards goal.
44' Victoria's best opportunity to level the score arrived when Claudino Ramos delivered the area from a free kick but the header by substitute Joseph Saliba ended just over the crossbar.
45+1' the wanderers missed another potential opportunity to level the score when substitute Owen Fenech crossed from the left but the same Joseph Saliba failed to connect.
45+4' Nadur could have made sure of the win when they recovered the ball in the midfield when the goalkeeper was out of his position and Stefan Cassar released Joao Vitor De Oliveira Florencio, but the goalkeeper recovered in time and saved the danger.
45+5' Nadur goalie denied the Citizens from the equaliser with a fine save to turn to a corner a free kick from a long distance by Marcus Vinicius Claudino Ramos.
FT (NY 1 – SKVW 0)
Referee: Slobodan Petrovic
Assistant Referees: Duncan Spencer, Paul Apap