27 October 2023
BOV GFA Cup (Prel. Rd) Kercem Stadium
Xaghra United FC : 0
Kercem Ajax FC : 2
83' (0-1) Gabriel Cardona
87' (0-2) Pablo Vinicius De Moraes Ferreira
Xaghra U:
B. Saliba, S. Galea, L. Almeida Da Silva, C. Gauci (D Azzopardi 62), M. Bezzina (M. Cordina 62), J. Xuereb, C. Camilleri, M. Mamo (L. Sultana 80), D. Mesa Pineros, F.J. Xuereb (J. Bajada 87), C.A. Diaz Arias.
Kercem A:
D. Spiteri, J. Tabone, E. Caetano Pena, J. Theuma, O.G. Fernandes, P. Vinicius De Moraes Ferreira, A. Mizzi, O.P. Bugeja (C. Attard 78), G. Cardona, K. Formosa, S. Azzopardi.
In the first match from the Preliminary Round of the BOV GDA Cup, Kercem Ajax scored two late goals to obtain a win over Xaghra United and earned qualification to the quarter-finals where they will meet Xewkija Tigers.
This was a match between two sides from the top flight who were both aiming to obtain a place in the next round of the second most important competition in Gozitan football for different reasons.  Xaghra were aiming to extend a good period of form as they obtained two consecutive wins in the previous two matches from the championship, while Kercem needed a victory to make up for a disappointing run in the first round of the championship where they ended up at the bottom of the tale despite their ambitions to be among the top teams.
In this match, Kercem seemed more motivated and tried to be more offensive but Xaghra confirmed the improvement shown during the last weeks and had a very solid deployment so that for most of the time play took place in the midfield and with very few serious scoring opportunities.  However, Kercem were rewarded for their determination and managed to take away the pressure when they opened the score seven minutes away from the end of regular time.  Kercem grew in confidence and dominated play during the final minutes so that they made sure of the qualification by scoring a second goal.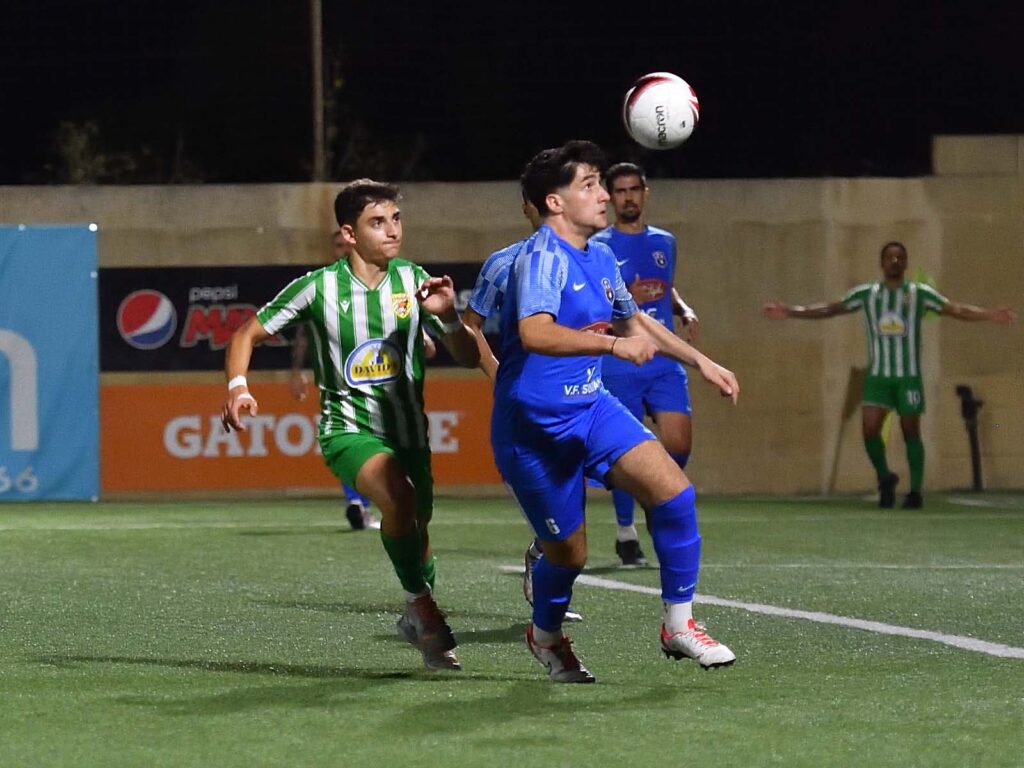 Timeline:
Play for most of the first half took place in the midfield as the two defensive departments neutralised the respective strikers and the actions on goal were quite rare.  Although Kercem seemed more motivated to obtain the win, they found it difficult to convert their efforts in scoring opportunities so the match remained at a deadlock until the break. 
2' Kercem had an attempt through Pablo Vinicius De Moraes Ferreira that ended away from goal.
8' Xaghra had the first serious attempt towards a goal that arrived through a direct free kick by Chris Camilleri but the ball ended wide.
12' Kercem replied with a good attempt by Pablo Vinicius De Moraes Ferreira, after receiving from Karl Formosa, that was well saved by goalie Baskal Saliba.
HT (0-0)
Second Half
Kercem increased their efforts after the resumption and tried to put more pressure on Xaghra's defence.  However, the latter maintained their composure and tried to surprise their opponents with counterbreaks.
4' Kercem could have created more danger but a strike from outside the area by Samuel Azzopardi was blocked to a corner by the defence.
5' The Ajax were again dangerous when Xaghra's clearance from the corner action was short but Ewerthon Caetano Pena's shot got a deflection and goalie Baskal Saliba saved the danger.
18' Xaghra missed an opportunity to open the score when Kercem's defence failed to clear the ball from the danger area following a free kick from a long distance and from the resultant melee the low shot by Daniel Mesa Pineros was cleared off the fatal line by central defender Samuel Azzopardi.
27' Xaghra once again threatened Kercem's defence through an attempt directly from a free kick by Camilo Andres Diaz Arias that ended just over the crossbar.
38' (0-1) Kercem took the lead with a goal that arrived through a shot from outside the area by Gabriel Cardona that surprised Xaghra goalie Baskal Saliba.
42' (0-2) The Ajax put their minds at rest from the qualification with the second goal scored following a counter break that concluded with a fine shot by Pablo Vinicius De Moraes Ferreira.
45+2' Kercem could have added another goal but an attempt from a free kick by Olimpio Gabriel Fernandes ended just high.
FT (XU 0 – KA 2)
Referee: Vladimir Rizoski
Asst. Referees: David Castillo, Anthony Paul Vella