28 October 2023
BOV GFA Cup (Prel. Rd) Kercem Stadium
SK Victoria Wanderers FC : 4
Gharb Rangers FC : 0
42' (1-0) Junior Conceicao Cabral
64' (2-0) Junior Conceicao Cabral
79' (3-0) Marcus Vincius Claudino Ramos (Choco)
88' (4-0) Junior Conceicao Cabral
SK Victoria W:
O. Xuereb, A. Galiano Lazarini, K. Mercieca (D. Kuru 78), M.V. Claudino Ramos (Choco), J. Conceicao Cabral, E. Zammit, N. Grech, A. Touarha (J.W. Meilak 68), O. Fenech (A. Refalo 68), A. Adesina (N. Vella 61), L. Fenech.
Gharb R:
A. Micallef, C. Cutajar, T. Axiak, A. Ofulue Chukwuwinke (D. Vella 84), F. Xuereb, G. Sillato (R. Portelli 19), M. Perisic, M. Tabone, O. Atzori, S. Sillato, R. Meilak (J. Xerri 69).
SK Victoria Wanderers obtained a 4-0 win over second-division side Gharb Rangers and took a place with the last eight teams in the competition.  The Wanderers will play their match from the quarter-finals against Oratory Youths.
As expected the Wanderers dictated matters for long stretches but during the first half, they found it difficult to open a comfortable lead.  Gharb tried to be worthy challengers even though they were facing more quoted opponents but compromised their chances to register a surprise result when they conceded the first goal a few minutes before halftime.  The Wanderers increased their efforts after the break and made sure of the win by scoring three more goals.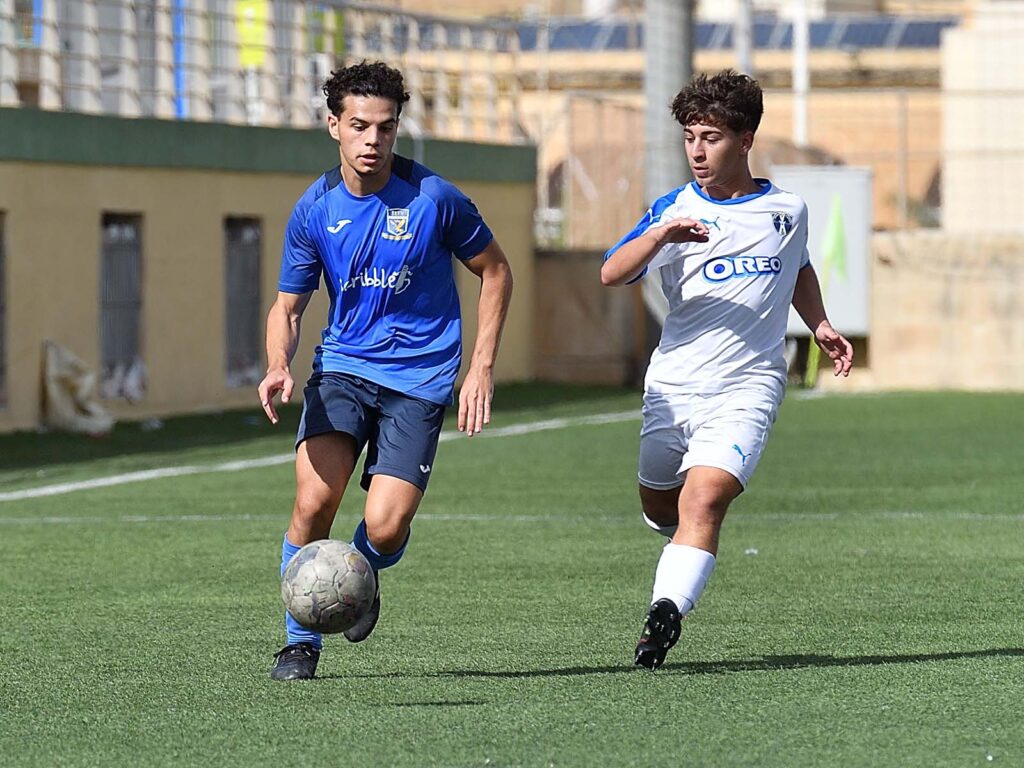 Timeline:
SK Victoria Wanderers as expected held command of play throughout the first period but they were often erratic in their finishing so Gharb remained in contention for most of the time and managed to go close to scoring in an occasion midway through the first half.
7' The Wanderers created the first serious scoring opportunity through an initiative by Junior Conceicao Cabral but the Brazilian striker saw his shot from an angled position that ended wide.
9' Gharb's defence was surprised when a through pass by Junior Conceicao Cabral, aimed at Emerson Zammit was not cleared by the goalkeeper, but as the ball seemed heading towards an open goal, central defender Samuel Sillato recovered and cleared the ball from the fatal line to avoid a certain goal.
15' corner Marcus Vinicius Claudino Ramos bit the header by Junior Conceicao Cabral and was saved to another corner by goalie Andre Micallef.
20' Gharb went very close to opening the score when Carlos Cutajar entered Victoria's area from the right flank but his shot from an ideal position ended wide.
31' The Wanderers could have concluded better when Emerson Zammit delivered an inviting low cross from the right flank but Ajibade Adesina incredibly lifted over the crossbar from close distance.
42' (1-0) The Citizens opened the score when Junior Conceicao Cabral took the ball following a low cross from the right by Emerson Zammit and concluded from a close distance.
HT (1-0)
Second Half
Victoria continued to dominate play after the break but they continued to find it difficult to capitalise on their superiority so they were forced to struggle more than expected to put their minds at rest from the qualification.
7' The Wanderers went close to scoring a second goal but an attempt by Emerson Zammit following a personal action was saved to a corner by goalie Andre Micallef.
18' Victoria's Marcus Vinicius Claudino Ramos had an attempt directly from a free kick but the ball ended away goal.
19' (2-0) The Citizens doubled their lead with a goal that arrived through a lob over the goalkeeper by Junior Conceicao Cabral after receiving from Marcus Vinicius Claudino Ramos.
26' Gharb's goalie Andre Micallef was called to make another good save to turn to a corner a direct free kick by Marcus Vinicius Claudino Ramos.
32' (crossbar) Gharb went close to reduce the score but a shot from outside the area by substitute Justin Xerri was stopped by the crossbar.
34' (3-0) Victoria increased their lead when junior Conceicao Cabral delivered a cross from the right flank and Emerson Zammit released Marcus Vinicius Claudino Ramos, known as Choco, who concluded in goal with a low shot.
43' (4-0) Victoria sealed the win when Marcus Vinicius Claudio Ramos unmarked Junior Conceicao Cabral who converted in goal from close distance.
45+2' Gharb was denied from scoring a consolation goal when an attempt from a free kick by Milos Perisic was well saved by goalie Omar Xuereb.
FT (SKVW 4 – GR 0)
Referee: Andrea Naudi
Assistant Referees: Paul Apap, Carmel Vassallo