28 October 2023
BOV GFA Cup (Prel. Rd) Kercem Stadium
Zebbug Rovers FC : 2
Munxar Falcons FC : 6
8' (0-1) Sheridan Spiteri
15' (0-2) Matthew Zammit
22' (0-3) Vitor Gabriel Soarez Souza
29' (1-3) penalty Ryan Grech
51' (2-3) Miguel Angel Moreno Ampudia
60' (2-4) Vitor Gabriel Soarez Souza
66' (2-5) Neil Mifsud
84' (2-6) Vitor Gabriel Soarez Souza
Zebbug R:
G. Saliba, P. Spiteri, J. Camilleri, R. Grech, B. Camilleri (E. Farhat 46), P.P. Camilleri, J. Magro (M.A. Moreno Ampudia 46), H. Paulin, L. Portelli (F. Camilleri 62), S. Farrugia, J. Azzopardi.
Munxar F:
D. Spiteri, K. Borg (G. Cauchi 71), P. Parnis (M. Debrincat 57), E. Bugeja (E. Galea 71), K. Farrugia, A. Haska, N. Mifsud, S. Spiteri (S. Muscat 63), N. Mercieca, M. Zammit (C. Gafa 57), V.G. Soarez Souza.
In the first match from two clashes between teams from the second division of the preliminary Round of the BOV GFA Cup, Munxar Falcons obtained a 6-2 win over Zebbug Rovers so they will be playing against holders Nadur Youngsters in the quarter-final stage of the competition.
Munxar seemed heading towards an easy win as they scored three goals during the first part of the encounter but Zebbug managed to stage a reaction and managed to re-open the issue during the opening stages of the second period. Munxar were not demoralised and scored three more goals during the last half hour of play to make sure of the victory.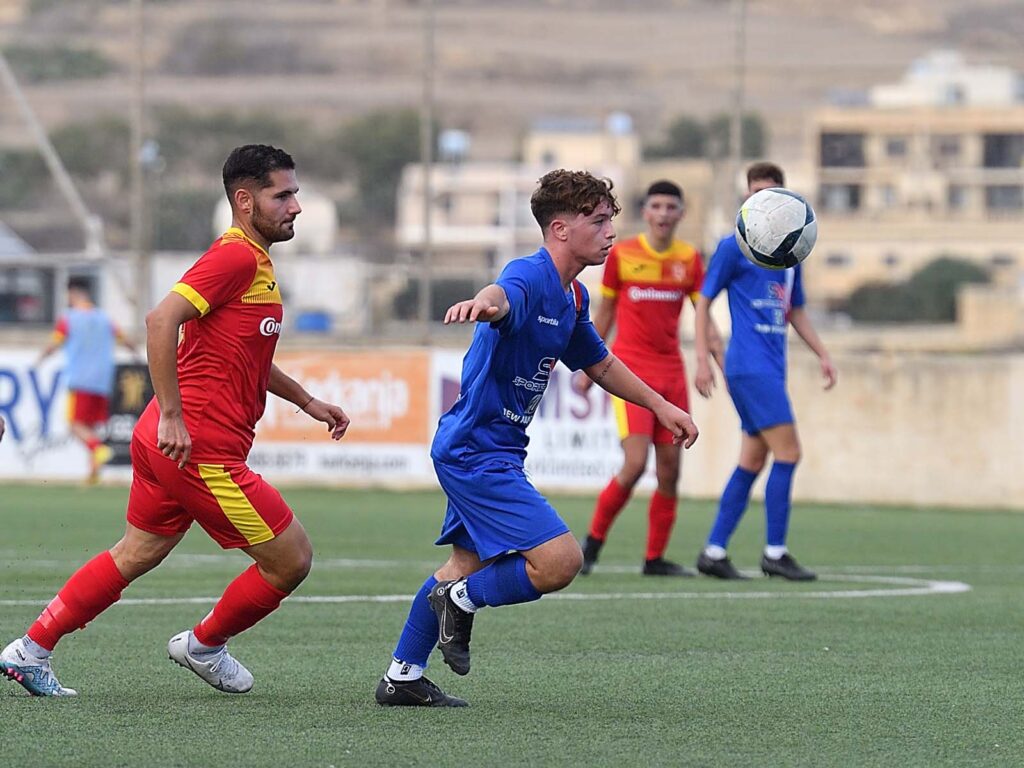 Timeline:
Munxar took command of play from the first minutes of play and converted their superiority by scoring three goals within the opening quarter of the encounter so that they continued to dominate over their opponents for the rest of the first half.
8' (0-1) Munxar opened the score when Nathaniel Mercieca delivered a good cross inside Zebbug's area and Sheridan Spiteri headed towards the goal from close distance.
14' Zebbug's goalie Gabriel Saliba made a good save to block to a corner a shot by Alen Haska.
15' (0-2) From the same corner kick by Alen Haska, Munxar doubled their lead through a header by Matthew Zammit.
17' (post) The Falcons went close to add another goal but a low shot by Vitor Gabriel Soarez Souza was saved by goalie Gabriel Saliba with the aid of the post.
21' The same goalkeeper made another important intervention to save a good shot by Neil Mifsud.
22' (0-3) Munxar scored their third goal when a low shot by Vitor Gabriel Soarez Souza hit the base of the post and from the rebound, the same striker netted with a low shot.
29' (1-3) penalty Zebbug pulled one goal back when they were awarded a penalty for a foul by Matthew Zammit on Jake Magro and Ryan Grech netted with his shot from the spot kick.
43' (crossbar) Munxar went again close to scoring but a lob by Vitor Gabriel Soarez Souza was stopped by the crossbar.
HT (1-3)
Second Half
The match became much more interesting after the break as Zebbug increased their efforts while Munxar seemed overconfident so they almost compromised their lead.  Munxar however regained superiority and made sure of the win by scoring more goals.
2' (crossbar) Munxar could have regained the three-goal lead but a header by Vitor Gabriel Soarez Souza from a corner kick by Alen Haska hit the crossbar.
6' (2-3) Zebbug punished their opponents for the missed opportunity and re-opened the issue when Miguel Angel Moreno Ampudia, who came in as a substitute at the beginning of the second half, entered Munxar's area and fired in goal with a low shot with the ball hitting the post before ending in the net.
15' (2-4) Munxar had an immediate reaction and regained the two-goal lead when Vitor Gabriel Soarez Souza passed through Zebbug's defence and placed in goal with a low drive as the goalkeeper left his position in an attempt to block the danger.
21' (2-5) The same Vitor Gabriel Soarez Souza defended a ball inside Zebbug's area despite the challenge from his direct opponent and from his pass Neil Mifsud fired in goal.
39' (2-6) The Falcons increased the score when Alen Haska delivered inside Zebbug's area after receiving a long-ranged free kick by substitute Emmanuel Galea and Vitor Gabriel Soarez Souza concluded in goal with a tap-in.
FT (ZR 2 – MF 6)
Referee: Carmel Vassallo
Assistant Referees: Paul Apap, Andrea Naudi