5 November 2023
GFA Knock Out 1st Division (Q/finals) Kercem Stadium
Kercem Ajax FC : 0
Nadur Youngsters FC : 3
4' (penalty missed – saved) Pablo Vinicius De Moraes Ferreira
45' (0-1) Stefan Cassar
60' (0-2) Marcelo Jr Barbosa
88' (red card) Christian Attard (KA)
90+1' (0-3) Marcelo Jr Barbosa
Kercem A:
D. Spiteri, J. Tabone (O.P. Bugeja 77), E. Caetano Pena, J. Theuma, O.G. Fernandes, K.L. Nunes Santos, P. Vinicius De Moraes Ferreira, A. Mizzi, G. Cardona (C. Attard 77), K. Formosa, S. Azzopardi.
Nadur Y:
S. Sultana, M. Tabone, I. Xuereb, M. Pereira Muniz, J.M. Vella, J. Zammit, M.J. Barbosa, S. Cassar (J. Xerri 79), G. Hili, G. Muscat, J.V. De Oliveira Florencio.
Nadur Youngsters retained the possibility to defend the GFA Knock Out competition for another season as they earned a place in the semi-finals with a 3-0 win over Kercem Ajax.
The match turned out to be quite interesting particularly during the first hour of play as Kercem seemed a serious contenders for the qualification.  The turning point of the encounter was probably the penalty kick which Kercem missed after just three minutes of play as Nadur were allowed to stick to their plan and to depend on the experience of their strikers to produce danger.
The Ajax were undoubtedly the better side for most of the first half but they conceded a goal just before halftime and a second goal during the first part of the second period so they lost their momentum and Nadur controlled their lead with authority during the last phases of the encounter.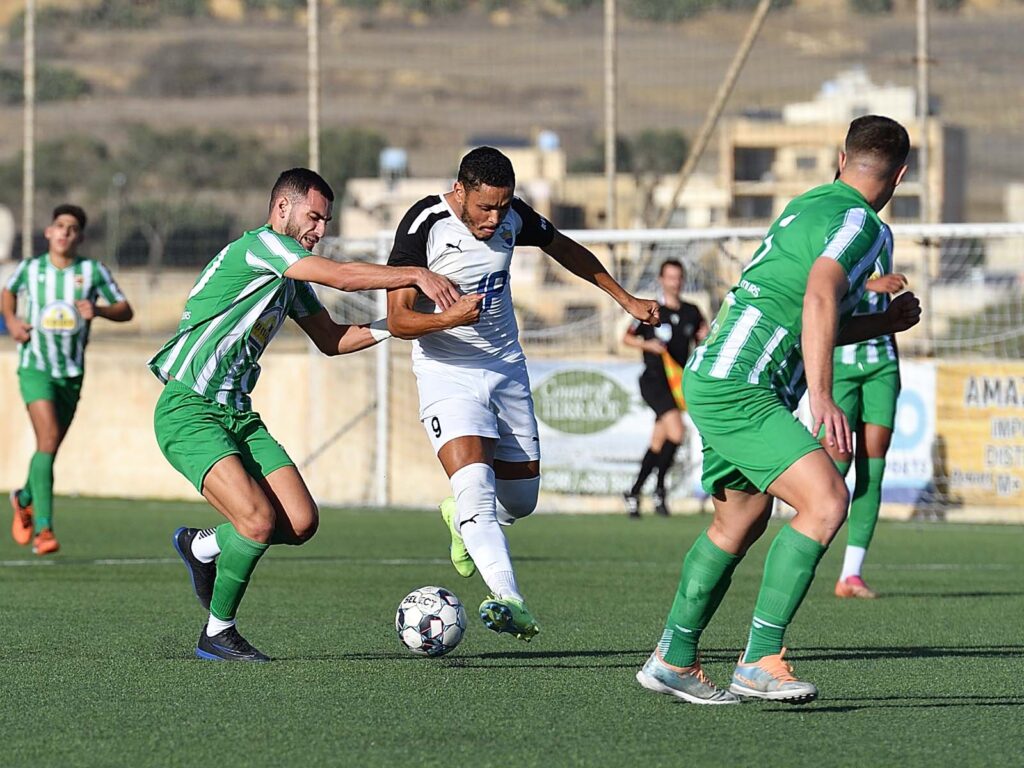 Timeline:
Kercem came out more aggressive and they saw more of the ball through the first period.  However, the Ajax were erratic in their finishing and did not manage to convert their territorial supremacy into goals.  Nadur made good use of their experience and managed to resist Kercem's initiative so that they capitalised from their best opportunity of the first half and took the break with a one-goal lead.
3' (penalty missed – saved) Kercem could have scored an early goal when they were awarded a penalty for a foul by Ian Xuereb on Gabriel Cardona but Nadur's goalie Steve Sultana made an important save to turn to a corner the shot from the penalty spot by Pablo Vinicius De Moraes Ferreira.
13' Kercem could have created more danger but a shot directly from a free kick by Karl Formosa ended over the crossbar.
15' Nadur's first attempt towards Kercem's goal arrived through a strike from outside the area by Joao Vitor De Oliveira Florencio that almost surprised goalie Daniel Spiteri who had to save in two attempts.
20' (protests for penalty) Kercem protested for a penalty alleging handling when a cross by Karl Formosa was blocked by the defence.
35' Kercem produced danger within Nadur's territory but two consecutive shots by Gabriel Cardona and Samuel Azzopardi were blocked by the defence.
36' Nadur could have created more danger when Marcelo Barbosa passed from the left flank but from his inviting cross, Marcelo Pereira Muniz saw his header that ended wide.
37' Kercem Olimpio Gabriel Fernandes passed from Nadur's defence but his shot from an angled position ended high.
45' (0-1) Nadur punished their opponents for the missed chances and opened the score when Gianluca Muscat created pressure on Kercem's defence and the ball arrived to an unmarked Stefan Cassar who took the opportunity and fired in the lower corner of Kercem's goal from outside the area.
HT (0-1)
Second Half
Nadur came out for the second period in better shape and seemed more confident so they became more dangerous in their offensive play.  Nadur doubled their lead on the hour mark and Kercem seemed demoralised so that the qualification was no longer in contention.
9' Nadur's Joseph Mario Vella had a shot from outside the area that was easily saved by Kercem's goalie Daniel Spiteri.
13' Kercem went very close to level the score but a curling shot by Karl Formosa ended just wide.
15' (0-2) Nadur doubled their lead when Kercem's goalie Daniel Spiteri partially saved a cross from the right by Marcelo Pereira Muniz and from the rebound Marcelo Jr Barbosa placed the ball in goal with a shot on the run.
26' Nadur went close to score a third goal but a shot on the run by Marcelo Barbosa following a pass by Joseph Zammit missed the target.
27' Nadur's goalie Steve Sultana hesitated to clear the ball from the danger area but Kercem's debutant striker Kaio Lucas Nunes Santos failed to take advantage and the defence cleared the danger.
43' (red card) Kercem ended the match on a negative note as substitute Christian Attard was sent off after receiving a second yellow card for a challenge with Joseph Mario Vella
45+1' (0-3) Nadur sealed the win with the third goal when Kercem's defence failed to clear the ball from their area and from the resultant melee the shot by Marcelo Jr Barbosa took a deflection by substitute Owen Peter Bugeja and the ball ended in the net.
FT (KA 0 – NY 3)
Referee: Trustin Farrugia Cann
Assistant Referees: Luke Portelli, Andrea Naudi