5 November 2023
GFA Knock Out 1st Division (Q/finals) Kercem Stadium
Qala Saints FC : 3
Oratory Youths FC: 1
1' (1-0) Lucas Baretto Da Silva
12' (2-0) Nathan Chukwudi Njoku
47' (3-0) Jordi Parnis
57' (3-1) penalty Andre Gabriel Castro Martins
62' (red card) Rian Almeida Lopes (OY)
66' (red card) Luis Gabriel Santos Silva (OY)
Qala S:
M. Zammit, N. Inguanez, C. Cardona (M. Buttigieg 11), Jsph. Buttigieg (J. Parnis 46), J.V. Ferrari Silva, L.B. Da Silva, L.M. Dos Santos, E. Buttigieg, N.C. Njoku (M. Vella 85), J. Xerri (S. Curmi 75), I. Nedeljkovic (A.A. Xerri 85).
Oratory Y:
A. Brignoli, A. Sultana, A. Azzopardi (O. Curmi 17), L.G. Santos Silva, P. Rapa, J. Buttigieg (J. Abela 75), L.B. Coca (O. Grech 75), N. Said (K. Saliba 45+1), R. Almeida Lopes, A.G. Castro Martins, H. Muscat.
In the first match from the quarter-finals of the GFA Knock Out competition for the first division, the current leaders of the championship Qala Saints obtained a 3-1 win over Oratory Youths.  Qala once again scored an early goal so that they took the driving seat and kept control of play for the rest of the encounter.
Oratory found it extremely difficult to recover and practically compromised the possibility of re-open the issue when they ended up playing the last part of the match with nine players as they had two players sent off in the space of five minutes midway through the second period.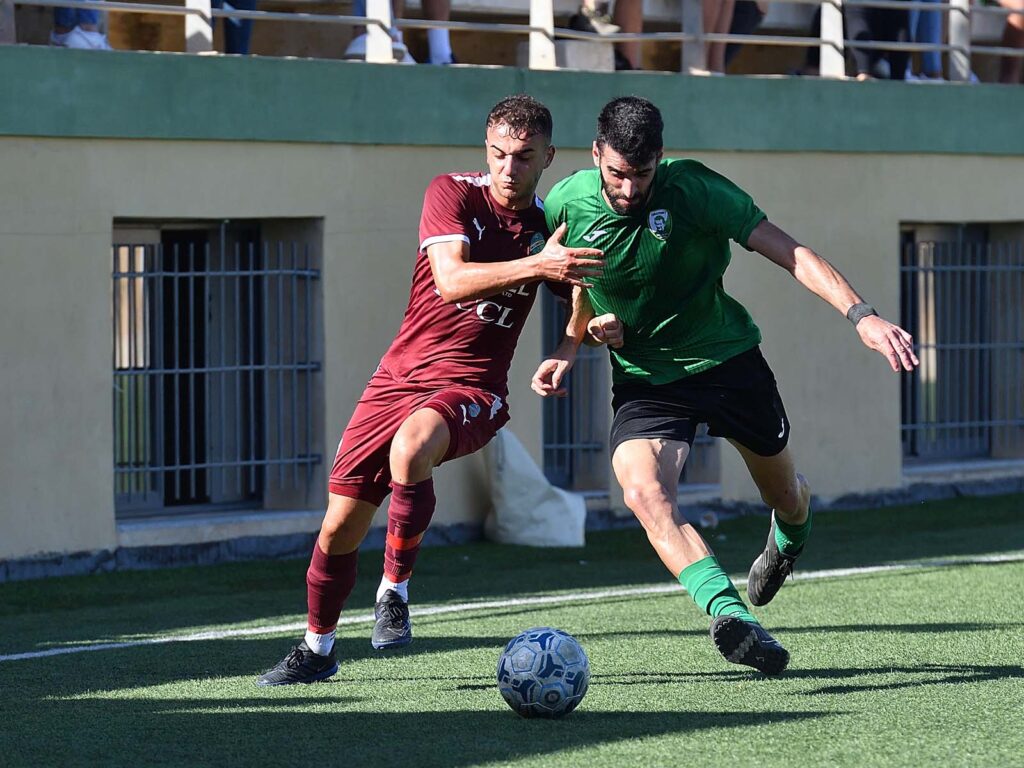 Timeline:
Qala had an excellent start and scored the first goal within the opening minute of play so Oratory were shocked and ended up conceding a second goal a few minutes later.  Qala continued to dictate matters for long stretches as Oratory struggled to produce a reaction and they never managed to threaten Qala's defence.  The Maroons were overconfident and missed some good opportunities where they could have ended the first half with a lead of more than two goals.
1' (1-0) Qala opened the score in the first attempt towards the goal of the match when a clearance by Oratory's defence arrived to Lucas Baretto Da Silva who surprised Oratory's goalie with a first-timer from a long distance.
4' Oratory replied with a shot by Leonardo Bruno Coca that was saved by Qala's keeper Mattia Zammit.
6' (goal disallowed) Qala were again dangerous but a goal by Lucas Matheus Dos Santos was disallowed for an offside position.
12' (2-0) The Maroons doubled their lead when Oratory's defence failed to clear a free kick by Lucas Matheus Dos Santos and Qala's Joao Vitor Ferrari Silva prolonged inside the area so that the ball arrived to an unmarked Nathan Chukwudi Njoku who placed easily in goal.
28' Qala were again dangerous when substitute Martin Buttigieg delivered the ball towards the goalmouth from a free kick but goalie Angelo Brignoli saved the attempt by Igor Nedeljkovic.
33' Qala's Igor Nedeljkovic had another attempt directly from a free kick but the ball ended just over the crossbar.
38' Oratory's goalie Angelo Brignoli was well placed and neutralised a good effort from a good position by Igor Nedeljkovic.
39' (post) Qala could have added another goal when Igor Nedeljkovic delivered a cross inside Oratory's area, Nathan Chukwudi Njoku failed to hit towards goal and the ball arrived to an unmarked Lucas Matheus Dos Santos but the latter saw his first timer that was stopped by the post.
45+3' Qala missed another good opportunity to score a third goal but an effort by Igor Nedeljkovic following a corner kick by Lucas Matheus Dos Santos, ended wide.
HT (2-0)
Second Half
After the resumption, Qala continued to hold command of play and practically they put their minds at rest from the qualification by scoring the third goal.  The Maroons pulled their foot off the pedal and allowed their opponents to come out of their defence and produce a reaction, the Youths were soon reduced to nine players and Qala regained command of play until the final minutes.
2' (3-0) Qala increased their lead when Nathan Chukwudi Njoku crossed from the left flank and substitute Jordi Parnis concluded easily in net from close distance.
4' Oratory replied with a shot by Anthony Sultana but the ball ended high.
6' Qala could have added another goal when a free kick by Lucas Matheus Dos Santos bounced on the crossbar and from the rebound the attempt by Nathan Chukwudi Njoku was cleared off the fatal line by Luis Gabriel Santos Silva.
12' (3-1) penalty Oratory reduced the deficit when they were awarded a penalty for a foul by Joao Vitor Ferrari Silva on Leonardo Bruno Coca and Andre Gabriel Castro Martins converted from the penalty spot.
15' The Youths went very close to reopen the issue but a close-ranged shot by Andre Gabriel Castro Martins following a corner action was cleared off the fatal line by Lucas Matheus Dos Santos to avoid a certain goal.
17' (red card) Oratory ended playing with ten players when Rian Almeida Lopes was shown a straight red for dissent after being cautioned with a yellow card a few minutes earlier for an infringement in the midfield.
21' (red card) Oratory were reduced to nine players as Luis Gabriel Santos Silva was sent off after receiving a second yellow card for a foul in the midfield.
39' Qala could have sealed the win with a fourth goal when Nathan Chukwudi Njoku entered the area but his shot from a good position ended on the side of the net.
FT (QS 3 – OY 1)
Referee: Philip Farrugia
Asst. Referees: Mitchell Scerri, Raiden Psaila