28 November 2020
GFA BOV Gozo Football League Division II – Match Day 2 Kercem Ajax Stadium
Zebbug Rovers FC : 2
Munxar Falcons FC : 1
22' (1-0) penalty Bartomeu Perello
37' (1-1) Steve Dimech
79' (2-1) Lucas Farrugia
Zebbug R:
B. Saliba, S. Farrugia, I. Buttgieg, M. Camilleri, C. Gauci, A. Touarha (O. Atzori), K. Bonnici (L. Farrugia), E. Scerri, B. Perello Palou, R. Saliba, O. Mercieca.
Munxar F:
D. Galea, C. Gafa', A. Buttigieg (P. Debono), S. Dimech, L. Attard (D.P. Borg), L. Meilaq, M. Debrincat (M. Azzopardi), N. Haber, A. Carvalho, F. Cini (N. Attard), K. Mizzi (R. Sammut).
Zebbug Rovers started the BOV Gozo Football league of the second division for this season on an excellent note as they earned the full points at stake with a win over Munxar Falcons with the odd goal from three.
The two sides were facing each other for the second time in the space of a week. In the previous match Munxar Falcons came from behind and obtained qualification to the quarter final stage of the BOV GFA Cup with a 3-2 win over Zebbug after extra time. Munxar were considered in a good moment of form as they also registered a handsome win in their opening match of the campaign. However, in this match Zebbug seemed determined to make up for the disappointment in the previous match and wanted to show that they are among the competitive sides of the category.
As a result of this context, the match turned out in a well-contested encounter as play was rather balanced.  Munxar, who had Joseph Grima missing due to an injury, may have been overconfident during the opening stages but showed character as they recovered well and remained in contention for a positive result until the dying moments of the encounter.  On the other hand, Zebbug were rewarded for their efforts as they managed to keep a good shape at their defence and also capitalised form their scoring opportunities.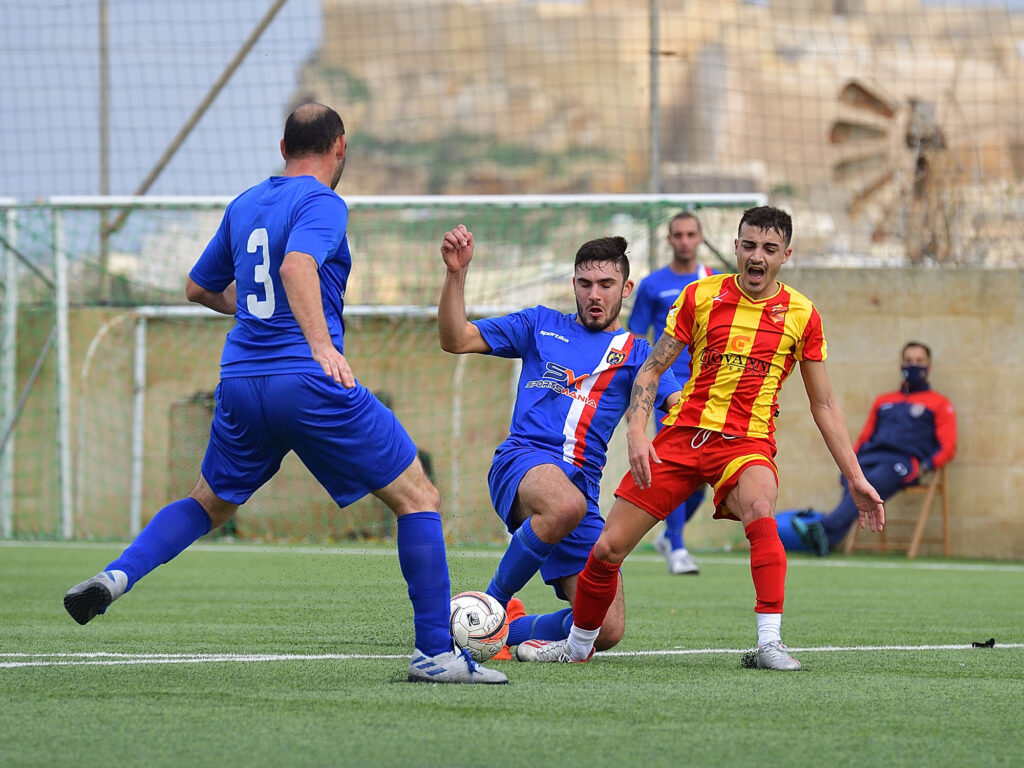 Timeline
Zebbug were more motivated than their opponents during the opening stages and forced Munxar to protect their territory with many players.
20' Zebbug lost a good opportunity to open the score when Bartomeu Perello Palou received the ball inside Munxar's area, released himself from his direct opponent but the striker had his close ranged attempt that was turned with difficulty to a corner by Munxar's keeper Daniel Galea.
22' (1-0) – (penalty) Zebbug opened the score when they were awarded a penalty for a foul by Munxar's defender Neville Haber on Aaron Touarha and Bartomeu Perello Palou made up for his previous mistake and converted from the spot kick to put his side in the driving seat..
25' Zebbug were again dangerous but an attempt by Kenneth Bonnici from a good position ended over the crossbar.
33' Munxar replied with an attempt from a free kick by Francesco Cini that was partially saved by Zebbug's keeper Baskal Saliba and from the rebound the same goalkeeper block the shot from close distance by Ayesller Carvalho.
35' Munxar protested for a penalty when striker Kenneth Mizzi ended on the floor inside Zebbug's area following a contact with his direct opponent.
37' (1-1) Munxar levelled the score through a fine header by Steve Dimech following a free kick by Luke Attard.
45+2' Munxar's Luke Attard had an attempt directly form a free kick that ended over the crossbar.
HT (1-1)
Play for the second period became more balanced as the two sides were aiming for the full points from this encounter but Zebbug continued to create more dangerous play than their opponents.
6' Zebbug's Bartomeu Perello Palou had a good attempt following a personal action that ended wide.
8' The same Perello Palou tried to surprise Munxar's keeper directly from a free kick but the ball ended wide.
13' Zebbug could have capitalised better when Kenneth Bonnici took the ball from a short clearance by Munxar's keeper but the same goalkeeper made up for his mistake and blocked the close ranged attempt by Zebbug's striker. From the rebound, the ball arrived to Emmanuel Scerri who tried a shot on the run that was well blocked by Munxar's defence.
20' Munxar operated their best offensive action of the second period when substitute Derek Paul Borg delivered a through pass that got a deflection by Zebbug's defence and the ball dropped to Steve Dimech who fired in the net but the goal was disallowed for an offside infringement .
34' (2-1) Zebbug scored the decisive goal of the encounter when Bartomeu Perello Palou delivered the ball inside Munxar's area from a free kick and substitute Lucas Farrugia, who was on the field of play for less than a minute, headed in goal from close distance.
36' Munxar's best opportunity to save the result arrived through a low cross shot by Luke Meilak that ended wide.
FT (ZR 2 – MF 1)
Referee: Ryan Caruana