13 December 2020
GFA BOV Gozo Football League Division I – Match Day 4 Gozo Stadium
Ghajnsielem FC : 3
Xaghra United FC : 0
15' (1-0 penalty) Igor Nedeljkovic
61' (2-0) Johnny Camilleri
90+1' (3-0 penalty) Igor Nedeljokovic
Ghajnsielem FC:
A. Parnis, K. Borg, S.F. Bajada, K. Farrugia, Ant. Xuereb, J. Arboleda Valencia, J.G. Vella (M. Bezzina), K. Grima (Al. Xuereb), I. Nedeljkovic, D. Bogdanovic, J. Camilleri (N.I. Belhadj).
Xaghra U:
O. Attard, J. Bajada, S. Galea, A. Sultana, M. Cordina, K. Hili (T. Agius), N. Buciljevic, A. Okamura, S. Sultana, E. Xiberras (F. Cauchi), F. Attard.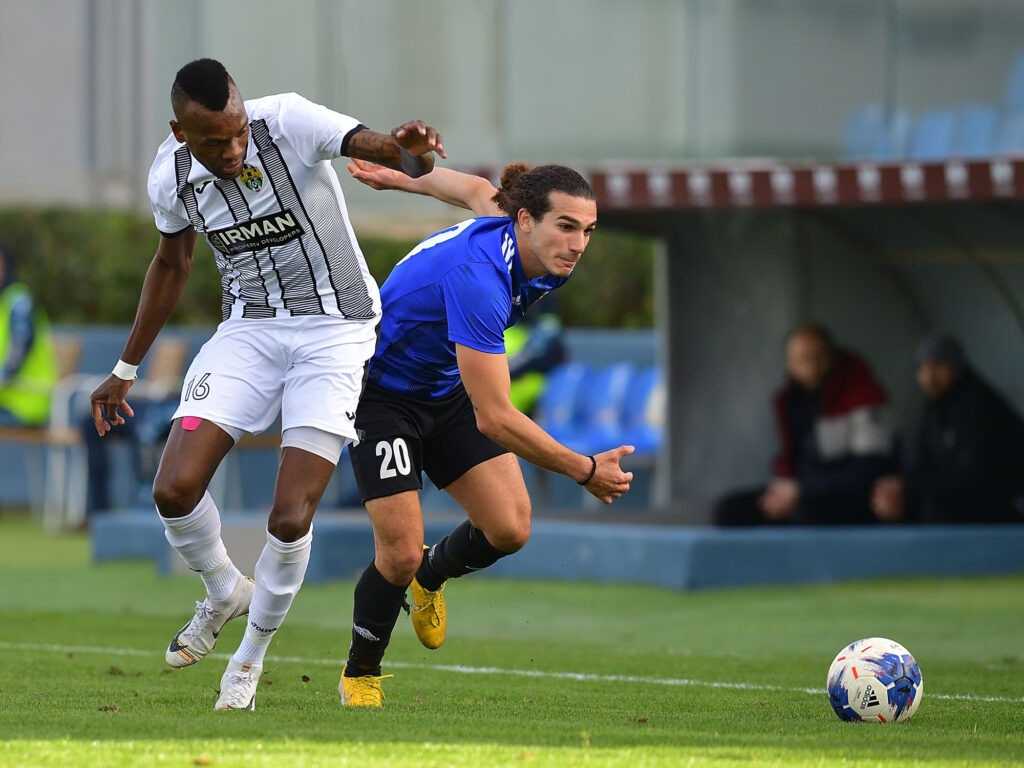 Ghajnsielem regained a position on the table close to the top position with the points obtained from a convincing win over bottom placed Xaghra United. The Blacks took the field of play determined to obtain a win after dropping points in their previous match against Nadur Youngsters, while Xaghra were aiming to win their first point in the championship. Play was quite interesting during the first hour of play as Xaghra were still in contention, but as soon as Ghajnsielem scored the second goal, Xaghra were demoralised and Ghajnsielem held command of play. However, Ghajnsielem produced many more scoring opportunities than their opponents and they could have put their minds at rest form the win at an earlier stage of the encounter.
Timeline
During the first minutes play took place mainly in the midfield as the two sides had a prudent approach but Ghajnsielem started to become more dangerous particularly when Xaghra tried to come out form their defence in an attempt to recover the score.
7' Ghajnsielem's Igor Nedeljkovic had a good shot form close distance that was turned to a corner by Xaghra's keeper Owen Attard.
12' Xaghra replied through a free kick by Anto Okamura that got a deflection by the wall and the ball ended just over the crossbar.
15' (1-0 penalty) Ghajnsielem were awarded a penalty for a foul by Savio Galea on Igor Nedeljkovic and the same striker converted from the spot-kick to put his side in the lead.
Xaghra's reaction was sterile while Ghajknsielem created more scoring opportunities.
26' A good shot by Ghajnsielem's Igor Nedeljkovic was saved in two attempts by Xaghra's keeper Owen Attard and the action was stopped for an offside as Ghajnsielem's Johnny Camilleri tried to take the ball from the rebound.
28' Xaghra's best opportunity to level the score arrived through a header by Anthony Sultana following a corner kick by Anto Okamura that ended wide.
31' The Blacks operated a counter break and Sam Frank Bajada delivered a low cross from the left flank towards the goalmouth but Johnny Camilleri's shot on the run ended over the crossbar.
33' Ghajnsielem's Jhon Arboleda Valencia entered Xaghra's area with a personal action but his low drive aimed towards the far post ended inches wide.
35' Ghajnsielem went again very close to score the second goal but a shot form an angled position by John Arboleda Valencia was partially saved by Xaghra's keeper Owen Attard and from the rebound Igor Nedeljkovic's first timer missed the target.
HT (1-0)
Ghajnsielem seemed more aggressive from the early minutes of the second period as they increased their efforts in an attempt to increase their lead.
1' After just 20 seconds of play a shot from a good positon by Ghajnsielem's Jhon Arboleda Valencia was blocked to a corner.
4' Xaghra's keeper Owen Attard was well placed to block a shot from the edge of the area by Dejan Bogdanovic.
Xaghra's efforts in an attempt to level the score never created serious danger to Ghajnsielem's goal.
16' (2-0) Ghajnsielem doubled the score when Dejan Bogdanovic crossed from inside the area towards an unmarked Johnny Camilleri who controlled well, turned around a defender and placed in goal from close distance.
Ghajnsielem were relieved of the pressure and administered play with authority.
34' Ghajnsielem protested for a penalty as Igor Nedeljkovic ended on the floor inside Xaghra's area as Xaghra's substitute Francesco Cauchi was trying to block Ghajnsielem's substitute Michael Bezzina.
37' In another action by Ghajnsielem a low shot by Michael Bezzina ended wide.
39' Ghajnsielem practically awarded a scoring opportunity to their opponents when defender Sam Frank Bajada passed to his goalkeeper under the pressure of Nebjosa Biculjevic and Xaghra's Anto Okamura almost hit towards an open goal but goalie Adrian Parnis had good timing and blocked the danger.
45+1' (3-0 penalty) The Blacks sealed the win with a third goal when Xaghra's defence failed to clear the ball from the area following an intervention by Igor Nedeljkovic, and goalie Owen Attard committed a foul on Kevin Farrugia so that the referee awarded a penalty and Igor Nedejokovic placed in goal with his shot from the spot-kick.
FT (GHJ 3 – XU 0)
Referee: Ezekiel Barbara