13 December 2020
GFA BOV Gozo Football League Division II – Match Day 4 Kercem Ajax Stadium
Zebbug Rovers FC : 3
St Lawrence Spurs FC : 1
15' (1-0) Ryan Saliba
17' (2-0) Bartomeu Perello Palou
39' (2-1) Mohammed Senussi Telessi
80' (3-1) Bartomeu Perello Palou
Zebbug R:
B. Saliba, S. Farrugia (F. Camilleri), I. Buttgieg, M. Camilleri, C. Gauci, K. Bonnici (J. Azzopardi), L. Farrugia (O. Mercieca), E. Scerri, I. Mampalao (P. Spiteri), B. Perello Palou, R. Saliba.
St Lawrence S:
Ju. Grima, F. Grima (J. Attard), J. Grech, C. Grima, M. Senussi Telessi, C. Cauchi, W. Hili (C.J. Mercieca), Ja. Grima (M. Terribile), C. Azzopardi, D. Micallef, L. Buttigieg.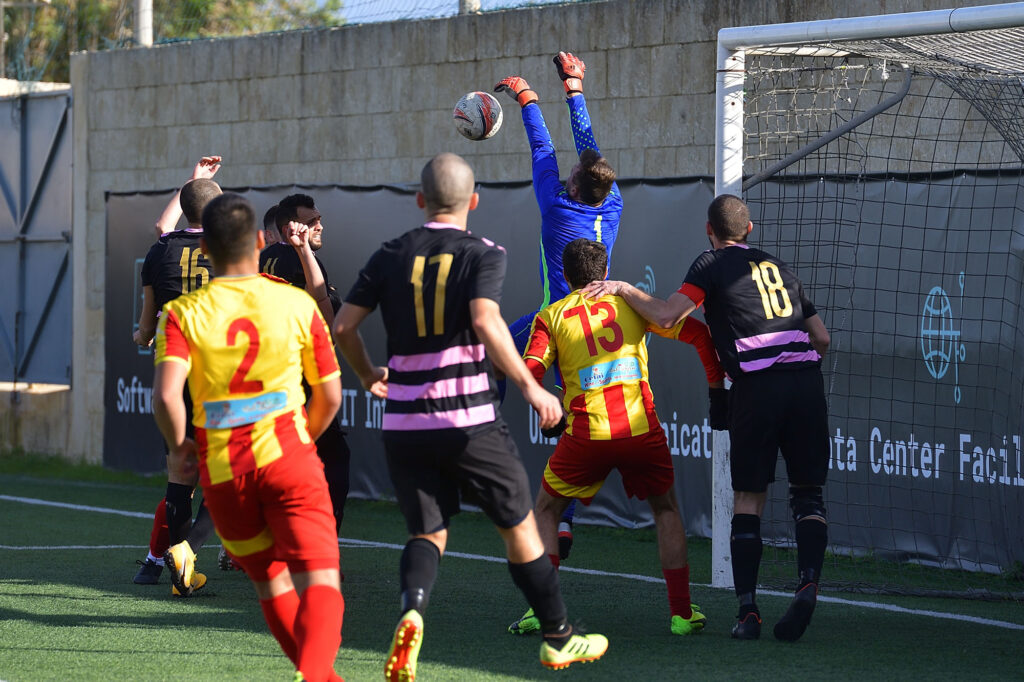 Zebbug Rovers registered their second win in the campaign from their match against bottom-placed St Lawrence Spurs and with the points obtained they moved to the second place on the table with just one point behind the leaders.  This was an important match for the two sides who both needed the full points at stake, as the Rovers are aiming to be among the challengers of the category while the Spurs are still trying to earn their first point.  Zebbug were more dangerous than their opponents throughout the encounter and paved the way to the win with two scores that arrived during the early stages of the first half.
Timeline
Zebbug had a better start and surprised their opponents with two goals scored during the early stages that arrived in the space of two minutes. St Lawrence tried to produce a reaction and managed to re-open the issue with a goal that arrived near the end of the first half.
12' Zebbug's goalie Baskal Saliba was called to make the first intervention of the match when he left his position in time and cleared the ball from the edge of the area to deny St Lawrence's Christian Azzopardi from trying to conclude towards goal.
15' (1-0) Zebbug opened the score through a close ranged shot by Ryan Saliba following a corner kick by Lucas Farrugia.
17' (2-0) The Spurs were shocked and Zebbug doubled the score when Manuel Camilleri delivered a ball from the midfield within St Lawrence's territory and Bartomeu Perello Palou took the ball, entered the area and concluded in goal with a low shot.
21' Zebbug could have added another goal but a free kick by Lucas Farrugia was stopped by the crossbar.
26' St Lawrence replied with a free kick by Wayne Hili that was well saved by Zebbug's keeper Baskal Saliba.
35' St Lawrence increased their efforts and were again dangerous through a shot on the run by James Grima, after receiving from Christopher Cauchi, that was saved in two attempts by goalie Baskal Saliba.
36' The same goalkeeper was again called to make another important intervention to save an attempt from an angled position by James Grima.
39' (2-1) St Lawrence reduced the arrears through a lob by Mohammed Senussi Telessi following a personal action.
HT (2-1)
The match became much more interesting as the two sides tried to score another goal.
9' St Lawrence could have doubled the score but a shot from outside the area by Christopher Cauchi was saved to a corner by goalie Baskal Saliba.
11' Zebbug's Bartomeu Perello Palou could have scored another goal but his lob from an angled position missed the target.
22' Zebbug started to take more advantage of open gaps within St Lawrence's rear guard went again close to scoring through a first timer by Bartomeu Perello Palou that was turned to a corner with difficulty by St Lawrence's keeper Justin Grima.
26' In another offensive action by Zebbug, Bartomeu Perello Palou entered the area from the right flank, turned around a defender but had his attempt towards the far post that ended wide.
33' St Lawrence's goalie Justin Grima was again called to make a good intervention to save a shot from long distance by Bartomeu Perello Palou.
33' Zebbug's Lucas Farrugia could have concluded better but his attempt from a good position ended high.
35' (3-1) Zebbug practically made sure of the win by scoring the third goal that arrived through Bartomeu Perello Palou who took the ball from a short clearance by St Lawrence's defence and placed in goal as the goalkeeper left his position in an attempt to block the danger.
36' St Lawrence could have scored a second goal when Mohammed Senussi Telessi entered the area but his close ranged shot was blocked by Zebbug's goalie Baskal Saliba.
FT (ZR 3 – SLS 1)
Referee: Patrick Falzon